Why Ashanti's Latest Instagram Post Has The Internet Divided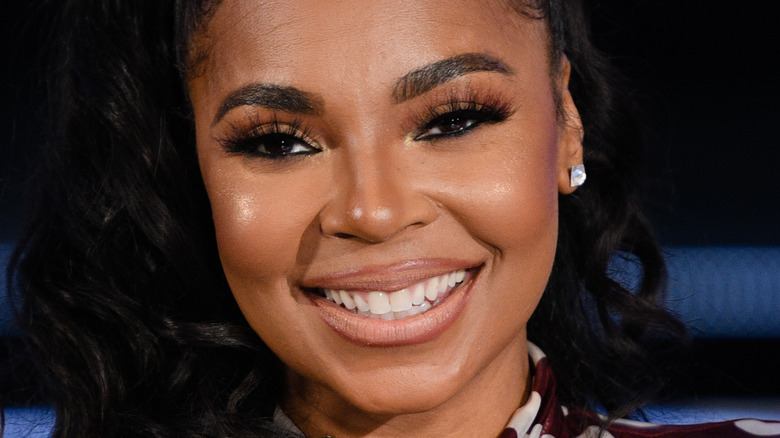 Noel Vasquez/Getty Images
Over the last month, Ashanti has been sunning it up and serving some serious looks in Cancún on Instagram. She's shared pictures of herself on the beach and with her friends, and she captioned one, "When you love this hard it's worth celebrating." While her 6.1 million followers have been liking the content from her trip, one of Ashanti's latest Instagram posts has had the internet divided. While she's been away on vacation, it's been reported that she might have let slip that she has a new man.
Ashanti posed for pictures with friends at Taboo Cancún, an upscale restaurant. However, in a picture shared on April 22, Ashanti looked pretty cozy with a guy. Instantly people started to speculate whether this could be a new boyfriend. One person commented, "Who the f**k is this? Gots some explaining to do," while another wrote, "Ashanti got herself a white man....she's got me thinking now, maybe it will be a white boy summer."
Twitter went into detective mode
After Ashanti posted the picture with the mystery man, her fans tried to establish who he is. Alongside a video of a baseball player furiously slamming a bat against a wall, one person wrote, "Me seeing that Ashanti has a man and it's not me," and another said that people "are upset Ashanti with a white man but they ain't got nothing to say about all these basketball and football players." Many people pointed out that the guy in Ashanti's picture is white. One person commented under the picture, "His melanin missing." Another said, "White Boy Summer or nah?"
However, other fans have said that he isn't even someone who is romantically involved with Ashanti. The singer-songwriter hasn't confirmed how she knows the man that she was pictured with, and some said she might know him in a more professional capacity. "Y'all gotta chill that's the resort 'host' and she showing the staff love... damn you guys married her off one pic damn y'all goofy," one fan wrote on Instagram. Others agreed, saying they thought he might be someone that worked at the resort rather than a new crush.
Either way, some fans of the Grammy Award winner were happy to see her smiling. "Let my girl live her life as she should. I'm happy asf for you @ashanti," one said. And another went a little further in their search for details, "If this is true, I want a detailed bullet point list on what this man did to pull Ashanti. He needs to be teaching Skillshare classes and everything."