Eddie Vedder's Stunning Net Worth Revealed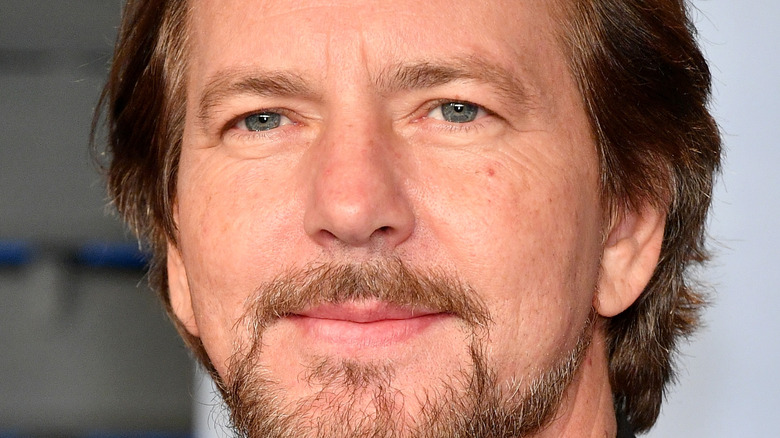 Dia Dipasupil/Getty Images
Pearl Jam frontman Eddie Vedder is a rock and roll legend. The Illinois native started making music when he was twelve years old after he received an electric guitar from his mother as a birthday gift (via Showbiz Cheat Sheet). He said on the Howard Stern Show that he took some lessons where he first learned how to play the more complicated bar chords before learning open chords. He said, "Once I got those, that coincided with the time that my great guitar teacher, even though he was short-lived, this guy Bud Whitcomb, I found those chords. Really all I wanted to do was write, put words to music. Then that became the focus and the goal."
Vedder certainly accomplished that goal when he later went on to become Pearl Jam's main lyricist, as well as the band's lead singer and one of the three guitarists. Since Vedder is one of the most important members of one of the world's most successful bands, he has become one of the top-earning musicians of all time.
The Pearl Jam Frontman is one of the top-earning musicians in the world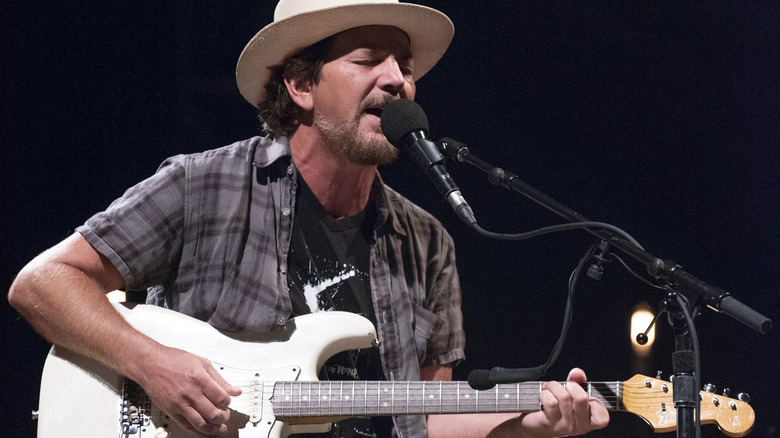 Jim Bennett/Getty Images
Eddie Vedder's career spans over three decades. His first big gig was providing vocals for the band Temple of The Dog, which was created as a tribute to late singer Andrew Wood. While working with Temple of The Dog members Jeff Ament, Mike McCready, and Stone Gossard, Vedder decided to keep working together and formed Pearl Jam in late 1990 (via AllMusic).
Pearl Jam has gone on to release thirteen studio albums (via Pearl Jam), many of which have topped the Billboard charts. In addition to creating No. 1 albums, the group also released many No. 1 songs. Their songs "Better Man," "Given To Fly," and "Alive" all topped the charts and remain favorites amongst the band's fans. In addition to achieving much commercial success, the band also received many awards for its groundbreaking music (via Rolling Stone). Pearl Jam won five American Music Awards (via The Washington Post), four MTV Music Video Awards, and even a Grammy (via GRAMMY.com) for Best Hard Rock Performance for "Spin The Black Circle."
According to Celebrity Net Worth, Vedder is worth 100 million dollars, as of 2021. Though this number will definitely increase, considering Pearl Jam is still making music together and is currently on an international tour (via Pearl Jam).