Royal Expert Shares Her Thoughts On When Meghan And Harry May Reunite With Kate And William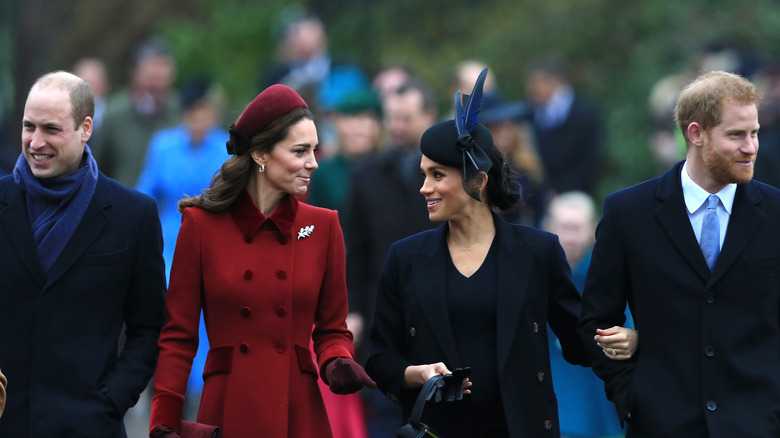 Stephen Pond/Getty Images
Prince Harry recently reunited with his family in the UK for the funeral of his grandfather, Prince Philip (via the New York Daily News). While Harry came face to face with members of his family such as his brother Prince William, father Prince Charles, and grandmother Queen Elizabeth for the first time in over a year, his wife Meghan Markle wasn't by his side. Meghan, who is currently pregnant with the couple's second child, a baby girl, was advised not to make the long trip due to her advanced pregnancy. So, she stayed back at the couple's California home while Harry spent nine days in his home country, per People Magazine.
According to Entertainment Tonight, all eyes were on Harry and William during the funeral. Royal expert Katie Nicholl revealed that there appeared to be a bit of tension between the brothers before the funeral. However, things looked to shift when they exited St George's Chapel following the service. "They were very tense as they walked into that chapel. As they came out of it, you could see some tension diffused. And I think that was largely down to the Duchess of Cambridge, who made a point of speaking to Harry and when she did that, you can see them visibly relax," Nicholl stated. Now, the royal family expert is opening up about when she believes Meghan will return to reunite the foursome of she, Harry, William and Kate.
When will Harry, Meghan, William, and Kate reunite?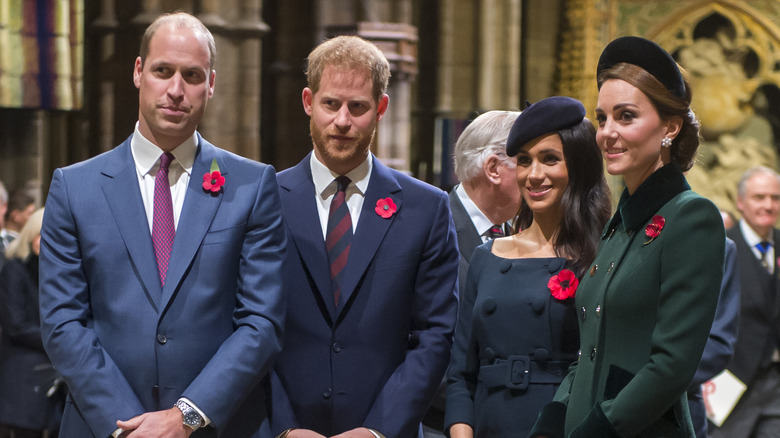 Wpa Pool/Getty Images
Prince Harry was said to have private conversations with Prince William during his trip to the UK, per ET. "It was Prince Charles' idea to get the boys together after the wake. There really wasn't any other time as Prince Harry was in self-isolation for the days leading up to the funeral for them to get together," royal expert Katie Nicholl told the outlet. Nicholl also added that it's unlikely that the brothers and their wives will have a reunion anytime soon. "I think the idea of seeing this reprisal of the Fab Four — Harry and Meghan, William and Kate — is really so far down the future. It's almost quite hard to even envision it at the moment. So much has happened. There is so much hurt on either side," Nicholl stated.
However, Nicholl is hopeful that Harry and William's talks in the UK were the beginning of a healing process that will see the brothers mending fences in the future. "I think there's still quite a way to go. The idea that Harry's suddenly going to come around to William's way of thinking, and vice versa, I think is a way off. "It's early days, but I think the hope is that come July — when we are hoping to see the brothers stand once again shoulder by shoulder to unveil the statue in memory of their mother — that the relationship will be stronger and in a better place," Nicholls added.