Here's Why You Should Think Twice Before Using Fabric Softener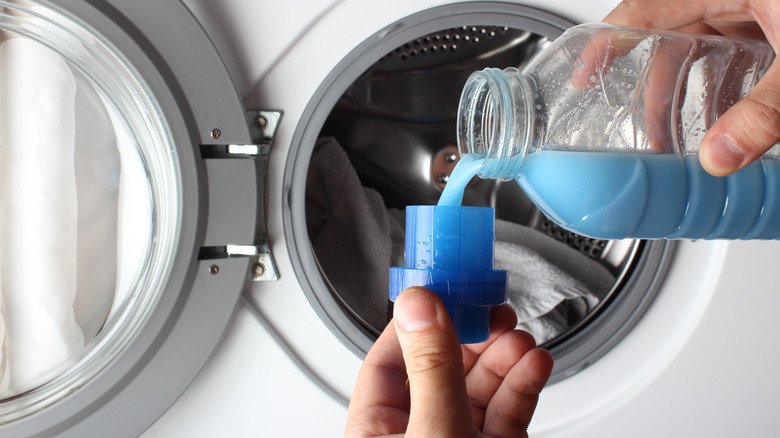 Shutterstock
There's nothing quite like taking a nice warm load of laundry out of the dryer and getting a lovely whiff of clean, fresh clothing. But if that fresh smell is because of fabric softener, it may be time to rethink that.
What fabric softener does is reduce static and make clothes feel, well, softer. It does that by cutting down on the friction between the individual fibers, and there are three kinds: liquid fabric softener for the washing machine, dryer sheets, and dryer balls (via Martha Stewart). To reduce the friction, fabric softeners are designed to leave a coating of chemicals on the fabric (via Mental Floss).
The thing is though that those chemicals that make the fabric so soft can end up irritating your skin, and the fragrances in the products that help make them so popular are often made of undisclosed ingredients (via My Green Closet). They also have the unfortunate and dangerous side effect of making some fabric more flammable (via IEEE Xplore).
Using fabric softener will make workout gear stinky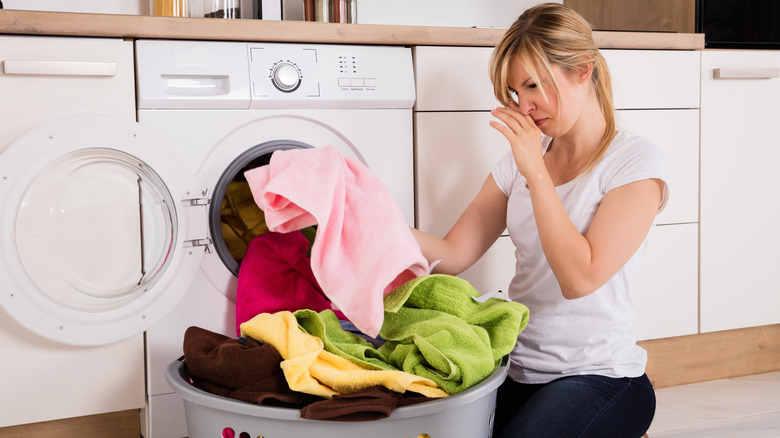 Shutterstock
Liquid fabric softener isn't alone in being problematic. Dryer sheets get activated with the heat in your dryer to deliver the chemical coating that leaves your clothes smelling so good, but over time, the residue can build up in your dryer's lint trap and make it harder to clean. And while they may make your towels feel super soft, it also makes them less absorbent (via CNET).
Fabric softeners and dryer sheets will both also wreak havoc with your athletic wear. Brooks Running product line manager Julianne Ruckman spoke to House Beautiful about the perils of using fabric softeners on your gym gear. As she explains it, you want the fabric of your workout gear to be able to breathe, as it were, and adding fabric softener blocks dirt and sweat from being washed out. So even after they've been washed, they'll still be and smell dirty.
An alternative? Instead of fabric softener — and also to remove previous fabric softener residue — residential cleaning company The Maids recommends adding a half cup (no more) of white vinegar to the wash cycle.