Glenn Close Completely Stole The Oscars With This Moment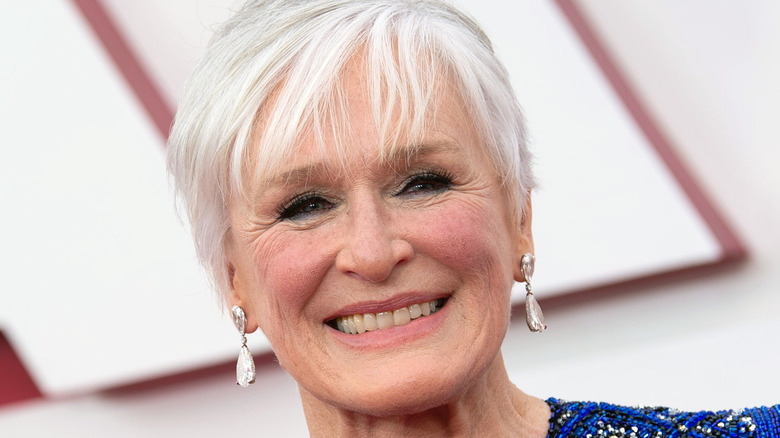 Handout/Getty Images
Glenn Close proved once again that she is a national treasure at the 2021 Oscars. Close may not have taken home the award for Best Supporting Actress, but she was the star of one of the night's most memorable moments.
It all started with Questlove's Oscar Trivia game with the in-person audience at the event. Guests were being picked to answer whether the song being played was skipped over, nominated, or won at the Oscars. Andra Day was first up and asked about Prince's "Purple Rain." She surprised the audience with her answer. "It's a great song so it's probably not even f***in' nominated," she said (per Entertainment Tonight).
That may have been uncomfortable for some folks, but possibly more uncomfortable was that she was right. While "Purple Rain" the movie got acknowledged by the Academy (via the Academy of Motion Picture Arts and Sciences), the individual song of the same name was not. "Sounds about right," Day replied.
Next up was Daniel Kaluuya, who was asked about Donna Summer's "The Last Dance" and learned that it was an Academy Award winner, contrary to his guess. At his table, Close laughed that he was too young to know the correct answer (via Mediaite).
Lil Rel decided Glenn Close was next up for trivia
Lil Rel admittedly didn't think Glenn Close would know the track he played, but she surprised him with quite a bit of knowledge. "It's 'Da Butt,' I know that. 'Da Butt' was a classic song by the great Washington, D.C. go-go band E.U," she shared (per Twitter). "Shoutouts to Suga Bear and the Backyard Band and the whole DMV ... I remember this. Spike Lee had it written for his brilliant movie 'School Daze' and my friends at the Oscars missed it and it wasn't nominated, so it couldn't have won which I think is just an effin' tragedy."
Rel was surprised, to say the least. "I wasn't expecting that at all, that you knew 'Da Butt.' It's dope and uncomfortable at the same time," he joked (per Mediaite). "But do you know the dance, though? Do you know how to do Da Butt?"
Close didn't disappoint. She hopped up out of her seat and began doing the dance as the room cheered her on. Twitter couldn't get enough. "I did not have Glenn Close doing da butt on my Oscar bingo card but here we are," Roxane Gay tweeted. While some believe the moment may have been scripted, others are choosing to hold on to hope. "The cynical answer is that Glenn Close had her lines scripted. The hopeful answer is that she is a huge cinephile," noted critic Emily VanDerWerff.