The Real Reason Twitter Just Declared Tyler Perry The Winner Of Oscars Night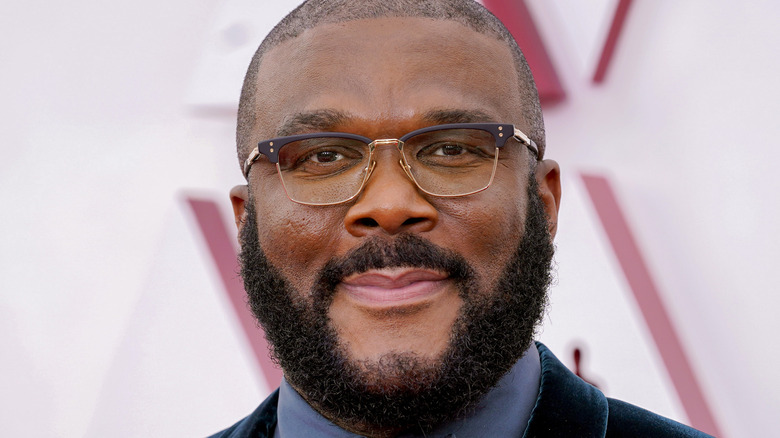 Pool/Getty Images
At the 2021 Oscars, Tyler Perry joined ranks with the likes of Frank Sinatra, Audrey Hepburn, Quincy Jones, Oprah Winfrey, and Angelina Jolie as the recipient of the Jean Hersholt Humanitarian Award. It's given to an "individual in the motion picture industry whose humanitarian efforts have brought credit to the industry" (via Oscars). He received the award for his philanthropy work, which just this past year – according to the introduction by Viola Davis (via Twitter) – included paying for funerals of Black men killed by police, buying groceries for a thousand neighbors, and keeping his employees safe and working during Covid. His passionate acceptance speech got Twitter talking.
In a nutshell, his speech focused on a lesson from his mother to "reject hate" and "reject blanket judgment." And people were here for it. One tweeted, "Tyler Perry is one of the most beautiful people on earth. We needed that speech tonight, what an inspiration. Thank you so much for everything you do, sir. #Oscars." Another said, "Wow. The Academy got one right. Tyler Perry is one of the good guys. #Oscars". While another thought that one short speech made watching the Oscars worthwhile, tweeting "Tyler Perry's one minute Oscar speech was worth thirty years of watching the Oscars."
Tyler Perry wants us to reject hate and 'stand in the middle'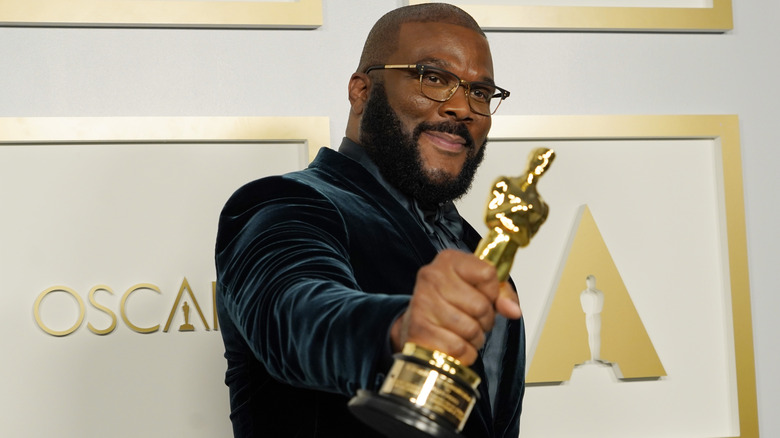 Pool/Getty Images
In Perry's speech, he listed those who he would refuse to hate: "I refuse to hate someone because they are Mexican or because they are black or white or LGBTQ. I refuse to hate someone because they are a police officer. I refuse to hate someone because they are Asian. I would hope that we would refuse hate."
Some called out his mention of the police as problematic, but one user recognized it as brave "I know the vast majority of you don't care about the Oscars, but you just missed one of the most amazing displays of massive balls in history. Tyler Perry just used part of his speech to say he refuses to hate the police just because they're the police. That took BALLS today."
Perry finished his speech by dedicating the award to anyone who would join him to refuse hate and "stand in the middle." As he explained it, "That's where healing, where conversation, where change happens. It happens in the middle" (via Variety).