The Most Popular Kitchen Features, According To Instagram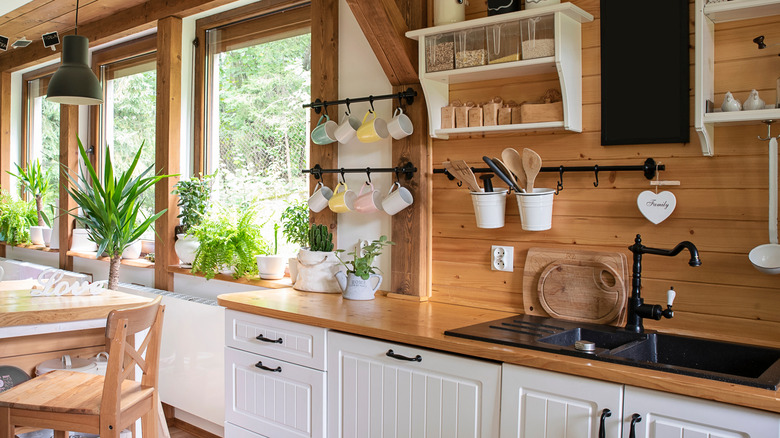 Shutterstock
Kitchen fads shift with the times and the seasons, and once the only way to know which features were "hot" and which were "not" was to open a home decor magazine or talk to an interior designer. But these days, one only need open their social media apps to see drool-worthy kitchen makeovers and pretty new features. From gleaming white farmhouse sinks to copper pots hanging from overhead hooks, posts about modern kitchens appear bright and airy. But which features are most popular right now? Well, thanks to another benefit of social media (metrics), we can actually figure out which details are most "liked" by those who follow decor accounts.
Enter Dulux, which has been kind enough to aggregate these numbers and figure out the five most-liked kitchen trends on Instagram. While some you might be quick to guess, a couple of others surprised us a bit. Read on to see if your kitchen dreams reflect the most popular trends of the day.
The most popular kitchen features on Instagram may surprise you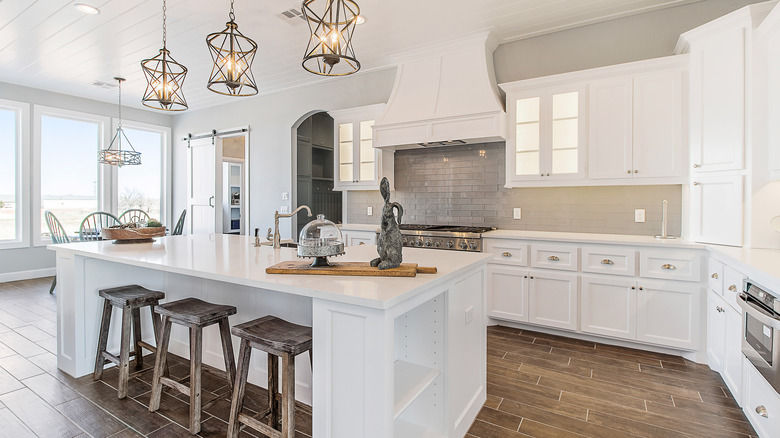 Shutterstock
Coming in at number five is are shaker kitchen cupboards (via Dulux). What is a shaker cupboard? It's likely you've seen them but maybe didn't know what they were called; according to Cabinet Now, Shaker cabinet doors generally have recessed panels and feature clean, simple lines. They are usually painted lighter tones like white or sage green, and they have very basic hardware like plain metal handles. Next up on the list are wooden floors. While most of us might be accustomed to seeing tile (or linoleum, let's be honest) on kitchen floors, hardwood floors have become immensely popular of late thanks for their gleaming old-fashioned look and their durability. 
Third from the top of Dulux's list are white cupboards, shocking literally no one. Spend even a few minutes on home renovation TikTok or Instagram, and you'll see somebody paint their old wooden cupboards a fresh and farmhouse-like white. This not only updates old cabinets, but also brightens a dark kitchen. In second place are houseplants and flowers in the kitchen. Not only is growing herbs inside practical, but it creates a rustic, natural atmosphere in the kitchen reminiscent of everyone's favorite movie kitchen from "Practical Magic". And topping the list for most popular kitchen features on Instagram? Kitchen islands. Not only do these simple additions greatly increase counter space (via The Kitchen Showcase), but many designs provide extra seating and storage as well, making your kitchen a gathering place.