The Real Meaning Behind Dax Shepard's Tattoos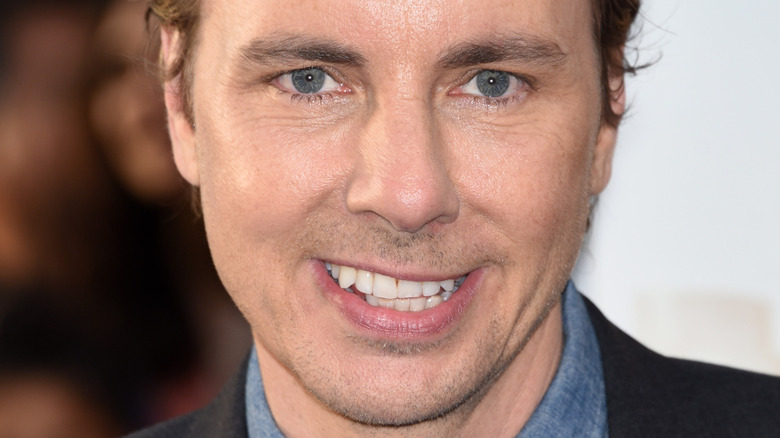 Shutterstock
Dax Shepard is probably one of the funniest stars in the industry, but his success didn't happen overnight. The Michigan native started acting when he attended UCLA, starting with performances with The Groundlings improv troupe (via WTFPod). Throughout the past two decades, Dax has been steadily working in the comedic film industry. He's starred in some cult favorites like "Idiocracy," "Hit and Run," "Employee of the Month," and "The Boss." Along with killing it on the big screen, Shepard has starred in shows like "Parenthood," "The Ranch," and "Bless This Mess" (via IMDb).
But a lot of people also know him as half of the adorable power couple, Kristen Bell and Dax Shepard. The pair began dating in 2007, getting engaged three years later. However, they said they wouldn't get married until same-sex marriage was legalized, and they tied the knot in 2013 (via CelebBuzz). The couple also has two adorable daughters, Lincoln and Delta (via Closer Weekly). Like many stars, Dax Shepard has some fantastic tattoos.
Dax Shepard's finger tattoo honors wife Kristen Bell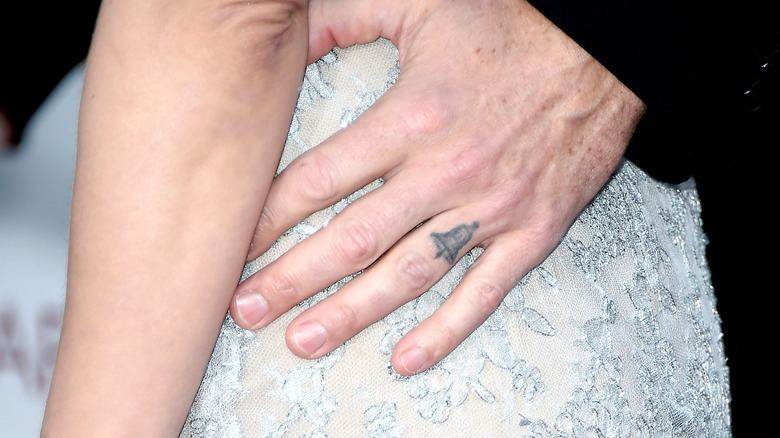 Frazer Harrison/Getty Images
The largest tattoo Dax Shepard is sporting is a large tree on his upper right arm that he got around 2010. He says the tree tattoo is actually a cover-up job of "a previous terrible tattoo," that was a tribal-looking tat. He joked with Roger Caitlin, "I have a knack for predicting what tattoos will be douchey in ten years." His huge tree tattoo is rumored to be based around parenthood ideals, like his show "Parenthood."
Probably one of the sweetest tattoos ever is on Dax's ring finger. Around 2014, instead of getting a traditional ring to commemorate his nuptials with starlet Kristen Bell, he got a bell tattoo. Kristen Bell ... bell tattoo, get it? It's downright adorable. Along with that, he has the letters K, L, and D in it to honor him, Kristen, and their firstborn, Lincoln. In an interview on The Ellen DeGeneres Show, he joked, "I don't like wearing jewelry, but I felt obliged to warn all the men that I'm taken ... I thought a tattoo would be fitting. And her last name, conveniently, is an object I could tattoo" (per Daily Mail).
Another tattoo he has is four stars on his left bicep, but to date, he's never discussed the meaning behind it.