Here's How To Achieve The 'Cloud Skin' Trend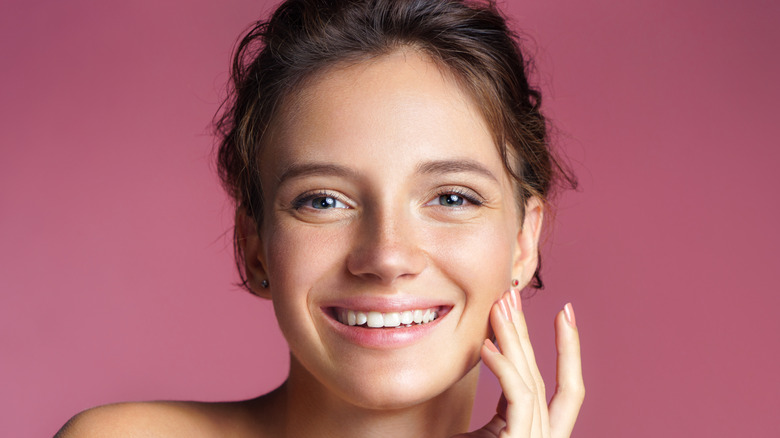 Shutterstock
Everyone wants dreamy, glowing, Instagram filter looking skin. It will always be in no matter the year and the season. Popularly dubbed "cloud skin," the latest skincare trend has taken the beauty world by storm — and it's perfect for the spring and summer seasons. Unlike the previous fads — glass skin, which involves getting that high-shine effect on the face, and dolphin skin, which focuses on a more hydrated look, the cloud skin trend is about achieving a soft and hazy appearance, similar to that of a cloudy sky with sunlight peeking through.
Various beauty trends have emerged throughout the years, but there's something alluring about the cloud skin trend that skincare addicts can't get enough of. According to Glamour, cloud skin is not the same as cloudless skin — a popular K-Beauty trend — which places the focus on beautiful skin being a result of healthy living and consistent skincare. "Cloud skin is so different from the other trends that were big before the pandemic," says Jamie Greenberg, a celebrity makeup artist. "People need more dimension because of the virtual time we're living in."
Dominic Skinner, a MAC makeup artist and a judge on the Netflix series "Glow Up," gave "cloud skin" it's moniker and notes that in the past, these trends usually required skincare as the main focus. But for cloud skin, makeup takes center stage with a sprinkle of skincare.
How to achieve the cloud skin trend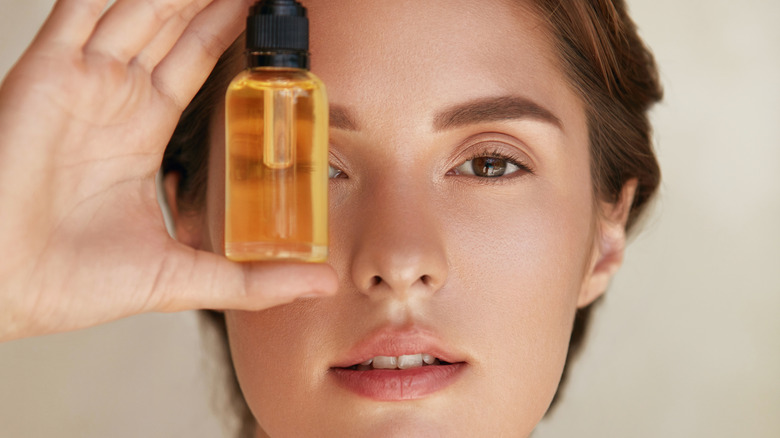 Shutterstock
In achieving a fool-proof makeup look, skin prep is key (via Elle). It's simple, but an important rule. For the cloud skin look, opt for something that gives intense hydration — be it a cream or a serum. Let your skin absorb the product, then follow up with face oil. For a more glowing appearance, use an oil with shimmers to create dimension and light. Now you're ready to move on to the base. As Elle notes, consider using  a foundation with a luminous finish or a tinted moisturizer to create an even skin tone, and be sure to blend well to create a natural look. 
After perfecting your base, you need to strategically apply setting powder to create the hazy skin appearance. "Dab it in the hollows of your cheeks, your upper forehead, and a little on your nose and chin," celebrity makeup artist Jamie Greenberg explained to Glamour. But why only in certain areas? Because the powder will not only take away the wetness, but it will also blur out areas — creating dimension and "different textures on your face." Greenberg also advises adding concealer on top of the powder with a beauty blender or a fluffy brush, then adding powder again. The beauty trick will give you that "fluffy," soft look. 
Use a highlighter for a more angelic glow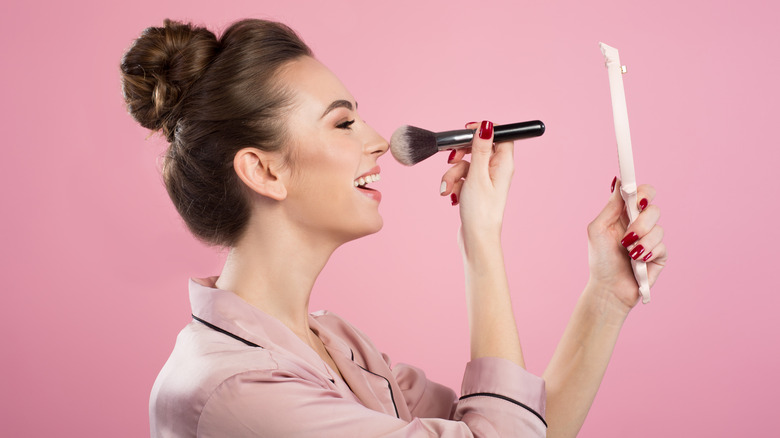 Shutterstock
Creating the cloud skin look is pretty easy by blending and creating dimensions using particular makeup products. After nailing the ultra blended dimensional trend, you can either stop right there or add more drama. The dewy base has made your skin look glowing, and combined with the layers of powder — some parts of your face will appear highlighted. But if you want to take a step further and achieve a more ethereal look, a highlighter is your best friend.
The key is to use a shimmer-free highlighter. Celebrity makeup artist Jamie Greenberg says to apply the highlighter on the cheeks, cupid's bow, eyes, and lips. For ladies who want a little more color, the cosmetics expert advises using a tinted balm instead. And don't forget to blend, blend, blend! "When putting on this makeup, you want to have a light and airy touch, not direct and strong. Think of a weightless waltz," says Greenberg (via Glamour).