Dream Home Makeover's Shea McGee Reveals Her Dream Celebrity Collaboration
We know what our dream interior design celebrity collaboration would be — with "Dream Home Makeover" star Shea McGee, of course! But what about the Utah native? Who would she like to collaborate with when it comes to design?
If you guessed another big name in home renovation, like Joanna Gaines, well, nope. That's not it. Instead, McGee's ultimate collab would be with one of the most famous women on Earth. Kim Kardashian? Wrong!
Instead, the celebrity designer would be pumped to work with Meghan Markle, telling Hello! about the royal and Prince Harry, "Now that they are in LA, I would love to see inside their home for sure." She confirmed, "I would love to collaborate with her, that would be awesome."
On "Dream Home Makeover," we see McGee and her husband Syd renovating spaces in both Utah, where they live, and Los Angeles, so it wouldn't necessarily be a stretch for the Netflix star to put her stamp on a project at the home of the Duke and Duchess of Sussex.
What Meghan Markle and Prince Harry's house is like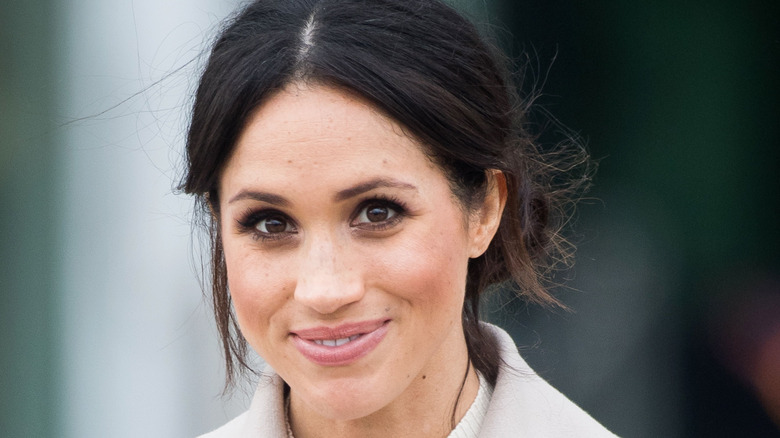 Shutterstock
So, if McGee were to get a look inside the California home of Meghan and Harry, what would she see? According to Realtor.com, the property is in Montecito, and boasts an 18,000-square foot mansion. The "palace" features nine bedrooms and, wait for it, 16 bathrooms, plus a pool and tennis court. Adorably, the site reports there is also a play cottage for little Archie, and a guest cottage on the property.
Irish Times reports the Sussex home cost a jaw-dropping $14.7 million. At least the family can enjoy the on-site sauna, library, theater, wine cellar, and five car garage for that price. And, the massive space leaves plenty of opportunity for McGee to come in and collaborate with the royals.
Meanwhile, if the Studio McGee founder's dream to work with Meghan Markle doesn't pan out, we hear Oprah Winfrey lives down the street.