These Oscar-Winning Filmmakers Made A Powerful Statement On The Red Carpet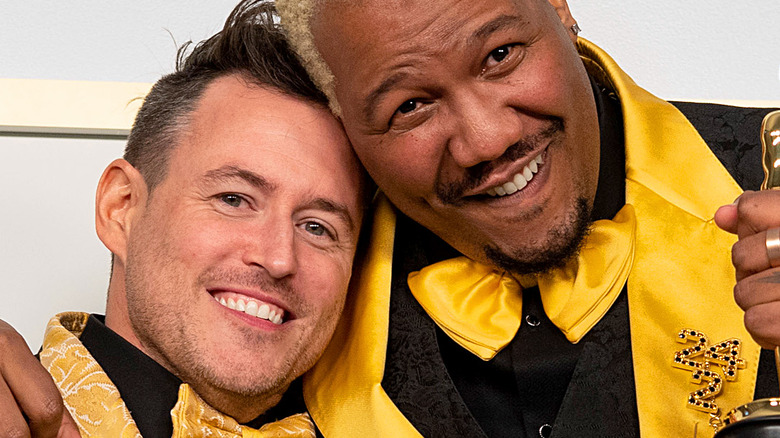 Handout/Getty Images
Though the Oscars are usually a time for members of the film industry to come together and celebrate their achievements with designer gowns, top quality dinners, and interesting jokes from the host, the 93rd Academy Awards were wildly different. Though the nominees appeared to be grateful to received recognition for their work, a few of them felt it was important to use their platform to call attention to the trying times in which we are living. 
For instance, filmmakers Travon Free and Martin Desmond Roe, who directed the live-action short "Two Distant Strangers," which is about a Black man who gets killed over and over by a police officer, paid tribute to victims of police brutality on the red carpet (via The Hollywood Reporter). The pair wore custom black and gold Dolce & Gabanna tuxedos that featured the names of 17 individuals who were killed as a result of police brutality in the U.S. Keep scrolling to learn more about their unique choice.
Travon Free and Martin Desmond Roe honored victims of police brutality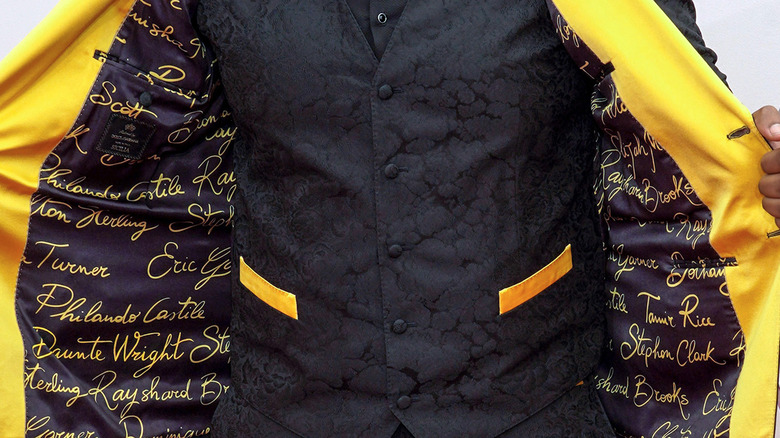 Pool/Getty Images
Travon Free explained the inspiration behind the bold outfit choice he and his collaborator Martin Desmond Roe made at the 2021 Oscars. He said, "I think it was important for us to constantly want to be reminded of why we were doing what we were doing when we made the film, and to keep their names front and center as much as possible" (via The Hollywood Reporter). The names on the tuxedos include Eric Garner, Alton Sterling, Tamir Rice, and Duante Wright. Wright's name was added last second, as he was killed only two weeks before the awards ceremony (via The New York Times). Free said, "I don't know how they did it, but they were able to fit his name in as well at the last minute, which meant a lot."
The directors also wore matching black Nike Air sneakers that featured the names "Breonna Taylor, George Floyd, and a few others (via The Independent), as well as, custom-made Dolce & Gabanna lapel pins that paid tribute to the late Kobe Bryant. Per THR, the pairs' stylist, Tara Sweenan, noted, "The tuxedos are super loud and match [Travon and Martin's] fun personalities in that way that only Dolce & Gabbana can do, but you also see all these beautiful components that help to speak out against injustice. It's been one of the loveliest collaborations I've worked on in a long time, in a time when it's really needed, to use fashion in an innovative but productive way."