How To Get Zendaya's Oscars Makeup
Handout/Getty Images
The 93rd annual Academy Awards were always going to be different than any other Oscars in the past, with strict COVID-19 restrictions to blame. Taking the form of socially distanced seating and interviews, remotely located guests, and mandatory (yet seemingly not enforced) mask-wearing, the award show echoed the new-normal of pandemic living. However, an unfortunate symptom of such an event during a global pandemic means that this year's Academy Awards reportedly had a 59% drop in views from last year, with only 9.85 million people tuning in, vs. last year's impressive 23.6 million, per CNBC. Indeed, viewers simply were less tuned in to the nominated films and actors this year, which CNBC attributes to shut-down movie theaters and a lack of mainstream films being nominated.
But what hasn't changed one bit is the chatter surrounding the glitz and glamour of the Oscars, with actors seemingly taking advantage of being out of their pj's and onto the red carpet for the first time in a while. Of the many stars that walked the red carpet was fashion icon Zendaya, leaving fans begging to know how to get the makeup look that she was sporting.
Zendaya's makeup complemented her Cher-inspired gown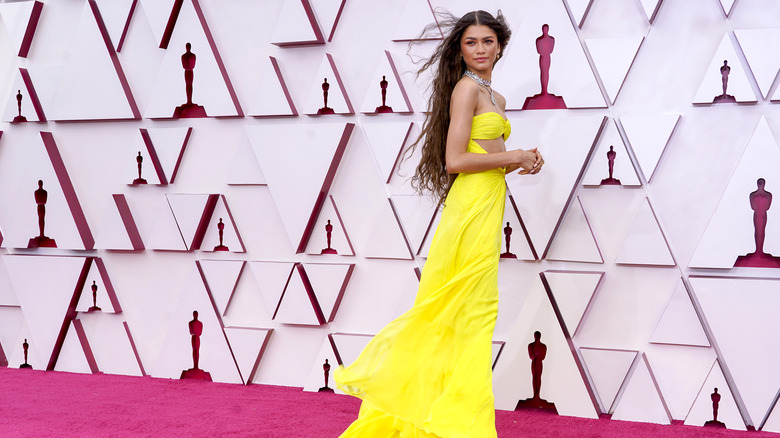 Pool/Getty Images
Zendaya never takes it easy on us when it comes to her fashion choices, and she's no stranger to best-dressed lists. Look after look, the 24-year-old is constantly finding ways to one-up herself and absolutely astound on the red carpet. This year, she went with a stunning Cher-inspired, yellow Valentino gown with midriff-baring cut-out details and an incredibly impressive $6 million of Bulgari jewels (via Vogue).
As for the beauty look, Sheika Daley explained to fans exactly how they can mimic the makeup she created for Zendaya. Daley is a celebrity makeup artist who has painted the faces of Nicki Minaj, Serena Williams, Kelly Rowland, Kanye West, Ciara, Eva Longoria, and many more, channeling her Jamaican roots as well as a passion for art and beauty. Per Glamour, Daley "wanted to keep things neutral to balance out [Zendaya's] bold dress, and used Lancôme Hypnôse 5-Color Eyeshadow Palette in Terre De Sienne and French Nude to add subtle definition to her eyes."
Zendaya's makeup artist went with a fresh, natural look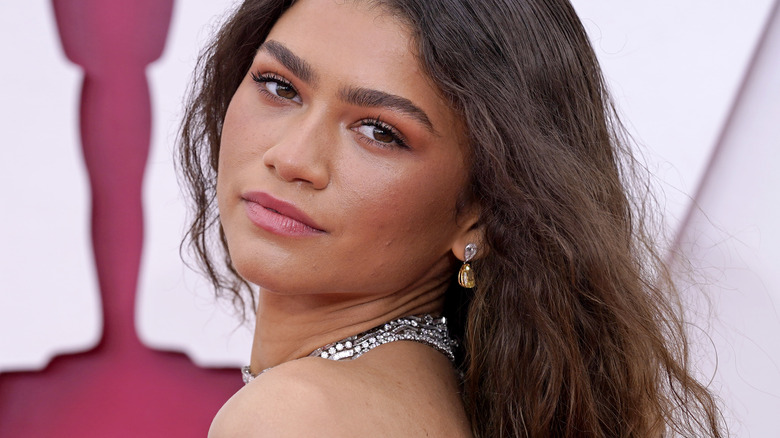 Pool/Getty Images
Daley never finds herself short on inspiration when it comes to her makeup creations, and her work with Zendaya was no exception. Daley told InStyle, "The inspiration came from us wanting to do a very clean, fresh, and natural look. Barely there makeup balanced the neon dress and we had fun experimenting with all the flesh tones on the eyes, cheeks, and lips. It was a very different beauty look from the Critics' Choice Awards, and with Zendaya we always like switching things up from show to show."
Daley explained that one of the most important elements of the look was prepping Zendaya's skin by adding moisture, ensuring a clean and smooth makeup application. She balanced her warm-toned skin with the Teint Idole Ultra Long Wear Foundation in 425 Bisque Warm, as well as the Lancôme Teint Idole Ultra Stick in 420 Bisque Neutral for contour. This effortless look beautifully suited the tousled, lived-in waves and waist-length hair Zendaya sported on the red carpet (via Allure).