Billie Eilish Fans Are Obsessed With Her Latest Tweet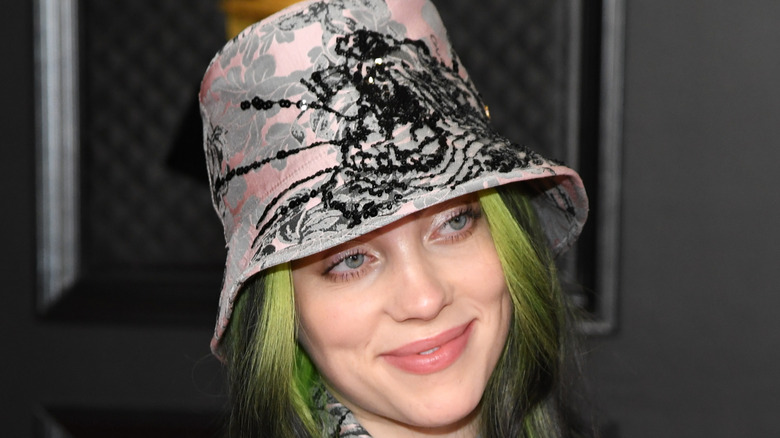 Kevin Mazur/Getty Images
Billie Eilish – who has had a stunning transformation — may have just posted a clip of her highly anticipated upcoming single "Happier Than Ever." On April 26, 2021, Eilish shared a 15-second video — showing herself sitting in an armchair and looking back at the camera as it zooms in close to her face — on Twitter. As Eilish stares into the camera, the lyrics, "When I'm away from you I'm happier than ever" play in the background. This cryptic tweet has left fans speculating that the release of Eilish's newest single is closer than previously thought.
Eilish first sparked rumors that her sophomore album may drop soon in a recent Instagram photo. On April 20, 2021, she posted a photo of herself smiling with the caption, "big things are comingggg." Fans flooded the post, asking the pop star if she was referring to a potential new album. They have now taken to the comment section on her latest tweet expressing their excitement over "Happier Than Ever."
Billie first teased "Happier Than Ever" in her Apple TV+ documentary
It's safe to say that Billie Eilish's latest tweet has fans loosing it. One Twitter user commented on the post, "Doesn't it just sound ANGELIC i cannot even breathe" while another user wrote, "IM SHAKING WTF WE WON SO HARD I MIGHT GET A HEART ATTACK." The consensus appears to be that everyone is beyond excited for Eilish to finally drop her next hit single.
Eilish first teased "Happier Than Ever" in her Apple TV+ documentary "Billie Eilish: The World Is A Little Blurry" which was released in February 2021. In the documentary, Eilish was shown working on the song with her brother and collaborator Finneas O'Connell (via YouTube). In the short scene, the pair are seen singing part of the song, while O'Connell plays the guitar. 
After they harmonize, Eilish explains her understanding of the song. She says, "I thought the whole song was just more like nothing even specific that they did, you're just not happy being with them. You can't even explain it." Though the documentary and Eilish's latest tweet only offered a snippet of the song, it's clear that "Happier Than Ever" has the potential to be one of her biggest hits yet — is yet another Grammy coming her way? Time will tell.