How To Get Regina King's Oscars Makeup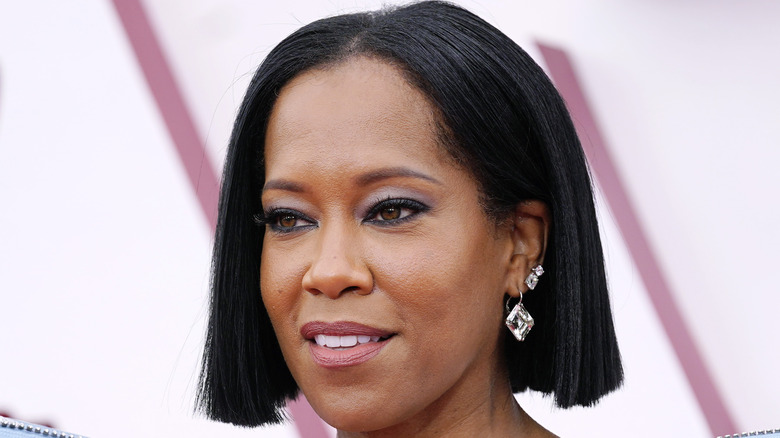 Pool/Getty Images
While Regina King's opening speech at the Oscars was somewhat divisive (honestly, was anyone really expecting an apolitical ceremony?), hardly anyone had a negative word to say about her flawless fashion. King has a history of always looking fabulous on the red carpet, and at the 93rd Academy Awards, she did not disappoint. Not only did she shine in an ice-blue sequined Louis Vuitton gown, but her makeup perfectly matched her angelic attire.
King's makeup artist, Latrice Johnson, carried out the all-blue theme, and she stuck with Clinique products. The mascara she used, according to InStyle, was Clinique's Quickliner for Eyes Intense in Midnight (a navy blue shade). Another InStyle piece added the info that this liner was paired with a Clinique eyeshadow in blue-gray, and her nails (which were short) were painted with metallic blue. The sole departure from the basic blue scheme was her lips, which were nude, and her skin's gorgeous bronze glow. 
You can emulate Regina King's makeup and hairstyle with these steps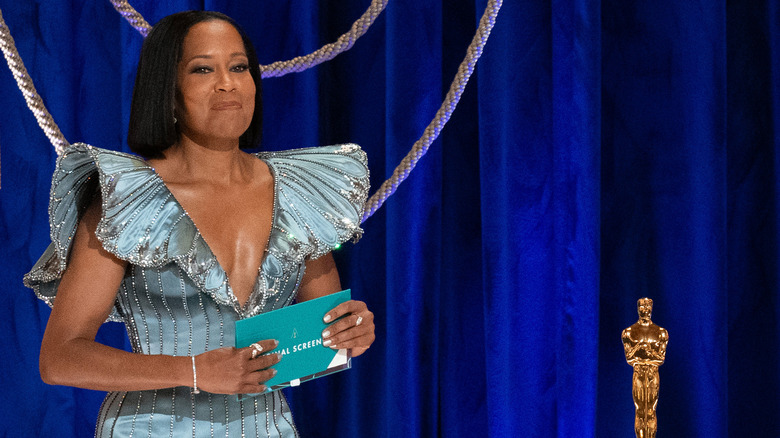 Handout/Getty Images
We fully understand the want to copy everything Regina King does. Now that you're armed with the info you need to know about her Oscars makeup look, we can move on to her hair. While King's gown may have given off a Disney princess vibe, her no-nonsense hairstyle was more action heroine. As celebrity hairstylist Larry Sims shared with InStyle, "We wanted to go with something sleek, modern, and clean that wouldn't compete with the structure and craftsmanship or the dress," adding that he wanted to "show off" King's neckline. 
In order to get this hair look, you'll need to start off with a blunt bob cut, of course (or a wig, in which case you can skip most of the following steps). Sims recommended to begin with a scalp massage — he used Tangle Teezer's Scalp Exfoliator & Massager. You'll then apply a teeny bit of product to dampen your hair — Sims actually used three, all from the Flawless by Gabrielle Union line: detangling leave-in conditioner, shine enhancing heat protectant spray, and blow dry cream. For King's look, he used a Tangle Teezer brush to tease out the tangles, and followed by blowing out King's hair. 
Not done yet — Sims brought out the flat iron to give King's hair some smoothness as well as texture, and finished off with two more Flawless by Gabrielle Union products: repairing edge control and restoring exotic oil treatment. Okay, so if you're counting, that's five different products and at least three tools to achieve King's hairstyle, but you've got to admit, the results were truly red carpet worthy.