Why Regina King's Oscars Opening Has People Fuming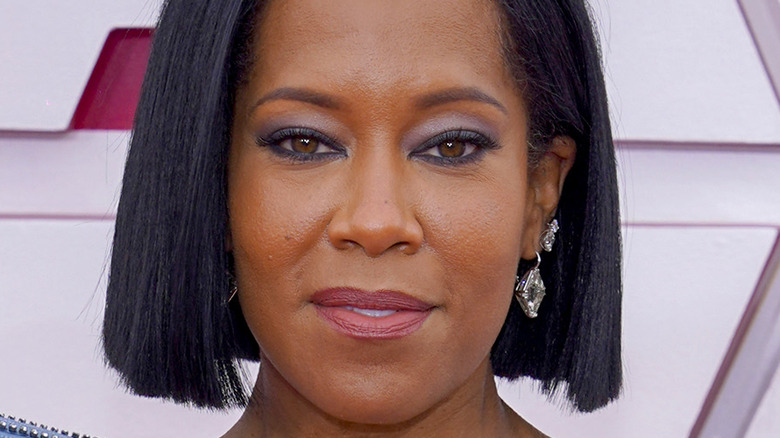 Pool/Getty Images
"Watchmen" actress, "One Night in Miami" director, and all-around powerhouse, Regina King opened the 2021 Academy Awards ceremony with a bold statement. She spoke of the difficulties of the past year and referenced the trial of Derek Chauvin, the police officer who killed George Floyd. "It has been quite a year, and we are still smack-dab in the middle of it," King said. "And I have to be honest: If things had come differently this past week in Minneapolis, I may have traded in my heels for marching boots" (via Hollywood Reporter). The actress then went on to say, "I know many of you want to reach for your remote when you feel Hollywood is preaching to you, but as the mother of a Black son who fears for his safety, no fame or fortune changes that," (via Entertainment Tonight). "But tonight, we are here to celebrate. This was a hard year for everyone, but our love of movies got us through."
Regina used the remainder of her allotted time on stage to speak of the protocols that attendees endured in order to sit near one another without masks during the ceremony. She explained that just like when making a movie, when the camera is on, masks are off. When the camera is off, masks are worn. The actress, who made her directorial debut with the film "One Night in Miami" then read the nominees for Best Original Screenplay and announced Emerald Fennell as the winner for the film "Promising Young Woman."
Regina King's remarks sent Twitter into a tailspin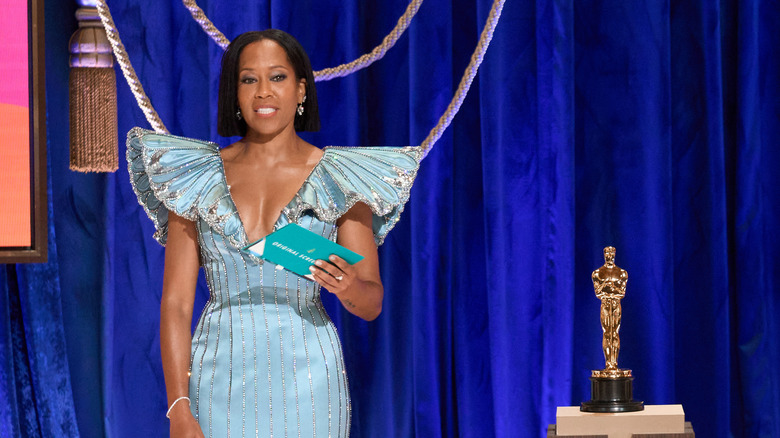 Handout/Getty Images
Regina King's Oscar remarks set off wildfires on Twitter, where viewers were fiercely divided over whether to condemn or condone them. One Twitter user celebrated King as "chill and ballsy and direct" (via Twitter). "I like the nod to the Chauvin trial and bringing everyone to reality. That's the Regina King way and I want nothing less," tweeted another approving viewer. A third tweeted in approval, "Regina King kept it real about the Chauvin verdict!" A fourth cheered, "Speak on it, Sis! She is absolutely crushing this. PRO" (via Twitter).
King is certainly not the only actress and director to use awards ceremonies as a platform to speak about social justice issues. The Verge will tell you that Hollywood has been using public events as a platform to raise awareness since at least 1973, and almost certainly before that. In 2016, Leonardo DiCaprio once made headlines for admonishing that climate change is real during his Oscars speech (via Scientific American). In 2017,  Meryl Streep drew Trump's Twitter wrath when she spoke out against his political campaign at The Golden Globes. But for some reason, Regina King's 2021 Oscars speech had parts of Twitter fuming, as if her remarks marked the first time that social media had heard an actor speak out about what they believe in at an awards ceremony.
And as King's comments got picked up by major news outlets across the country, including AP, The New York Times, and HuffPost, King's Twitter critics intensified their complaints.  
Regina King's Oscar opening enrages some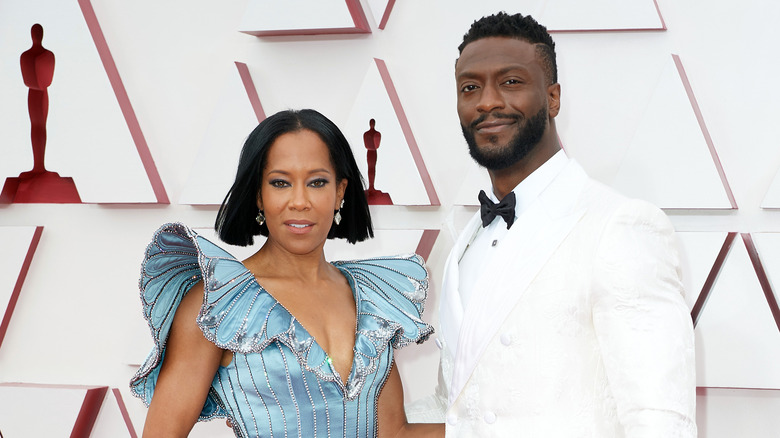 Handout/Getty Images
While some fans hailed Regina King's remarks as direct and bold, others reacted just as negatively to the actress and director's comments. Many viewers felt that politics did not have a place at this awards show and that the job of a presenter was to not fill airtime with their own personal feelings. "Little wonder people aren't watching this woke nonsense anymore," wrote one disappointed Twitter user. "Too late ABC, I shut it off immediately after her boots comment. Quit preaching to the public," said another Twitter user. "Nobody wants to be preached at, by Hollywood especially. They're actors only and should stick to that," claimed a third viewer. "Actually most of us know this is what we will get with this circus. So we never had it on from the beginning," penned a fourth person on Twitter.
This is not the first time Regina King has used an awards show to make a political statement. In September of 2020, People reported that the actress accepted an Emmy Award in the category of Lead Actress for the Limited Series "Watchman" wearing a T-shirt honoring Breonna Taylor, who was fatally shot by police in her own apartment. Lettering above the image of the young woman were the words "Say Her Name." She later explained her wardrobe choice to People, "I had the opportunity to not wear a gown and ... a chance to visually show why it's so important to vote down the ballot. How could I not use it?"