Who Is Kate Winslet's Daughter, Mia Threapleton?
Kate Winslet was just 21 years old when she began filming "Titanic," which remains one of the highest-grossing films ever made. Although she was famously unhappy onset, she begged director James Cameron to give her the now-iconic role. "I closed the script, wept floods of tears and said, 'Right, I've absolutely got to be a part of this. No two ways about it,'" she told Rolling Stone back in 1998. Just before the movie hit the box office, Kate married her first husband, film director and fellow Brit, Jim Threapleton, (via Closer Weekly). Shortly afterward, her celebrity skyrocketed.
The couple welcomed their daughter, Mia Honey Threapleton, into the world in 2000 before going their separate ways in 2001. Kate is also mom to Joe and Bear Blaze, who were born in 2003 and 2013 respectively. So far, only the star's eldest child has inherited her penchant for acting, and Mia is fast approaching the age her mom was when she took home her first Oscar win. Will the burgeoning actress follow suit? Here's everything you need to know.
Mia wanted to blaze her own path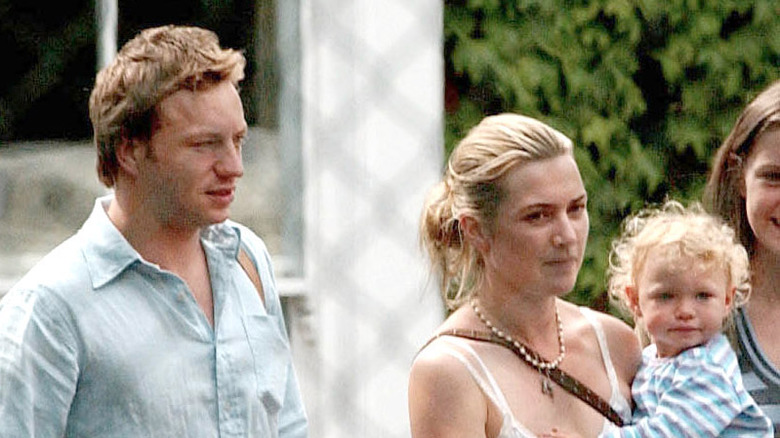 Antony Jones/Getty Images
When Kate Winslet virtually sat down for an interview on "Lorraine," she spilled the beans on her daughter's up-and-coming acting career. "What's been really great for her is she has a different surname so that initial job out of the gate, she slipped right under the radar," she told host Lorraine Kelly. "That was my biggest fear, and really important for her self-esteem, of course." 
Winslet reiterated that casting directors haven't known about Mia Threapleton's famous connection. They may not have seen her talent coming, but Winslet did. Thr actress explained, "I think I always suspected. And then sure enough, a few years ago, she turned around and said 'I would like to give it a go.'" 
For Threapleton, acting wasn't necessarily her life's clear-cut path. Unlike many other children of Hollywood, Mia didn't spend much time hanging around her parent's movie sets. Apparently, she never actually spent much time around sets that my mum was working on. "It was always a special treat. It's a very different experience when it is happening to you, and not just something I was getting to observe from time to time," she told Variety. "I really understand why my mum has always impressed on us how hard the work is. She is right! And I loved every second of it."
Mia Threapleton landed her very first audition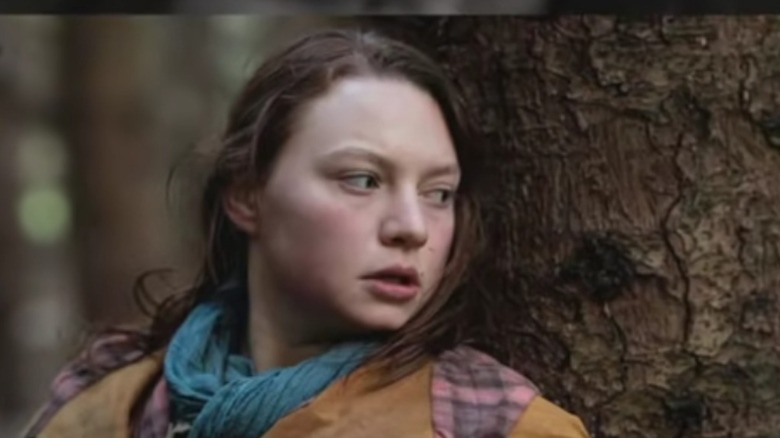 Although Mia Threapleton's first role was a small part in the 2014 film "A Little Chaos," her breakout role came with she starred as one of the leads in "Shadows." 
She told Variety, "I had just finished school, was free of exam hell, and felt excited, nervous and ready to start auditioning for things, and hoping that the opportunities to audition would come my way." Well, they certainly did come her way, as, according to her, "Shadows" was the first script she'd ever been given to read. "I couldn't believe my luck. I read it and didn't put it down," she recalled. "Which is admitting a lot because I'm dyslexic and that means I have to read slowly and steadily to be able to absorb things fully sometimes." Either the casting directors did a quick Google search on Threapleton or she has just as much talent as her famous mom, but we're guessing it's the latter.
According to her mom, Threapleton is in the Czech Republic filming "a little TV series" as of writing. The leading lady is certainty a doting mother, and we're thrilled to join her as official members of the Mia Threapleton fan club.