The Reason The Kentucky Derby Is Also Called The Run For The Roses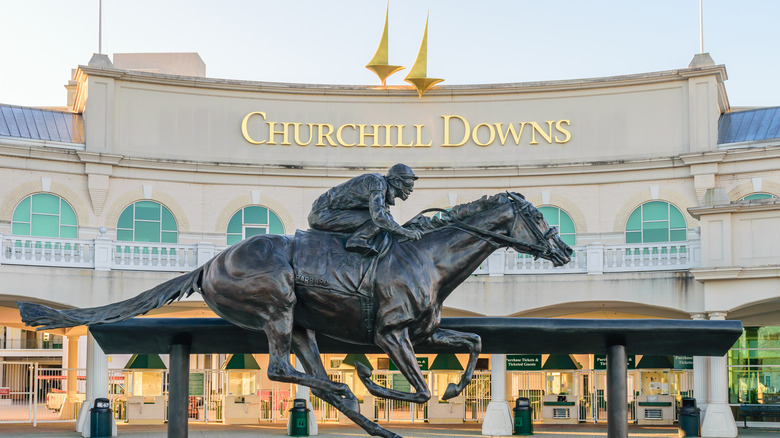 Shutterstock
Every year, on the first Saturday in May, the Kentucky Derby takes place. From its start in 1875, this is the country's longest continually held sporting event, according to the Kentucky Derby website. The race features 20 three-year-old thoroughbred horses and a one-and-one-quarter mile dirt racetrack at Churchill Downs in Louisville, Kentucky. It is also considered "The Most Exciting Two Minutes in Sports" since it takes about that amount of time for the winner to get from the starting gate to the finish line. To qualify for the race, the horses must first compete in a series of 35 races across the United States and the world, known as the Road to the Kentucky Derby.
Many are familiar with the location, the date, and the general idea of this legendary event, but some may not know another piece of trivia: The Kentucky Derby is also called the Run for the Roses. But why?
The background behind the Run for the Roses nickname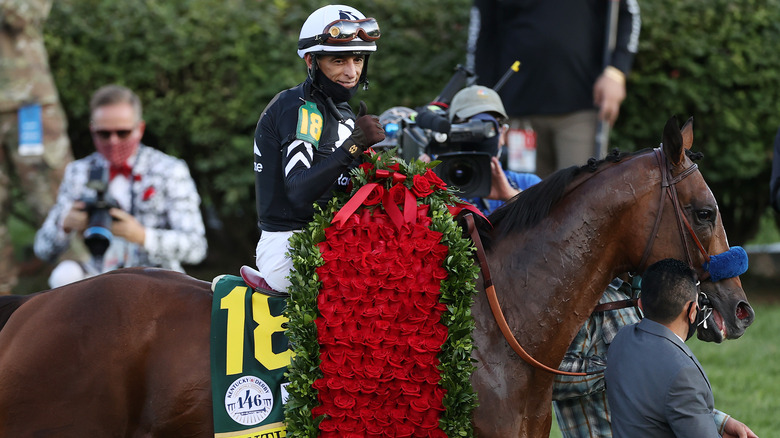 Gregory Shamus/Getty Images
The Kentucky Derby is a historic sporting event, with an iconic following, drink, song, and attire. As a competitive race, it has a winner and runners-up, who receive a great deal for their accomplishments. According to Town & Country, the current purse for the derby is $3 million. First place gets $1.86 million; second place — $600,000; third place — $300,000; fourth place — $150,000; and fifth place nets $90,000. The winner gets something else special, too: a blanket sewn with more than 400 roses and that weighs around 40 pounds.
Due to this floral tradition, the Kentucky Derby has a nickname, which came about thanks to New York sports columnist Bill Corum in 1925 — Run for the Roses. Before that nickname came about, a rose garland was first seen at the event in 1896, made of white and pink roses. In 1904, the red rose became the race's official flower, and the type of garland fans see today has been around since 1932. It includes a green satin backing, the seal of the Commonwealth and of the Twin Spires, and a crown of roses, representing all it takes to win the Derby. Since 1987, the Kroger Company has been creating this rose blanket, as noted by the official Kentucky Derby site.