Here's The Manicure That's Perfect For Growing Out Your Nails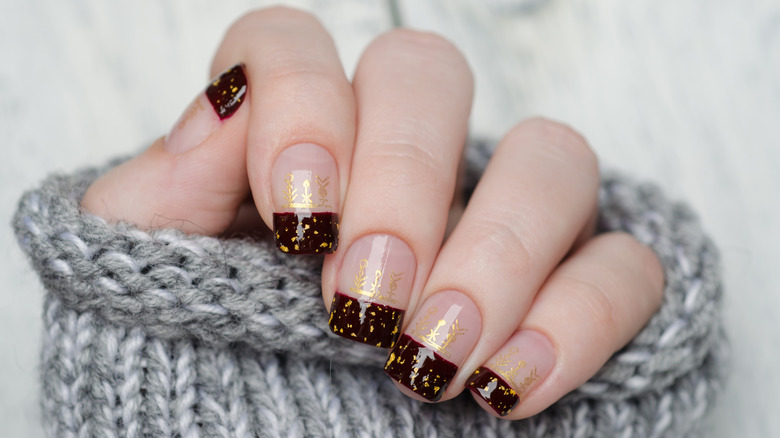 Shutterstock
It's happened to all of us. We go into the nail salon to get a fresh new manicure, but as our nails start to grow, the manicure grows out too. While it can be frustrating to keep going back to the salon to keep those pesky cuticles at bay, there is a manicure you can get that is perfect for growing out your nails and making your manicure last longer.
The negative space manicure combines longevity with style by using a clear background as the main part of the design (via Shape). This look can be achieved by layering the neutral background with any geometric design, such as lines, lace, or stars of any color or style. As long as your natural nail color is showing through you can create this look in a variety of ways.
According to Fashion, a negative space manicure is ideal for growing your nails out because when your manicure starts to grow out it won't be visible. This is due to the fact that it's already part of the solid color design. Since there is more neutral color visible, there is a lot less space for chipping to occur. This leaves you with the option of growing your nails out for a longer period of time while looking like your manicure is still a few days old.
How to execute a negative space manicure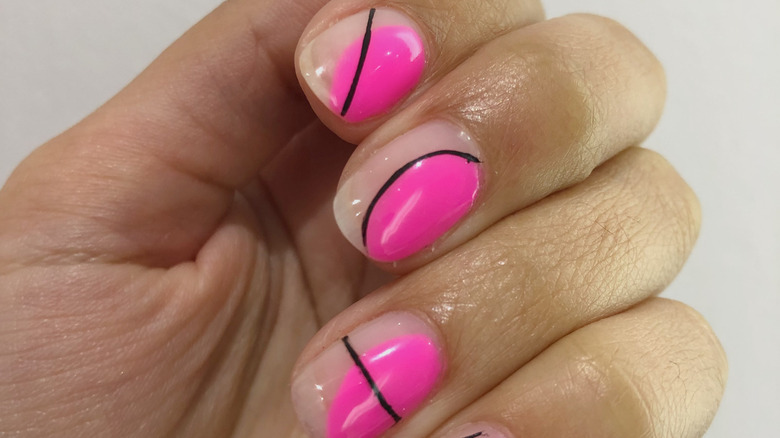 Shutterstock
The negative space manicure is the perfect look that's both stylish and practical (via Shape). It's also really easy to get creative and come up with the perfect design that fits your style. You can go for a bolder look by just using a sliver of clear polish close to your cuticle and creating a larger design toward the top of your nail. Or do the complete opposite by using your neutral or clear polish as the main stage with a sliver of colored polish toward the top.
Professional nail stylists recommend investing in a detail brush to use when painting designs such as smaller curved lines (via makeup.com). A regular nail brush is fine when filling in the nail color.
You can go to a salon or you can DIY this look from the comfort of your home. First apply your base coat and wait for it to dry completely. Next, decide what details you want to add. Choose your color, and paint those lines with your detail brush over the base coat. Fill in those designs with the color of your choice and finish the look off with a glossy or matte top coat (via makeup.com). Once you try out the negative space manicure, you'll never go back when it comes to growing out your nails.