Inside Jackie Goldschneider And Teresa Giudice's Fight On The Real Housewives Of New Jersey
The Real Housewives are always bringing the drama, and for Season 11 of "The Real Housewives of New Jersey," it has mainly been brought by Teresa Giudice and Jackie Goldschneider.
It all started in the season premiere, when Giudice brought up a rumor that Goldschneider's husband, Evan, was cheating on his wife. In response, Goldschneider tried to make an analogy, saying that spreading this hurtful information would be like her saying she saw Gia, Giudice's oldest daughter, using "cocaine in the bathroom" (via Reality Blurb!). The OG of "RHONJ" did not like one of her kids being brought into all of this, and her anger went to a whole different level, as she called Goldschneider a c*** several times while leaving (via Tamara Tattles).
Next came a dinner, where Teresa Giudice mentioned the rumor again, and this time, Jackie Goldschneider asked her if she got her confidence "in jail" (via People).
Teresa Giudice and Jackie Goldschneider's feud continued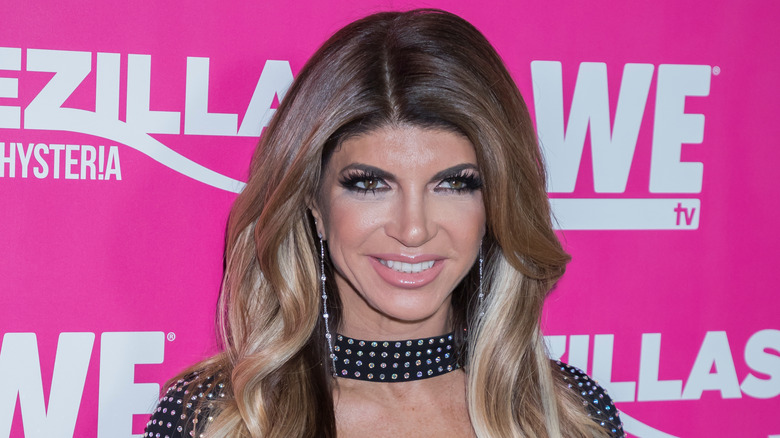 Shutterstock
The next morning, Teresa Giudice told Jackie Goldschneider that she "didn't like the way things went down" and asked if they could "just drop everything." Jackie accepted the apology and agreed to move on, adding, "But do not bring up my husband anymore" (via People). So it seemed the fight was over, right?
According to Bravo TV, Goldschneider has stated that Giudice might be "a great friend and a good person" to others but that she has not really seen that herself. Additionally, Giudice said of Goldschneider that they "don't see eye to eye" and that "she's not my cup of tea."
Sometimes, people in real life and in this franchise just cannot and will not get along, and that may be the case for these two Jersey women. In fact, there have already been reports that they had an "explosive" fight at the reunion (via Reality Blurb!), meaning fans will have much more drama to enjoy.