Zac Clark Reveals How The Bachelorette Was Like Rehab
Zac Clark, who won Tayshia Adams' season of "The Bachelorette" and is currently planning his wedding to her, has been quite open about his sobriety. The addiction specialist revealed on the podcast "Talking It Out with Mike & Bryan" (via People) that his journey even prepared him to compete for Tayshia's heart when he joined the cast of "The Bachelorette."
As Bachelor Nation fans know, filming "The Bachelorette" puts you in what Zac called a "bubble." It wasn't an unfamiliar experience to him, though. "The bubble alone was like being in rehab," he explained. "Talking about your feelings in front of this camera, you know? Be amongst a bunch of other dudes."
Zac added that his sobriety journey gives him "a competitive advantage against the rest of the world," saying, "I've been through some s***. I have some life experience." This was helpful on the set of "The Bachelorette." "I've seen some things play out, and so going on the show is just another one of those experiences where like I know at the end of the day I'm not in control here," said Zac.
Zac Clark has a supportive partner in Tayshia Adams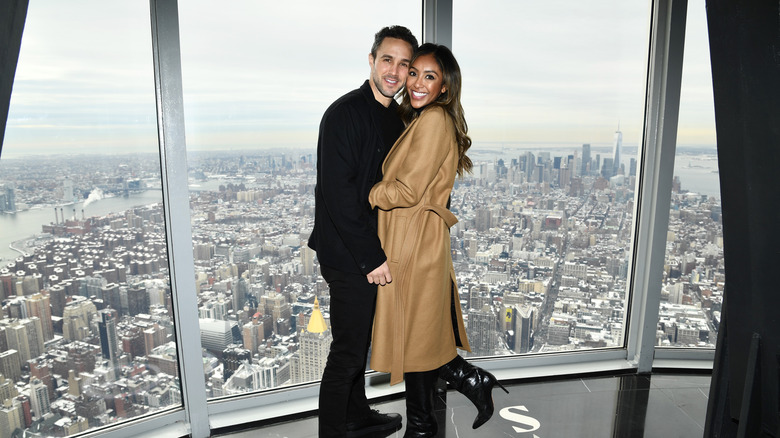 Dimitrios Kambouris/Getty Images
As Zac said on "Talking It Out with Mike & Bryan" (via People), his approach to competing on "The Bachelorette" was to "show up and give it my best and treat people with respect and see where this thing goes."
Zac and Tayshia are still going strong, and Zac previously revealed that she's got his back through thick and thin, which includes supporting his sobriety. He said on the "Whine Down" podcast (via E! News) that his bride-to-be "didn't have any direct experience" supporting someone in recovery, but that she rose to the occasion and "definitely had an open mind."
Zac said that Tayshia's considerate nature is a big part of why he fell for her on "The Bachelorette," saying that "she was able to take on a lot of s***, hold space." He added that she did this not just for him but for other contestants and he "noticed that early on with her."
If you, or anyone you know, is struggling with addiction issues, help is available. Visit the Substance Abuse and Mental Health Services Administration (SAMHSA) website or contact SAMHSA's National Helpline at 1-800-662-HELP (4357).