Here's Proof That Meghan And Harry Have A Ratings Problem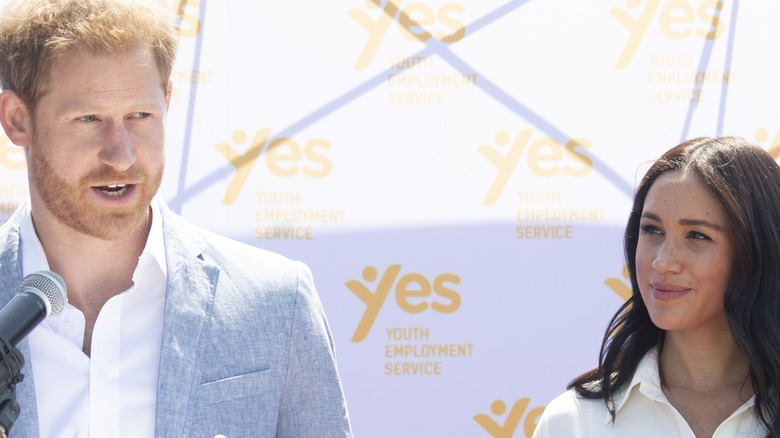 Wpa Pool/Getty Images
Following Prince Philip's funeral, Prince Harry and Meghan Markle are seeing their lowest approval ratings ever among Britons, the Daily Mail reports. The outlet notes that this isn't the first time in 2021 that their approval has dropped — following the couple's tell-all interview with Oprah Winfrey, both Meghan and Harry saw a drop in their favorability.
Per the Daily Mail, a YouGov survey showed that Prince Harry's approval rating has dropped another three points after his return to England for his grandfather's funeral. The survey, which polled over 1,700 Britons on April 21 and April 22, showed that 49 percent have a negative view of Harry, while 43 percent see him in a positive light.
Meanwhile, Meghan saw a five point drop. She was absent from Prince Philip's funeral because her doctor advised against transatlantic travel due to her pregnancy. The same YouGov survey found that her approval ratings are even lower than her husband's — 61 percent of respondents reported a negative view of Meghan, while only 29 percent see her in a positive light.
The most recent data on Meghan and Harry's favorability ratings in America, where they currently reside, is from after their interview with Oprah in March — and it shows there's quite a divide between how Brits and Americans view the couple. Per Entertainment Weekly, 48 percent of Americans reported that they thought the interview would improve Meghan and Harry's image. Meanwhile, 50 percent of Britons polled believed it would hurt their image.
Queen Elizabeth remains the most popular royal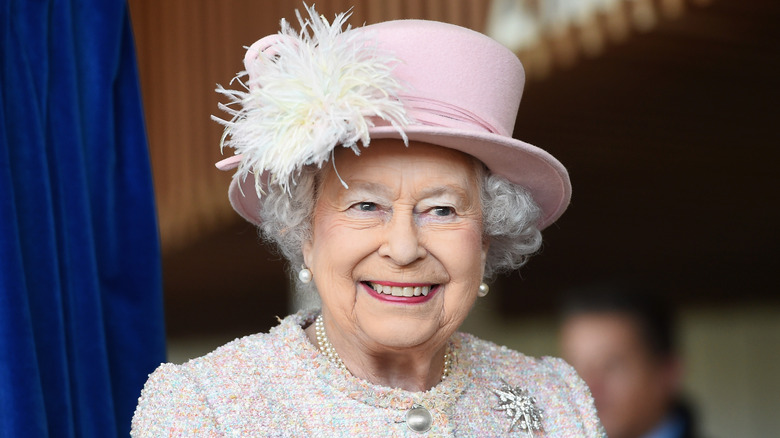 Stuart C. Wilson/Getty Images
As reported by the Daily Mail, Queen Elizabeth continues to be the most popular royal among Britons. The YouGov survey found that she has a favorability rating of 85 percent and just nine percent of respondents reported a negative view of the queen. Furthermore, 64 percent of Britons said they hope the queen, who is 95, will remain on the throne until her death.
Prince William and Kate Middleton also have high favorability ratings at 80 percent and 78 percent, respectively. This makes them the second and third most popular royals in Britain.
Princess Anne also performed well on the survey, with a 70 percent favorability rating. And Prince Charles' approval rating jumped 25 points to 58 percent, most likely due to public sympathy regarding his father's death.
Although the YouGov survey found that the majority of Britons want Queen Elizabeth to remain on the throne, Entertainment Daily reports that she may be preparing to "step away gracefully" from her role. After nearly 70 years as queen, having ascended to the throne at the young age of 25, she's certainly earned the right to get some relaxation during the final years of her life.