Inside The Real-Life Friendship Of Good Mythical Morning's Rhett And Link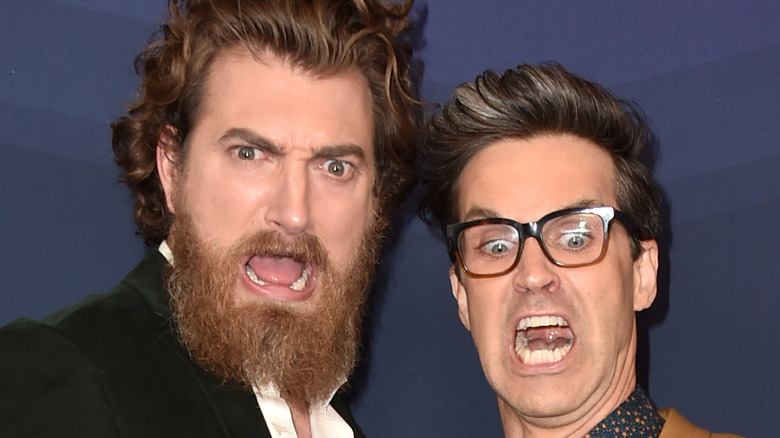 Alberto E. Rodriguez/Getty Images
What started as two buddies recording their 10-minute chats in a converted garage is now an award-winning YouTube series that has more than 17 million subscribers (via YouTube). In "Good Mythical Morning," hosts and self-proclaimed "Intertainers" (per Biographics World) Rhett McLaughlin and Link Neal offer a range of daily entertainment, from hilarious taste tests (pine needle tacos, yum) to impromptu jam seshes. Despite guest appearances by stars like Terry Crews, Bobby Berk, and Mayim Bialik, it's the back-and-forth banter between Rhett and Link that makes the show. For their 17 million subscribers, the duo is the epitome of millennial friendship goals. Perhaps more than anything, they've taught us that laughing — or as Link puts it, "farting out of your mouth" — is the glue that makes bonds unbreakable (per Odyssey).
Both North Carolina natives born just seven months apart, Rhett and Link have a history that spans several decades. They're so close that the most searched questions about them on Google are 1) if they're brothers and 2) if they're a couple (via WIRED). For the record: no, and no. But here's what is true about the comedic comrades.
Rhett and Link's friendship goes back to the first grade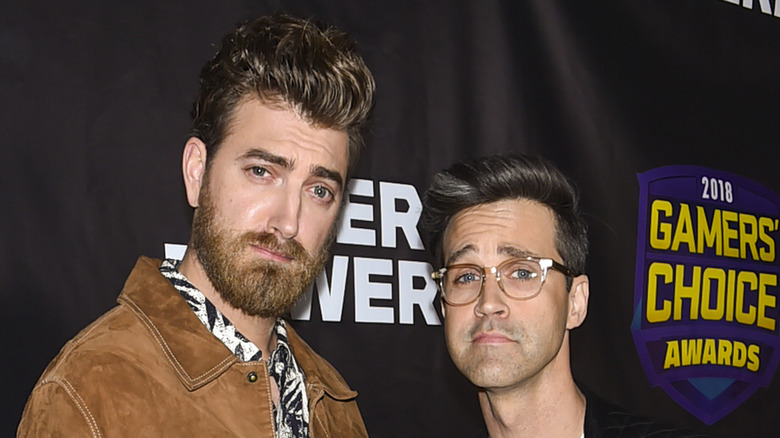 Michael Bezjian/Getty Images
As they tell it, Rhett and Link met on the first day of first grade when they were held in from recess for writing profanity on their desks (via WIRED). In their famous "How We Met Song," the pair sings about how their punishment consisted of coloring unicorns, which inspired the name of their well-trafficked YouTube channel. Back in 2008, they made a documentary called "Looking for Mrs. Locklear," which covered their search for the long-lost teacher that inadvertently brought them together.
In a way, nothing's changed. "There are many times when we look at each other and we're making each other laugh in the same way we did when we were recording ourselves onto cassette tapes, and doing mock interviews in grade school," Link told Cnet. "We're still doing that as guys in our 40s." 
Rhett has shared similar sentiments, like when he captioned an adorable throwback picture of the pair by describing Link as "his best friend all along" who's "funny, smart, thoughtful original, and weird," per Instagram.
Rhett and Link were so inseparable that they attended the same college where they studied engineering while sharing a dorm room, per NC State University. By the time they started "Good Mythical Morning" in 2012, they'd been doing life together for nearly 30 years. According to Hopes and Fears, the average length of marriages in the U.S. is only 8.2 years, so they're basically an old married couple at this point (and we're here for it).