Dr. Fauci Has Harsh Words For Joe Rogan Over Vaccine Remarks
Chip Somodevilla/Getty Images
COVID-19 vaccine distribution is rolling out across the United States, and Dr. Anthony Fauci has been making the media rounds for months in an attempt to get as many Americans vaccinated as possible. And his hard work is paying off, with 96.7 million of the nation's citizens fully vaccinated to date (as per the New York Times).
Fauci told NPR's Morning Edition in April 2021, "It's kind of like a race between the potential for a surge and our ability to vaccinate as many people as we possibly can. And hopefully, if you want to make this a metaphorical race, the vaccine is going to win this one. He adding that he believes "strongly that every day that goes by, we get closer and closer to getting an advantage."
However, there are those who don't agree with the belief that everyone should be lining up to get vaccinated, including comedian and podcast host Joe Rogan. 
"People say, do you think it's safe to get vaccinated? I've said, yeah, I think for the most part it's safe to get vaccinated. I do. I do," Rogan said on his podcast, "The Joe Rogan Experience," per CNN. "But if you're like 21 years old, and you say to me, 'Should I get vaccinated?' I'll go, 'No. Are you healthy? Are you a healthy person?' If you're a healthy person, and you're exercising all the time, and you're young, and you're eating well, like, I don't think you need to worry about this."
Dr. Fauci responds to Joe Rogan's coronavirus vaccine remarks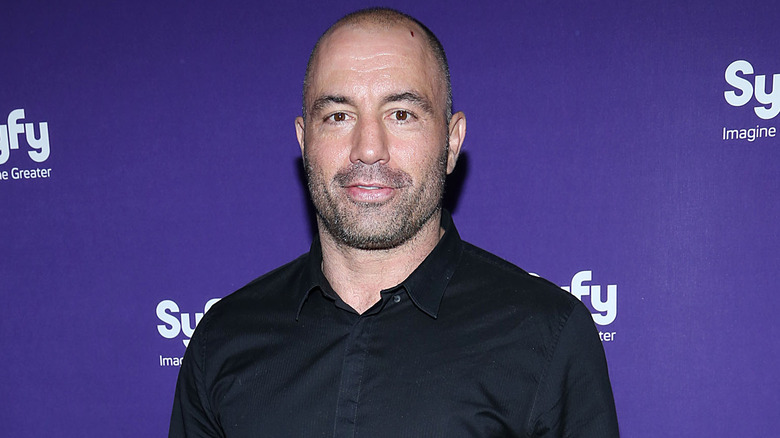 Rob Kim/Getty Images
It shouldn't come as a surprise that Dr. Anthony Fauci, the nation's top infectious disease expert and President Joe Biden's chief medical adviser, was unhappy with Joe Rogan's comments that young adults should reconsider immediately receiving a COVID-19 vaccine.
During the April 28 episode of NBC's "Today" show, Fauci said, "Even if you don't have any symptoms, you are propagating the outbreak. Because it is likely that you — even if you have no symptoms — that you may inadvertently and innocently then infect someone else, who might infect someone who really could have a problem with a severe outcome. So if you want to only worry about yourself and not society, then that's okay."
The White House also hit back at Rogan's remarks, with communications director Kate Bedingfield stating to CNN, "I guess my first question would be, 'Did Joe Rogan become a medical doctor while we weren't looking?' I'm not sure that taking scientific and medical advice from Joe Rogan is perhaps the most productive way for people to get their information."