Inside Elon Musk's Relationship With Musician Grimes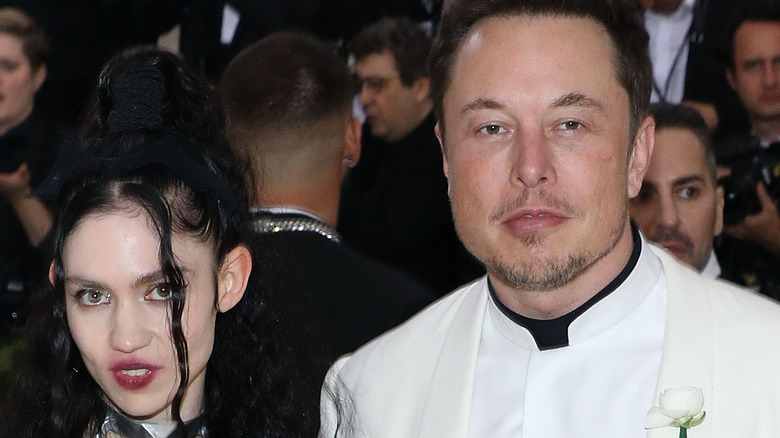 Taylor Hill/Getty Images
Tech mogul Elon Musk can't stop getting involved in controversies. Denying the severity of COVID-19, planning to build a city on Mars, and naming his kid with a debatable pronunciation are just some of the sources of backlash against him. He is now being criticized all over social media because — in a very odd turn of events — he will be hosting "Saturday Night Live" on May 8, 2021, according to CNBC. But being in the eye of the storm hasn't stopped him from finding love and starting a family alongside his musician girlfriend Grimes.
You might be asking, how did the sparks arise between the tech entrepreneur and the electro pop singer? Like most of our social interactions right now, the couple met on social media. In 2018, Page Six reported that Musk was planning on tweeting a joke about artificial intelligence when he realized that Grimes had already made the remark in her music video for "Flesh Without Blood." Musk reached out to her and the two bonded over the AI joke (very appropriate for Musk). The couple started interacting more and more on social media, and they made their first public appearance together at the 2018 Met Gala.
Grimes and Musk welcomed their first child in 2020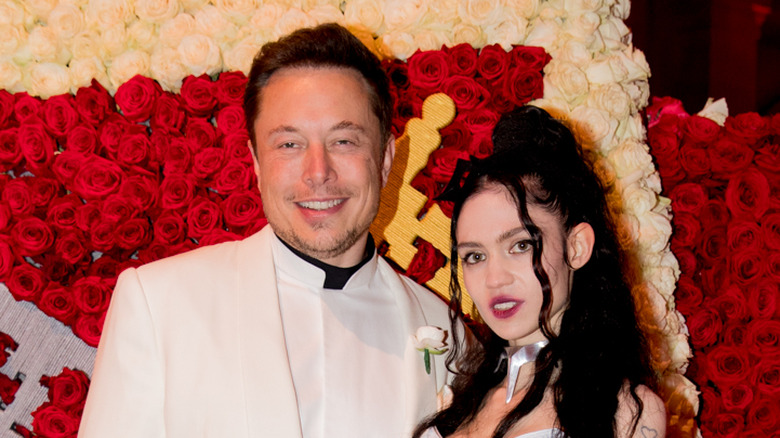 Kevin Tachman/Getty Images
In late 2018, Elon Musk and Grimes unfollowed each other on social media for reasons stemming from a feud over comments by rapper Azealia Banks. The "212" singer claimed that she flew over to Musk's residency to meet up with Grimes and during her time there, she overheard Musk hunting for investors, per Business Insider. Trouble in paradise didn't last long though, as just a couple of weeks later the couple was spotted pumpkin picking in Los Angeles next to Musk's kids (via Business Insider).
In early 2020, Grimes revealed her pregnancy through a nude Instagram photo (very on brand). The baby is the couple's first child together, but the sixth kid for Musk, who has twins and triplets from his previous marriage (via Hollywood Life). The couple named their kid X Æ A-12 Musk, but had to change the numbers for letters because of California laws for birth certificates (via ABC News).
The family of three seems to be doing fine, as shown in a rare family photo that Musk shared on Twitter in March 2021. As of publication, they're living in Texas, as Musk is developing Space X prototypes and is planning on creating a new city, Starbase, Texas (via People).