Elon Musk Reveals A New Photo Of His Adorable Son With Grimes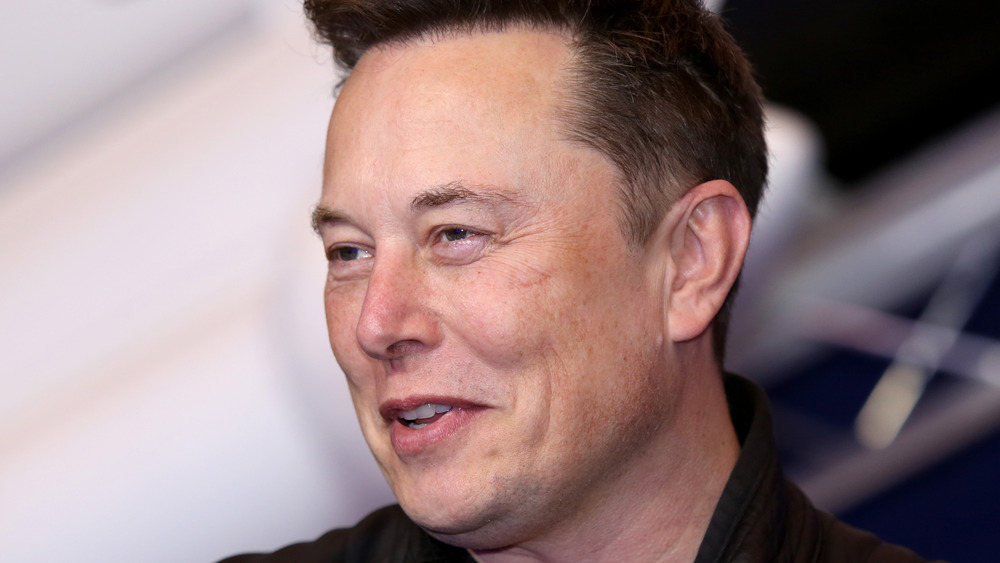 Bloomberg/Getty Images
Grimes tested positive for coronavirus back in January and has been recovering ever since, according to Vanity Fair. That means the musician's partner and CEO of Tesla and SpaceX, Elon Musk, has had to step up with his daddy duties. While Grimes is known for sharing adorable updates on social media when she's taking care of their son X Æ A-XII at home, Musk is not normally one to do it for the 'Gram. However the 49-year-old father posted an adorable pic of himself holding his son on Twitter, and it's something you have to see (via Page Six). 
The father-and-son photo shows off that Musk is able to balance his home and work life — literally. In one hand, he's holding onto Little X, and in the other, he's taking what is assumed to be a business call. This super cute (and rare) photo of the dad is captioned, "The Second Last Kingdom," which could be a reference to the Netflix series The Last Kingdom.
Grimes once gave their son a haircut inspired by The Last Kingdom
This isn't the first time the family has mentioned The Last Kingdom. Back in January, Grimes gave her son a haircut inspired by the show (via BuzzFeed). With many salons closed due to COVID-19, some people have attempted to do at-home haircuts in quarantine. Some results are good, while others will have you repeating to yourself, "Hair grows back!" It's fine if you're not a professional hairstylist, because neither is the singer-songwriter.
Documenting the whole process in her Instagram Story, Grimes attempted to give her son a fresh cut. It didn't necessarily go to plan, but it was still adorable regardless. According to her Story, Grimes gave her son a Viking cut "inspired by The Last Kingdom" (via Page Six). Whether Elon Musk was referring to the Netflix show in his recent Twitter post as well is unclear, but what is clear is that X Æ A-XII has some of the coolest parents ever. 
It's also very clear that this photo of Musk and his son is one of the cutest things you'll see all day. So, here's to hoping there are more family updates from this crew in the future.