Alex Rodriguez's Recent Transformation Is Causing A Stir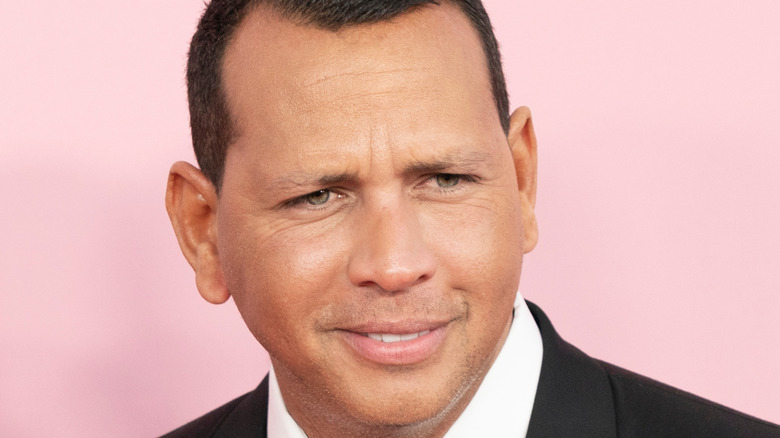 Shutterstock
Alex Rodriguez appears to have another home run on record, but it has nothing to do with his former baseball career. Instead, the retired MLB champion has taken major swings when it comes to weight loss — and based on the social media response, his transformation is a hit! The "Shark Tank" star recently posted side-by-side photos of himself from December 2020 and April 2021 to show off a noticeable difference that had onlookers stirring. "Left the Dad-bod in 2020," he writes. Engaging his followers to respond, A-Rod added, "Anyone else determined to stick with their fitness goals this year? I've been consistent with my workouts and finally put down the chips" (via Instagram).
What Rodriguez failed to mention in his social media post was what his motivation was to get back into killer shape (but we have our theories). The successful business man has recently gone through a very public rough patch after officially announcing his split from his former fiancée Jennifer Lopez. The timing of this has us wondering if A-Rod's newly svelte physique is the result of his effort to achieve a revenge body.
Or did A-Rod 'put down the chips' to win J.Lo back?
"That's the 'I'm single again' drive LOL," one wrote in the comments section of Alex Rodriguez's Instagram reveal. Another commented, "Nothing like the break up diet!" Sure, getting a revenge body might have been Rodriguez's motivation. Or perhaps A-Rod's new fitter frame could be a ploy to win Jenny from the Block back. "A-Rod will not give up on his and J.Lo's relationship," claims an exclusive source. "He is willing to do anything to make it work" (via Us Weekly).
It's only natural that Jennifer Lopez has become part of the speculation around Rodriquez's noticeable physical transformation. But what we need to remember is that this savvy tycoon was a professional athlete first, which means he knows how to get his body in tip-top form with or without the "Hustlers" star as motivation. The power couple may have broken up, but it is clear that at least one half of the duo is feeling better about themselves. And in the world of the newly single, that is a home run.