Here's What You Need To Know About Static Nails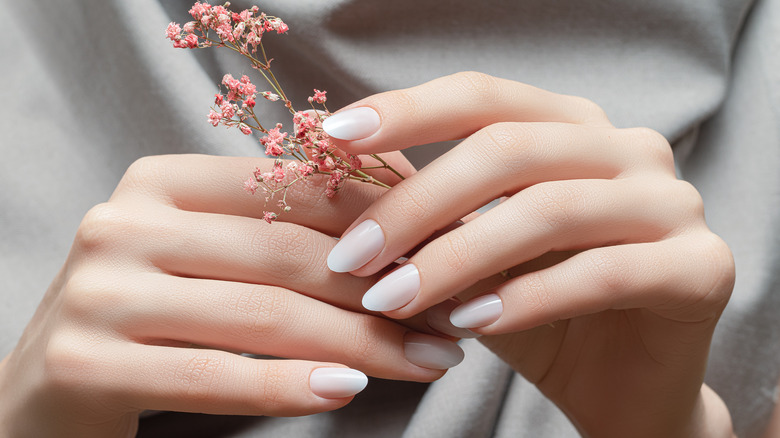 Shutterstock
When the pandemic hit, closing down nail salons, many people ended up trying to do their nails on their own, according to Vogue. One of the innovative companies catering to people who DIY their manicures is Static Nails (via Good Housekeeping). The company, which launched in 2016, makes both press-on, or pop-on, nails in several shades, lengths, and shapes, as well as nail lacquer in a variety of shades. According to Good Housekeeping, the brand's reusable pop-on sets provide a flawless manicure in mere minutes, and they stay put for up to 18 days. An added benefit is you can paint them, too. The lacquer does not contain many of the toxic chemicals found in other polishes, and once you paint your nails with it, it will last three times as long as regular polishes. 
Forbes reported that founder Alexis Irene started the groundbreaking manicure company out of her college dorm room. Irene told Makeup.com by Loreal that she "wanted to create a solution that looked natural, was non-toxic, durable and gave everyone access to luxury nail art" when she started the company as a college student. The brand had great success early on and enjoyed partnerships with big names like HSN and Sephora, which helped increase its visibility. During the pandemic, Static Nails ran lots of ads on social media and YouTube, enticing people who were used to professional manicures to give them a try. Irene said she hopes that converts will stick with her pop-ons post-pandemic.
Here's how to apply Static Nails' pop-on nails
Alexis Irene began working in the beauty industry as a model at age 14, and she signed as a makeup artist at 16, according to Forbes. Her strong background in beauty gave her the connections and experience she needed to launch her product. Still, creating the company took a whole lot of research and trial and error to create the types of usable, non-damaging, and non-toxic products that Irene wanted to sell. "A great deal of thought, research, and testing goes into each color and product we make, so our customers truly love and obsess over each of their products from us," she told Makeup.com by Loreal. 
Irene gave Loreal a few of her favorite tips for achieving a natural-looking manicure with Static Nails' pop-on sets. "Ensure you use enough glue and pressure when holding the nail to avoid creating air pockets when wearing a sheer set. Push the nails slightly under your cuticle, so they are seamless and extra natural-looking. Apply your thumbnails last, and do your non-dominant hand first," she advised. Following these tips, you can achieve a gorgeous pop-on manicure at home. If pop-ons are not your thing, however, or you want to change the color of a set you own, you can paint your nails with one of the brand's liquid glass lacquers.