The Beyoncé-Inspired Braids You Have To Try This Summer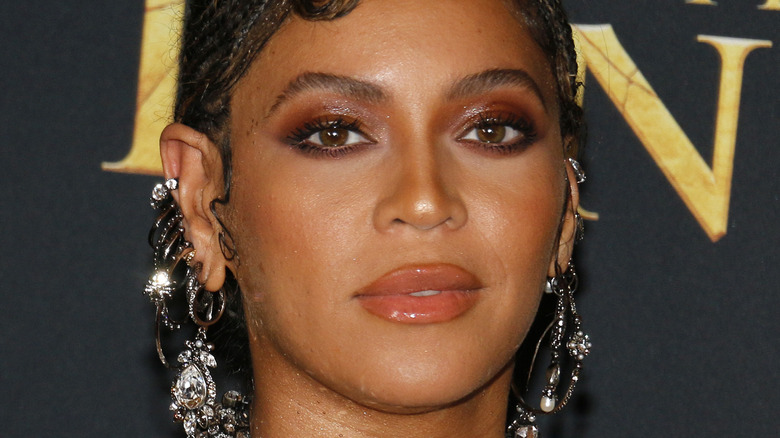 Shutterstock
It's been over four years since Beyoncé released her iconic album "Lemonade." Fans still remember her rocking the stylistic cornrows, aka lemonade braids. What better way to honor your inner queen than to wear this Beyoncé-inspired look this summer?
Not only are these braids stylish, but they're also protective, meaning they'll protect your natural hair from any sun damage (via Coils & Glory). And, they're also versatile. Coils & Glory added that you can wear lemonade braids with or without hair extensions — it's all up to you! However, if you're truly looking to replicate Beyoncé's iconic look, you might opt for those extensions. 
These braids should last four to six weeks, but only if you take care of them. You must wash, condition, and moisturize, while also tying your hair down with a silk scarf or bonnet at night to keep down any flyaways, the outlet added. This is a chic look you can rock all summer!
There are different ways to wear Beyoncé's lemonade braids
Remember how versatile Beyoncé's braids were? Per Byrdie, you can also wear small lemonade braids if the bigger ones don't work for you. And, if you're wondering, yes, there is a difference between small lemonade braids and Beyoncé's iconic look — small lemonade braids, according to Byrdie, were trending on Instagram with many natural-haired girls showing off this cute hairdo. But what's best about this style is that it pays homage to Queen B's "Lemonade" look.
If you're not into small braids and want to try a hairstyle that's a bit chicer, you could try lemonade braids with beads, according to The Trendspotter. This outlet noted that adding beads to your lemonade braids can suit any style, whether you're bohemian or goth. There are tons of different beads out there to fit your look. Lastly, if you're worrying about breakage or hair damage from the braids, don't! Per The Trendspotter, medium-sized lemonade braids were made for those with fine or thin hair! So, you can still enjoy the look while protecting your hair — a two-in-one.
The perfect hairstyle to wear this summer is chic, versatile, and protective. What else could you ask for?