Ron DeSantis: How Much Is The Governor Worth?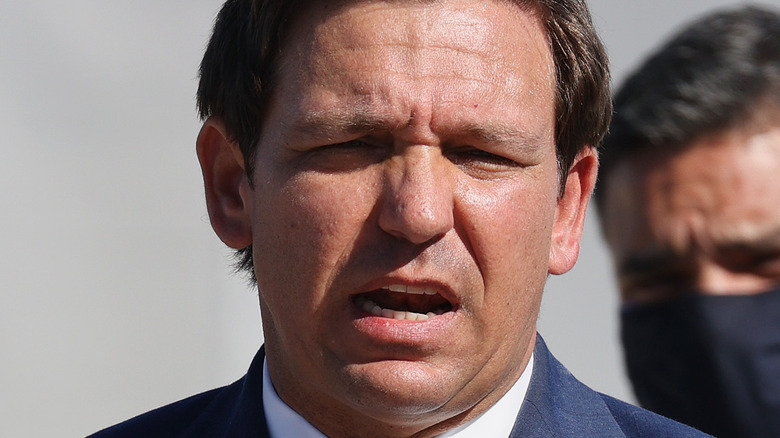 Joe Raedle/Getty Images
Ronald DeSantis is making headlines. Former President Donald Trump announced on April 29 that he's considering the Florida Governor as a potential Vice President pick if he decides to run in 2024, (via Business Insider). 
Trump said in an interview with Fox Business, "He's a friend of mine. I endorsed Ron, and after I endorsed him, he took off like a rocketship. He's done a great job as governor." The former president also claimed that he's been reading that a lot of people wanted him to run with DeSantis. He responded, "Ron would be considered. He's a great guy."
Though Trump is teasing he may want DeSantis to run on his ticket, the Jacksonville native may want the Republican nomination for himself. USA Today reports that DeSantis may be positing himself as a potential presidential candidate. He is scheduled to deliver a speech in the battleground state of Pennsylvania in May 2021 addressing the Allegheny County Republican Party. A DeSantis supporter and fundraiser, told the publication, "I'm getting calls from people all over the country wanting him to come to their states and do events for them." However, DeSantis and his aides insist that their main focus remains on getting reelected in Florida.
DeSantis is a former Navy man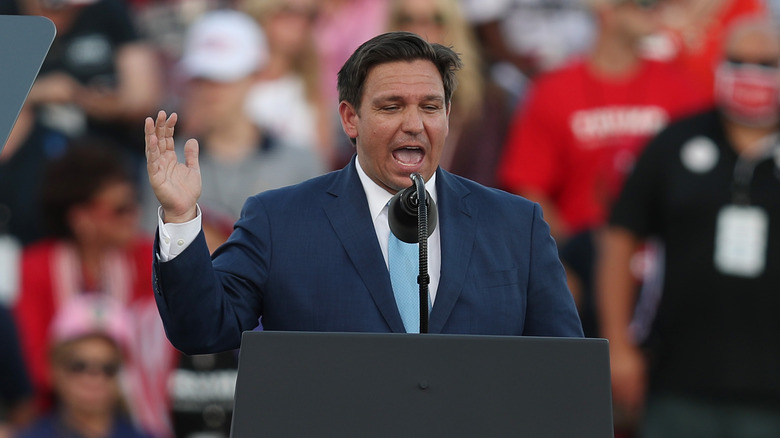 Joe Raedle/Getty Images
Whether Ronald DeSantis decides to run for president or vice president in the next election, if he finds himself residing in the White House, his net worth will greatly increase. DeSantis began his career in the Navy after graduating from Harvard Law School, (via Florida Phoenix). He served as a prosecutor, defense attorney, international law attorney, and a Judge Advocate General's Corps officer. DeSantis reportedly received at least 10 awards and decorations thought his career as a Navy man. 
Following his active-duty service, DeSantis began working as a federal prosecutor while serving in the U.S. Navy Reserve, (via Business Insider). In 2012, he began his political career when he was elected to Congress as the U.S. Representative for Florida's Sixth District. In 2019, DeSantis became the Governor of Florida and is currently serving a four-year term.
According to Sun Sentinel, DeSantis' net worth increased nearly 3% in his first year serving as governor. In December 2019, the Florida governor reported a net worth of $291,449 dollars. As of April 2021, there haven't been any updates on DeSantis' net worth. However, his reported salary is $130,000 dollars.