More Than One-Third Of People Were Most Upset About This TLC Show's Cancellation
TLC has a reputation for airing some binge-worthy shows. Known for hosting real-life series, fans often flock to the network to get a glimpse at how other people around the globe live, work, and love. According to Ranker, the current top shows on TLC are "7 Little Johnstons," "90 Day Fiancé," "Dr. Pimple Popper," "My 600-Lb Life," and "Sister Wives."
Unfortunately, even some of the most popular TLC shows face cancellation. Recently, favorites like "19 Kids and Counting," "Here Comes Honey Boo Boo," "LA Ink," "Cheer Perfection," and "Toddlers & Tiaras" have gotten the boot. Often, a network cancels a show due to low ratings, and while this can be true of many series on TLC, shows are also canceled due to scandals or unfortunate rumors in the media concerning the stars.
While viewers have expressed sadness over a lot of recent cancellations, there is one show that one-third of people surveyed by The List were most upset about.
Fans are most upset over the cancellation of What Not to Wear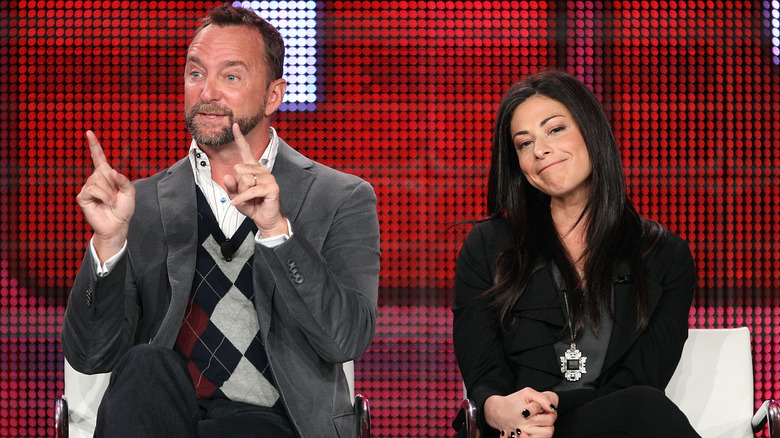 Frederick M. Brown/Getty Images
A recent poll by The List offered some surprising results. Choosing between a variety of canceled shows, an overwhelming amount — one-third of all poll users — said they were most upset about saying goodbye to "What Not to Wear."
According to Huffington Post, TLC canceled the series after 10 years on air in July of 2013. The show starred fashion experts Clinton Kelly and Stacy London, who would give makeovers to everyday people nominated by their friends and family. While the show has been off the air for quite a while now, it seems that fans are still missing it. According to CheatSheet, there have been rumors of a "What Not to Wear" reboot, but we have yet to see any details from TLC about it. We also know that stars Kelly and London had a falling out a few years back (via ET Online), which may be the reason the show has not returned.
The "What Not to Wear" cancellation seemed to upset most TLC fans, but the poll also reflects some other upsets, including "LA Ink," who had almost 20% of the vote, and "19 Kids and Counting," who had 15% of viewers missing them the most.