Donald Trump Is Thinking Of This Politician As A Running Mate In 2024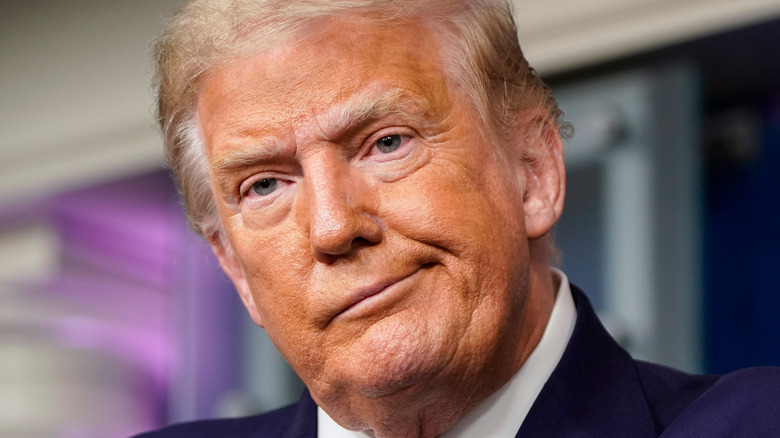 Shutterstock
President Joe Biden has been in the White House for barely 100 days, and already rumors are swirling about who will be running for president in 2024. Although Donald Trump has been banned from pretty much every social media platform, the former president has been making the rounds on various podcasts and radio and TV shows to give his takes on today's current political climate.
During an appearance on "The Truth with Lisa Boothe" in March, Trump talked about who he thinks will be the future of the Republican party. "I think Josh Hawley has shown some real courage in going after Big Tech, you know they go after him," he said (via the New York Post). "Josh is terrific. And, you know, somebody that's been really terrific is Ted Cruz." 
In an e-mail statement, Trump endorsed former White House Press Secretary Sarah Huckabee Sanders in her bid for Governor of Arkansas. "Sarah Huckabee Sanders is a warrior who will always fight for the people of Arkansas and do what is right, not what is politically correct," he wrote (via Politico). "Sarah will be a GREAT Governor, and she has my Complete and Total Endorsement!"
Trump is touting Florida Governor Ron DeSantis as a possible 2024 running mate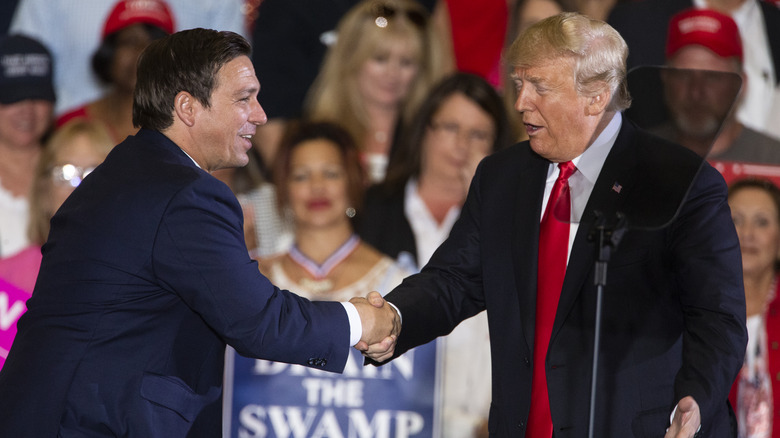 Mark Wallheiser/Getty Images
Trump also has good things to say about Florida Governor Ron DeSantis. "He's a friend of mine," Trump told Fox Business host Maria Bartiromo (via Politico). "I endorsed Ron, and after I endorsed him, he took off like a rocket ship. He's done a great job as governor."
The former president told Bartiromo that he would even consider DeSantis as a potential running mate if he decides to run in 2024. "A lot of people like that," he said of the Florida governor as a potential VP pick. "You know, I'm just saying what I read and what you read — they love that ticket. But certainly, Ron would be considered. He's a great guy."
The hypothetical 2024 Trump-DeSantis campaign caused quite a stir on social media, with one Trump supporter writing, "It's Ron DeSantis and Donald J. Trump – those are the only two leaders in this country who can save the nation from the radical left." 
A Twitter user on the opposite end of the spectrum said, "Donald Trump and Ron DeSantis will not be on the ticket in 2024; they will be sharing a cell with Matt Gaetz and Rudy Giuliani."