Inside Tobey Maguire And Kirsten Dunst's Relationship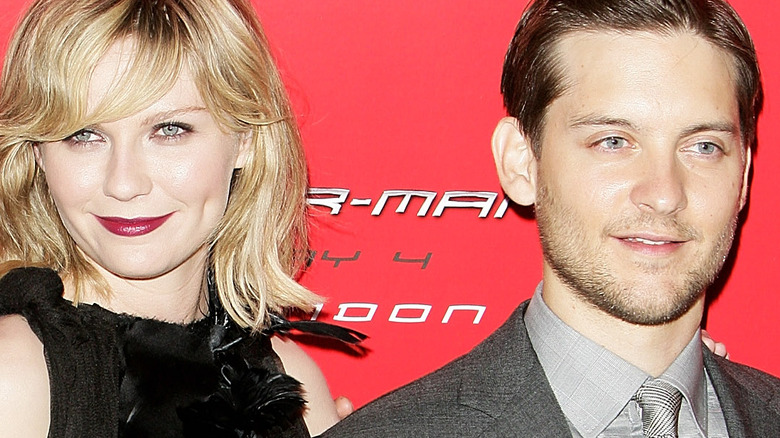 Dave Hogan/Getty Images
The 2002 Spider-Man film introduced us to one of Hollywood's favorite showmances: Kirsten Dunst and Tobey Maguire. While the two actors brought characters Peter Parker and Mary Jane to life in director Sam Raimi's live-action remake, they were also finding love off-camera. And how could they not after kissing upside-down in the rain (via Rotten Tomatoes)? Maguire even admitted (via Deseret News) that while shooting the scene he was "sneaking some pleasure out of it."
Unfortunately, the romance didn't last and by the film's sequel (and three-quel, via IMDb), Dunst and Maguire were officially just friends. In a 2007 interview (via the The Sydney Morning Herald), Raimi shared his concern about the actors' break-up. "They apparently began dating with each other, I think, in the middle of the first movie ... but definitely they eventually broke up before the second movie. I was concerned they wouldn't get the same chemistry back, but it was just me worrying."
Maguire and Dunst never had to worry about chemistry. In fact, their chemistry inspired two more iterations of the live action Spider-Man films. However, their relationship since shooting together has and continues to evolve.
Kristen Dunst thinks Tobey Maguire is the best Spider-Man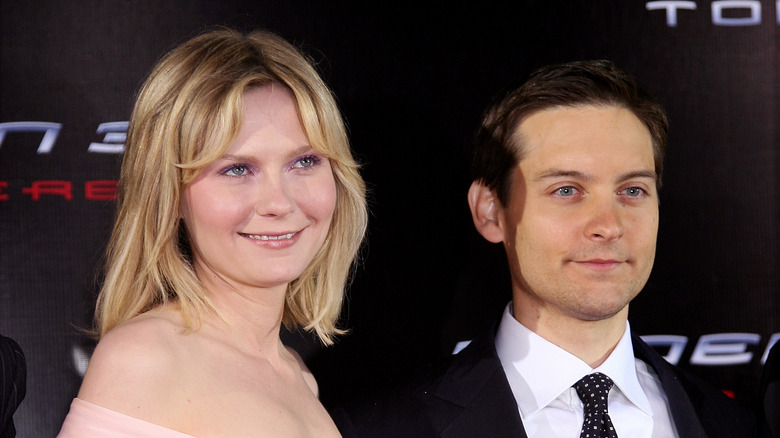 Koichi Kamoshida/Getty Images
Dunst stands by her ex and spidey-sensored hero. In a 2017 interview with Marie Claire UK, when asked how she felt about the Spider-Man reboot starring Tom Holland, Dunst replied, "We made the best ones, so who cares? I'm like, 'You make it all you want.' They're just milking that cow for money. It's so obvious. You know what I mean?" We definitely do.
Especially since Dunst didn't stop there. In an interview with Variety that same year, she lamented about how she wished they "could have made a fourth" installment of the Marvel franchise. But when asked how she felt about the Holland re-boot she responded that she hadn't even seen it. "Everyone likes our Spider-Man. C'mon, am I right or what? Listen, I'd rather be in the first ones than the new ones."
Be careful what you wish for. Raimi's "Spider-Man 4" may be in the works alongside MCU's "Spider-Man 3," which will see the return of Maguire and Dunst reprising their original roles (via Collider). Either way, these co-stars haven't seen the last of each other.