The Real Reason Royal Experts Just Called Meghan And Harry Hypocritical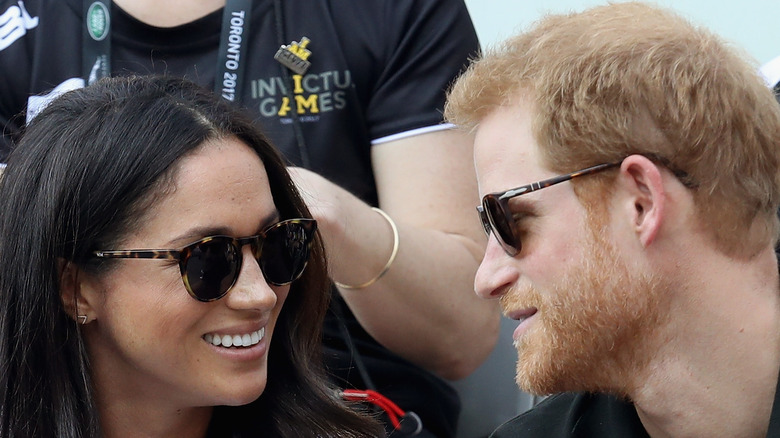 Chris Jackson/Getty Images
Prince Harry and his wife Meghan Markle are being called out in the media yet again. The couple has been making headlines for nearly everything they do since leaving behind their duties as senior members of the royal family in early 2020 (via Observer). Of course, the pair fueled the firestorm around them when they sat down for a shocking tell-all interview with Oprah Winfrey in March of 2021, as they absolutely did not hold back. 
During the interview, Harry and Meghan dropped bombshells about the royals and spoke out about living within the confines of the powerful family (via USA Today). Meghan spoke out about how her sister-in-law, Kate Middleton, made her cry while planning her wedding. She also claimed that members of the family made racially insensitive remarks about her son's skin color. In addition, Harry opened up about how his father, Prince Charles, wouldn't take his calls following his departure from the family (via ELLE). 
One of the biggest themes of the interview was privacy and the press. Harry claimed that the press was "bigoted" (via The Washington Post) and recalled their invasive behavior. Just one month prior, Harry told James Corden that the press was "toxic" and "destroying" his mental health, per NBC News. However, a royal expert is now calling the Duke and Duchess of Sussex "hypocrites" after yet another leak to the media.
This royal expert called out Prince Harry and Meghan Markle's post-interview behavior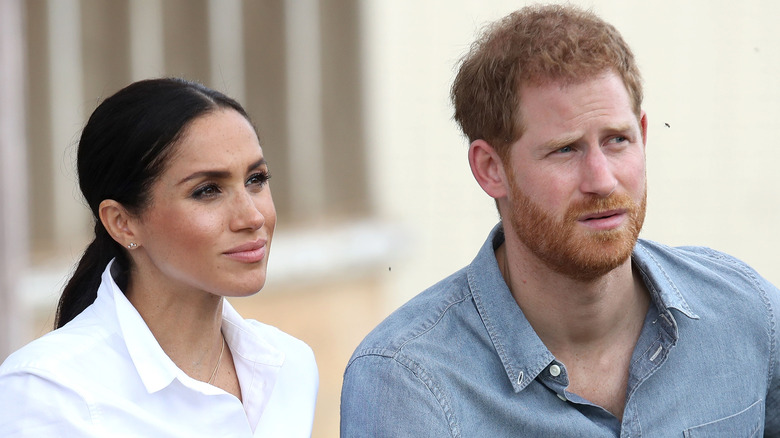 Chris Jackson/Getty Images
Some are calling out Prince Harry and Meghan Markle once again after a new leaked story about them surfaced in the media, as noted by The Sun. In April of 2021, Harry's older brother Prince William and his wife Kate Middleton celebrated their 10-year anniversary. Members of the royal family, such as Queen Elizabeth and Prince Charles, congratulated the couple publicly on the milestone. However, Meghan and Harry were quiet on social media and reports began to surface that the couple had wished William and Kate a private congratulations.
Royal expert Phil Dampier criticized Meghan and Harry in the aftermath, calling the couple "hypocritical" for the way the story was revealed. "The Queen and Prince Charles made their messages of congratulations to William and Kate on their tenth anniversary in public so why didn't Harry and Meghan?" Dampier said, as noted by The Sun. "Instead, they relied on their spokespeople leaking out the fact they sent a message, making it look manipulated and contrived."
Dampier went on to say that William is uneasy about speaking to Harry because of all the leaks on his side, and is fearful that anything he shares with his brother will make it in the headlines. "That makes it very difficult for them to have a proper conversation," Dampier said. The royal expert offered his advice to Harry and Meghan, saying that the couple "should get on with their lives. 
"Stop playing the victim and stop playing on [your] royal connections by leaking stories while pleading for privacy," Dampier recommended to the couple.