What Is Tim Scott's Net Worth?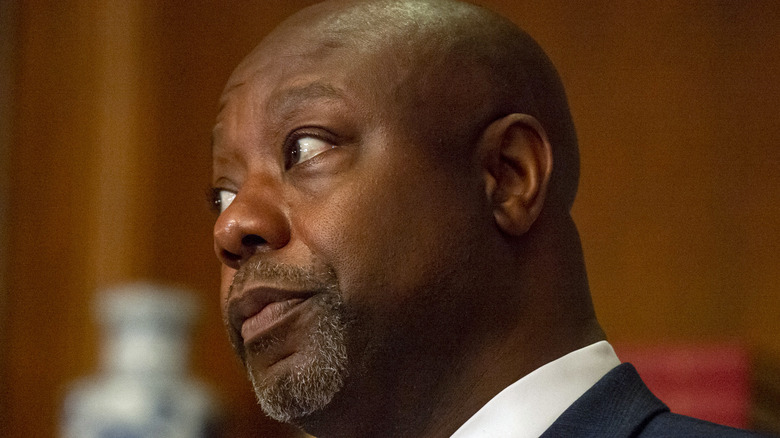 Pool/Getty Images
U.S. Senator Tim Scott of South Carolina came into the spotlight this week for his response to President Joe Biden's address to a joint session of Congress on April 28. On the occasion of completing his first 100 days in office, President Biden touted the administration's COVID-19 vaccine roll out, introduced plans for infrastructure investments, and called on Congress to pass legislation that would address police violence against Black communities before the anniversary of the murder of George Floyd.
In his response, the Republican senator criticized not only Biden's focus on race, but the treatment of the subject by Democrats in general, claiming that the emphasis on racial issues only serves to divide America. "Hear me clearly: America is not a racist country," Scott said (via The Washington Post). "It's backwards to fight discrimination with different types of discrimination. And it's wrong to try to use our painful past to dishonestly shut down debates in the present."
Senator Scott's net worth is surprisingly low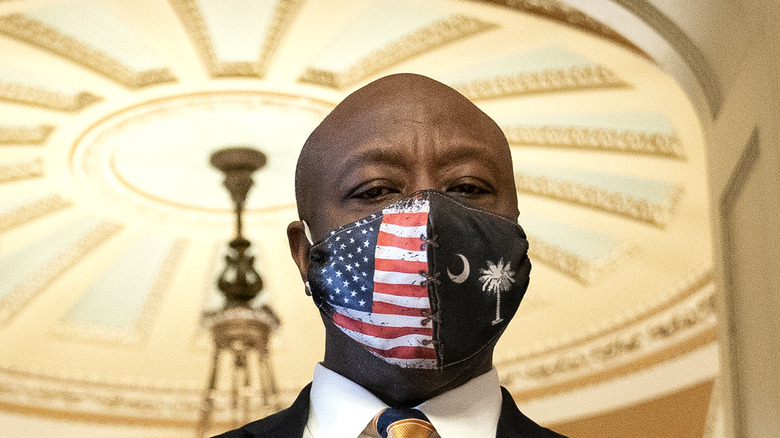 Bloomberg/Getty Images
Tim Scott began his political career on the Charleston County Council, where he served for 13 years. He was then elected to the South Carolina House of Representatives in 2008 (via The Washington Post). He became a member of the U.S House of Representatives in 2011 and was appointed to the U.S. Senate in 2013 by then Governor Nikki Haley (via The Washington Post). Scott went on to win a special election in 2014, becoming the first Black U.S. senator ever elected in the state of South Carolina (via Greenville News).
But according to Forbes, while senators have a median net worth of $1.76 million (with many worth much more) Senator Scott's net worth is surprisingly low. The Sun reports that Tim Scott's net worth was declared much higher in 2009, when released financial records indicated a value of $3.88 million. But it seems that many of his real estate investments didn't pan out well over the last decade, and Celebrity Net Worth, which pulls data from public sources, reports his current net worth at just $200,000.