Prince William And Prince Harry Reportedly Still Have Not Healed Their Relationship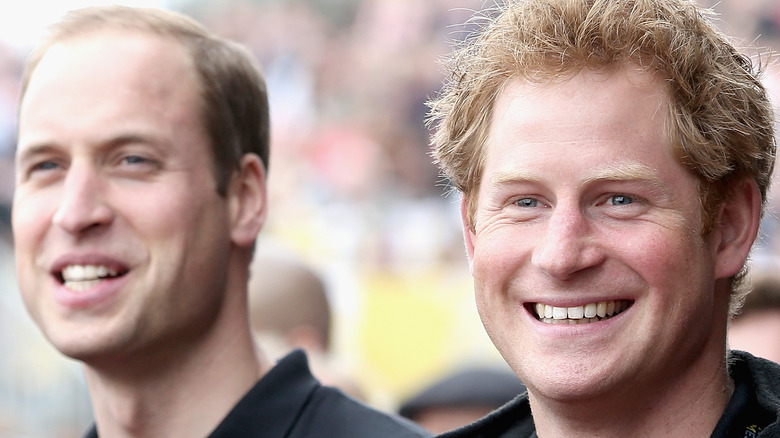 Chris Jackson/Getty Images
Prince Harry returned to Great Britain for his grandfather Prince Philip's funeral, and the trip marked Harry's first visit back to his home country since his bombshell interview with Oprah Winfrey. The trip came just a month after Harry and Meghan Markle dropped bomb after bomb about the royal family, which reportedly was quite upsetting to Prince William due to in part to comments made about his wife, Kate Middleton.
"William is very protective of Kate and can get very angry," Penny Junor, a biographer who has written about both William and Harry, told People. "For Meghan to name Kate in a negative light is worse than being attacked himself." Junor was referring to Meghan's statement that Kate made her cry the week before her wedding due to a disagreement about bridesmaid dresses. At the time, tabloids reported that Meghan was the one who brought her sister-in-law to tears.
As reported by US Weekly, William and Harry spoke with one another in person during Harry's time in Britain, but the brothers' relationship remains strained.
"Harry did speak to William while he was in the U.K., so in that respect, they made some progress," an insider told Us Weekly. "But they definitely haven't reached the stage where all is forgiven nor have they buried the hatchet." The outlet noted that Harry was seen walking with William and Kate after the service for Philip, and body language expert Elaine Swann noted that William's body language indicated he's making an effort to reach out to his brother.
Prince William and Prince Harry might be taking the steps to improve their relationship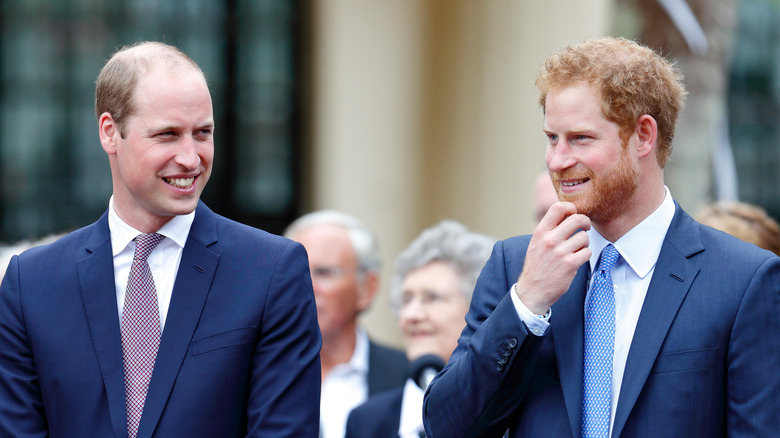 Max Mumby/indigo/Getty Images
Fighting with family can bring all sorts of skeletons out of the closet, but according to body language expert Elaine Swann, Prince William made an effort to (partially) reconcile with Prince Harry during their grandfather's funeral proceedings. "William did his best to open his body language toward his brother. You have to look at the fact that he turned it toward him," Swann told Us Weekly. "And so, in that opening, that's saying, 'Come on in. Let's talk, let's chat.' He didn't walk side by side, but he actually turned toward his brother."
And the two estranged royal couples may have made yet another step towards reconciliation. Entertainment Tonight reported that Harry and Meghan privately contacted William and Kate Middleton to congratulate them on their tenth wedding anniversary – so although the relationships may not be fully healed, they're on speaking terms and wish each other well. Royal expert Katie Nicholl told Entertainment Tonight that Kate has and is continuing playing the role of peacemaker between the brothers. "I think she is one of the few people, one of the few family members who would actually be able to push the brothers together," Nicholl stated. However, the brothers are certainly in the early stages of healing their relationship.
"I think there do need to be more conversations, there's clearly still a lot of hurt, a lot of resentment, and a degree of mistrust on both parts," Nicholl said (per Entertainment Tonight). Here's to hoping the two brothers can bury the hatchet.