The Secret About The Masked Singer You Weren't Supposed To Know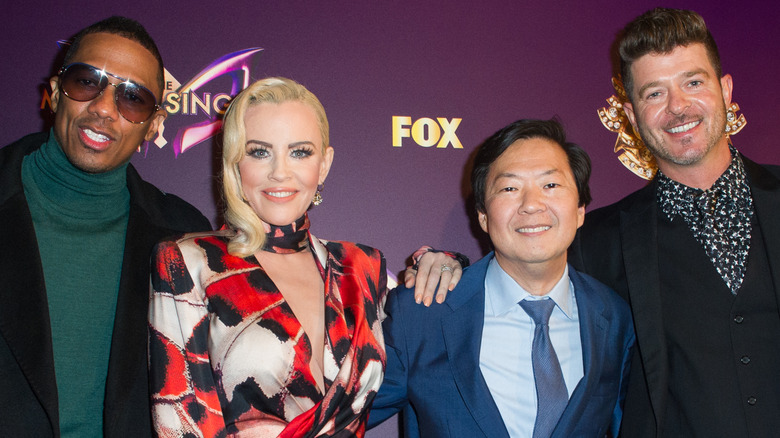 Rachel Luna/Getty Images
FOX's "The Masked Singer" sees celebrities compete to impress a panel of judges and onlooking studio audience with elaborate musical performances. The twist, however, is that each of the famous competitors is dressed head-to-toe in over-the-top costumes which aim to hide their true identity. Upon their elimination, the celebrities are unmasked and the audience discovers who was hiding behind the mask all along (via Fox). 
Like with many of our favorite shows, there are plenty of backstage secrets those of us watching at home aren't supposed to know. Following a taping of the hit reality-competition show back in 2019, E! News' Lauren Piester shed some light on what really goes down on "The Masked Singer" set, and perhaps the most surprising behind-the-scenes revelation is that the all-important unmasking is not what it appears to be on TV. 
Writing for E! Online, Piester revealed that the entire audience is in attendance for the first half of the celebrity unmasking, with the crowd and panelists chanting "Take it off, take it off." However, just as the famous face is about to be revealed, the masked singer is taken backstage, and the vast majority of the audience are removed from the studio. 
Shortly after, remaining members of the audience are rearranged, giving the illusion that the studio is still packed, and the celebrity contestant is finally unmasked. 
The audience plays a major role in the making of the show
According to Entertainment Weekly, part of the reason the unmasking doesn't happen right away is to give eliminated contestants an opportunity to touch up their hair and makeup, ensuring they're more camera-ready for the big reveal.  
Per Insider, members of "The Masked Singer" studio audience must also adhere to a strict set of rules, all of which are put in place to ensure the identities of the competing celebrities remain top secret. Speaking in a behind-the-scenes YouTube video, host Nick Cannon revealed, "Our studio audience is also under extreme scrutiny ... They must sign contracts binding them to secrecy and all electronics are banned."
Elsewhere, former "Masked Singer" competitor Margaret Cho revealed to E! News that the show's famous contestants are not permitted to watch the unmasking of each eliminated contestant in the studio, and, just like the viewers at home, must wait until the pre-recorded series airs on television to discover who was hiding in each costume.
So, although everything appears to run smoothly on television, it's clear that there's a lot more that goes into the making of "The Masked Singer" than perhaps first meets the eye.