Here's The Free Food You Can Get After Getting Fully Vaccinated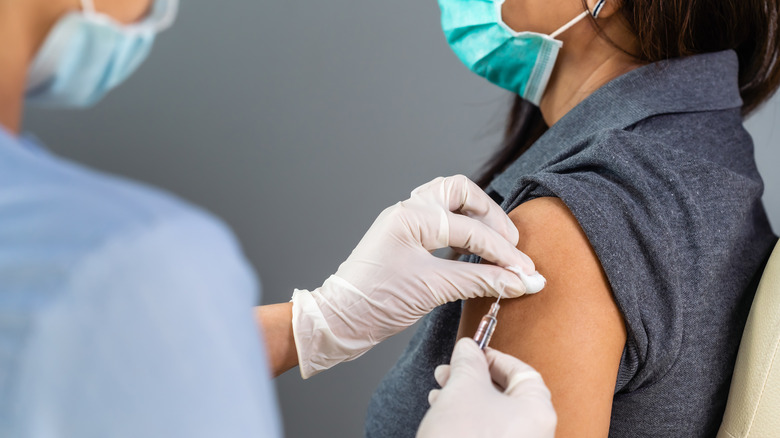 Shutterstock
While getting the COVID-19 vaccine can give you peace of mind when it comes to the pandemic after more than a year of dealing with anxiety over getting sick, it can also score you some free food, according to CNN Business. Sure, you probably don't immediately associate the shots with freebies and perks. Still, businesses that have suffered alongside you amid the pandemic seem willing to reward their customers with some food if they get fully vaccinated.
After a long year of trying to stay home, stay distant, and prevent the spread of COVID-19, you have the opportunity to get rewarded as long as you complete your vaccines and keep the handy white vaccination card to show as your proof. It seems like almost every day, a new brand announces an additional incentive to everybody who takes the vaccine, which helps prevent the spread of the novel coronavirus (via the CDC). Thrillist reported that brands like Krispy Kreme, White Castle, Sam Adams, Budweiser, and more have a freebie for you once you take the shot.
Here's how to claim your free perks after getting vaccinated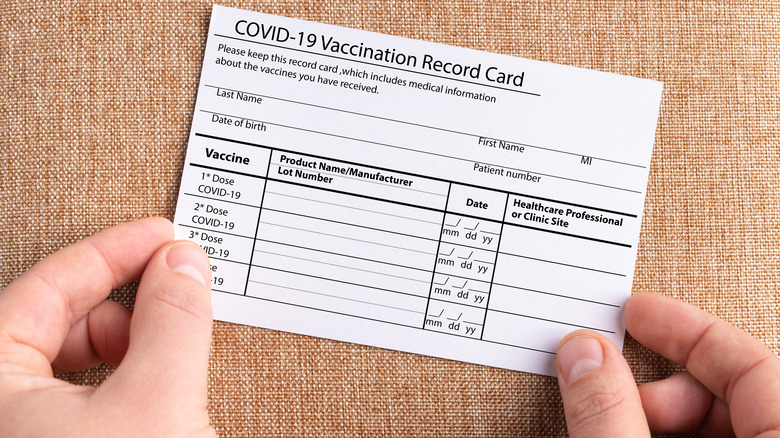 Shutterstock
You might have heard that Krispy Kreme has a free donut for you after getting vaccinated, but you might not know that you can show them your vaccination card and get a free pastry every single day for the rest of 2021 (via CNN). Other promotions aren't good every day, though. Junior's Cheesecake in New York City will pony up a mini cheesecake through Memorial Day at their at Flatbush Ave. and DeKalb restaurant. Similarly, White Castle offers you a cake on a stick for no cost through May 31 (via Thrillist). 
If a hot dog is more to your liking, you can show your card to Nathan's Hot Dog in Coney Island on the day you get your shot, and they'll hand you a free hot dog. To go along with the hot dog, both Sam Adams and Budweiser offer freebies in free beer money. Each beer company's offer is limited, with Sam Adam's $7 offer limited to the first 10,000 people with proof of vaccination through the end of April, and Budweiser's free round runs through May 16 or until they've exhausted their prize supply (via Mental Floss). 
Finally, Mental Floss revealed that organic juice company So Good So You will mail you — in exchange for a vaccine shot — a rebate voucher for their probiotic juice shot; offer good through June 30. If you find that your vaccine makes you hungry or you just want to cash in on the perks available to you for getting your COVID shot, check out one or all of these fantastic offers while they last.