The Best Silhouettes For A Round Body Shape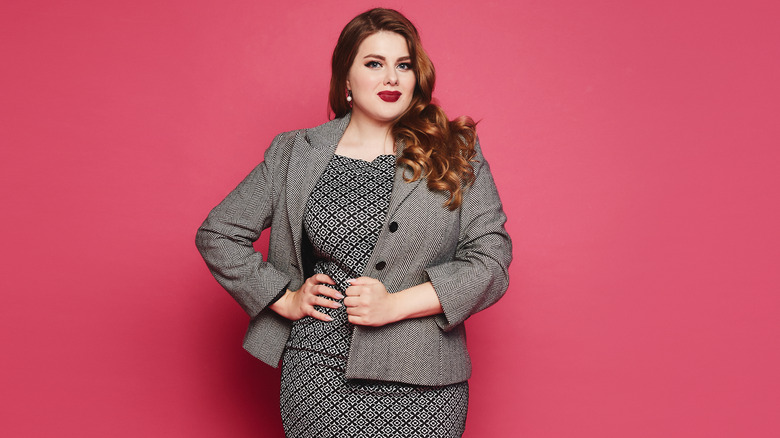 Shutterstock
The outfit you choose for the day can work like magic. A good choice will lift your mood, fit well, and make you feel prepared for the plans ahead. Finding clothes that induce magical mood enhancing effects isn't always easy, though. To increase your chances of finding some true gems, we recommend the first step you should take is to find out what your body shape is.
The current body shape in the spotlight is the round body. Also known as the circle type or apple-shaped body. Features of a round body shape include a large bust, an undefined waistline, and the measurements of your shoulders, bust, waist, and hips being fairly uniform (via Nordstrom Trunk Club). If it sounds like what we are describing is eerily similar to your own features, then we have some great news for you! There are plenty of stunning silhouettes that will show off your shape, and we're here to share a few. 
A helpful tip is to remember when picking out an outfit that works for your round body shape is to draw the eye to where you want to be noticed.
Highlight your fantastic legs
Think about what your best features are and show them off. Look for silhouettes that accentuate your shoulders, neckline, or bust without revealing too much. Dresses and tops that have airy sleeves, a waist defining wrap, and V-shaped necklines are super flattering choices for the round body shape figure (via Nordstrom Trunk Club).
Apple shapes also tend to have great legs! So in order to draw the eye towards your fantastic gams, go for A-line knee length skirts, straight-cut jeans, and shoes that have a heel that can help elongate your shape (via The Concept Wardrobe). It's also wise to think like Goldilocks and not settle on a garment unless the fit is just right. Avoid uncomfortable clinginess or getting lost in an ensemble that is too baggy. Search for silhouettes that are comfortable yet still feel fitted to your body.
Next time you're on the hunt for clothes that will induce their special magic, remember to choose silhouettes that draw the eye to all your best features and don't settle until you have found the perfect fit. After all, the whole goal is to have a closet full of clothes that make you feel your absolute best.