Will Smith Lets Everyone Know How He Feels About His Dad Bod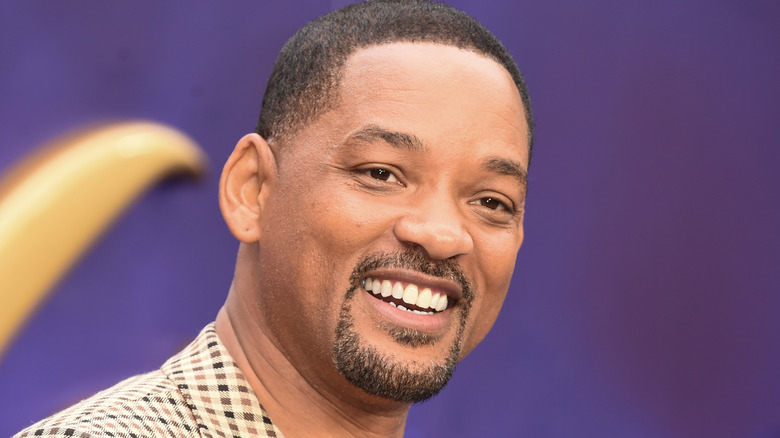 Shutterstock
Some actors have been known to undergo tremendous transformations in preparation for new movie and film roles, even putting their health in danger. Just think of Christian Bale in "The Machinist," or Natalie Portman in "Black Swan," for example. Will Smith's latest physical change, however, doesn't appear to have been for a role — but we're here for it regardless.
Will Smith took to Instagram to post a pic of himself flaunting his new body. But instead of debuting a six-pack, the actor showed off his dad bod. Wearing black shorts and an unzipped hoodie, Smith smiled as he gestured to something off camera. He captioned the Insta image (which has nearly 5 million likes), "I'm gonna be real wit yall – I'm in the worst shape of my life."
Now, Smith is no stranger to finessing his physique for movie roles. For his role in "Ali," which earned him his first Oscar nomination, Smith went from weighing 185 pounds to bulking up to 220 pounds. He not only cut out junk food, but he worked out for six hours daily doing boxing, lifting weights, and running (in the snow, wearing combat boots no less), Men's Journal reported.
Here's how the internet reacted to Will Smith's new look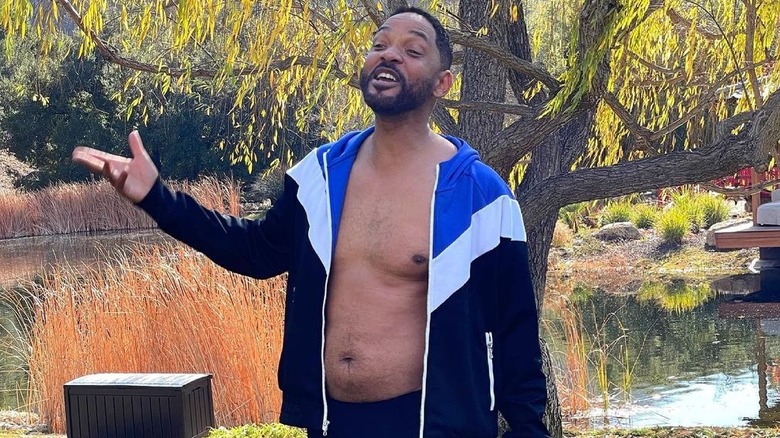 https://www.instagram.com/p/COZHipMhHDr/
British singer-songwriter Sonna Rele commented on Will Smith's dad-bod pic, writing, "You're Will Smith!! You can be in whatever shape you want." YouTuber Casey Neistat wrote, "You're a real one for this." And it may have been Questlove's comment that captured it all: "This is the most amazing post in the history of social media."
Smith, who has been nominated for two Academy Awards, five Golden Globes, and has won four Grammy Awards, has always been open about his health and, in particular, his weight. On an episode of Jada Pinkett Smith's show "Red Table Talk," Smith spoke candidly about how he gained weight after wrapping up his role as Genie in "Aladdin" (via Cheat Sheet). "So for breakfast, I was having the four or five muffins," Smith said on the show. "You know, Aladdin was successful, so I was like muffin, muffin, muffin." After a while, Smith's family called him "Pudge Muffin" which didn't sit too well with the actor. ""Pudge Muffin was cute," Smith said. "But I don't want to be a Pudge Muffin to my family."
Smith is open and real about his feelings surrounding his weight, which is why he has such a devoted fan base. Unlike other actors that seem untouchable, Smith has always been able to be himself, which makes him all the more endearing — no matter how many or how few muffins the man eats.