The Surprising Person Jennifer Lopez Shared A Sweet Moment With At The Vax Live Concert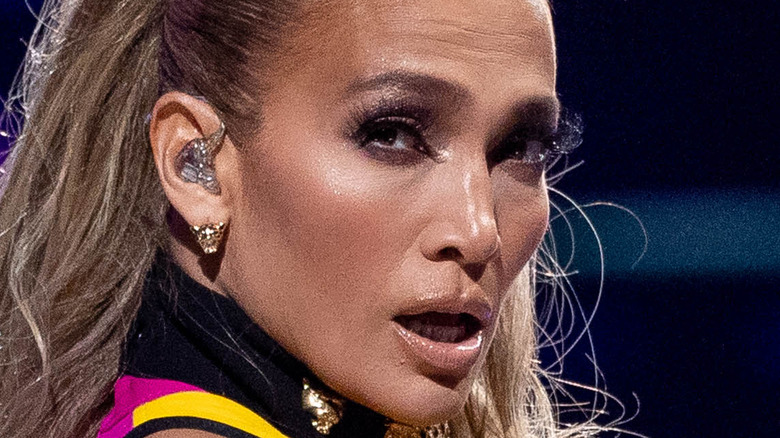 Emma Mcintyre/Getty Images
"Vax Live: The Concert to Reunite the World" aimed to do something special that hasn't been done in more than a year — host a massive concert in a stadium with actual fans in attendance. Filmed in the SoFi Stadium on May 2 ahead of being broadcast to the world on May 8, the must-watch event includes performances from Jennifer Lopez, Pearl Jam's Eddie Vedder, the Foo Fighters, J Balvin, and H.E.R. As the Los Angeles Daily News reports, Vedder enthused from the stage, "This is crazy. There's a microphone, there's a crowd. It feels good."
"Vax Live," as its name suggests, is promoting awareness about getting vaccinated against the devastating COVID-19 virus while, in partnership with sponsors Global Citizen, raising money for poorer countries who are struggling to get access to the requisite medication. Hosted by Selena Gomez, it marks the first major public concert held in California following an initial lockdown over a year ago. Around 20,000 fans were in attendance, most of whom were first responders and essential workers.
 J-Lo took the opportunity to make it a family affair.
J-Lo had an incredibly personal moment onstage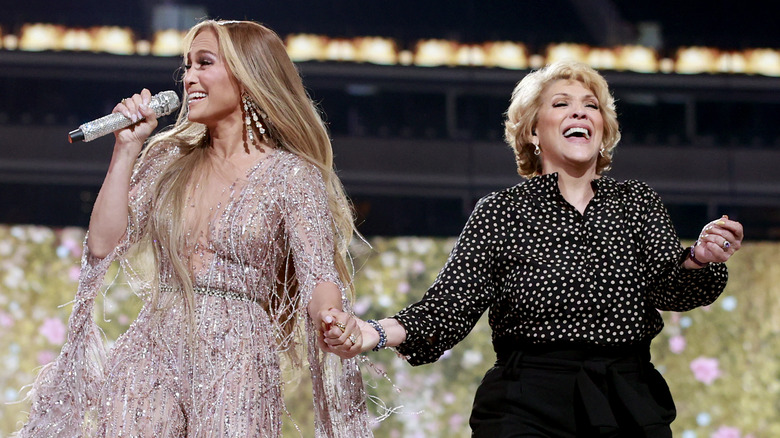 Emma Mcintyre/Getty Images
As Entertainment Tonight reports, Jennifer Lopez brought out a very special guest during her performance at "VAX Live: The Concert to Reunite the World." The superstar singer had three costume changes, one for each song performed, and she took a moment while wearing a snazzy nude number to speak to the audience about the importance of getting vaccinated. In fact, as Lopez revealed, she didn't get to spend Christmas with her mother, Guadalupe Rodríguez, as a result of the ongoing pandemic. Thankfully, she's since been fully vaccinated and was able to attend the concert as a result. Lopez then sweetly invited her mom onstage so they could sing Neil Diamond's "Sweet Caroline" together. 
As she explained, Rodríguez used to sing it to her as a lullaby when the pop star was a little girl, replacing the name "Caroline" with "Jennifer." "Lets sing it like a lullaby, and let's help her out," Lopez encouraged the audience, before turning to her mother and encouraging her to, "Sing it like you used to sing it to me." The "Ain't Yo Mama" hit-maker also embraced her mother and gave her a sweet kiss on the forehead. Funnily enough, Lopez's ex-fiancé Ben Affleck appeared onstage right after her first song, opposite TV host Jimmy Kimmel. The former couple has been linked once again in the wake of her split from Alex Rodriguez, with Affleck reportedly visiting Lopez's home several times recently (via Page Six).