Billie Eilish's Vogue Cover Has The Internet Buzzing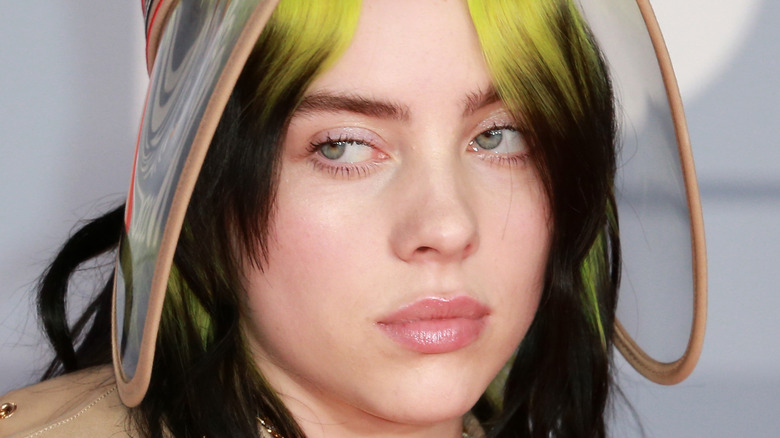 Shutterstock
Billie Eilish stunned fans with her "British Vogue" cover, trading in baggy t-shirts for a super-sexy bombshell look channeling Marilyn Monroe (via TMZ). The feminine shoot was the 19-year-old pop star's idea, featuring platinum locks, pink lingerie, and a semi-sheer black catsuit (via Page Six). The inspiration behind the sultry pictures? The "Bad Guy" singer reportedly loves '40s and '50s pin-up girl style. Showing readers a whole new side of her, Eilish didn't hold back in either the photos or interview.
As per CNN, Eilish's pictures featured designs from Gucci, Valentino, and Burberry, with waist-defining silhouettes aided by corsets. The "Everything I Wanted" singer is known for her signature baggy clothes, such as oversized tees and board shorts. But the decision to wear loose styles wasn't completely a conscious one –- in fact, she told "Dazed" last year, "the only reason I [wore loose-fitting clothes] was 'cos I hated my body." 
Speaking openly about the insecurities that led her to dress that way, Eilish told "Dazed" that she was "a bit more OK" with her body. She also spoke about the issue in her Miami concert last year, in an interlude video. "If I wear what is comfortable, I am not a woman. If I shed the layers, I'm a s***," she said, adding, "Though you've never seen my body, you still judge it ... Why?" (via Insider). Clearly, Billie Eilish's "British Vogue" cover was a long time coming.
Social media reactions to Billie Eilish's Vogue cover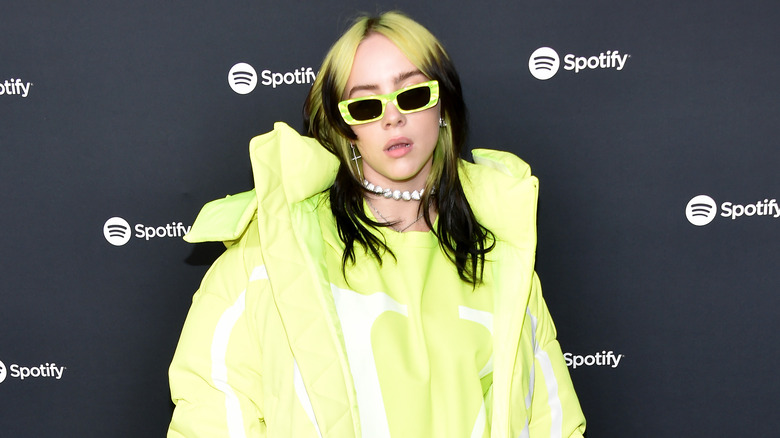 Shutterstock
Billie Eilish shared details about her body positivity journey with "British Vogue," recalling dark times (via CNN). As she shed her neon green tracksuits for formfitting lingerie, Eilish told the magazine that her body is her "deepest insecurity" and even led to "depression" when she was younger. The "Lovely" star took back her love for herself through the jaw-dropping photo shoot, and even chose to speak out against misogyny and systemic abuse.
Per Bustle, Twitter is absolutely "obsessed" with the cover. Social media didn't hold back with the praise. "YOU LOOK SO GOOD I LOVE YOU," tweeted one fan enthusiastically in all caps, replying to Eilish's photo tweet. Another Twitter user wrote, "i had to take my asthma pump cuz i literally stopped breathing." Yet another fan tweeted, "billie eilish just served a full course meal on this vogue shoot ... we didn't deserve this."
As Bustle noted, "A lot of her fans were so blown away that they could barely even muster up words." Thank goodness for emoji, which were used by many of Billie Eilish's fans across social media.