Dermatologist Reveals The One Thing That Will Finally Relieve Your Dry Skin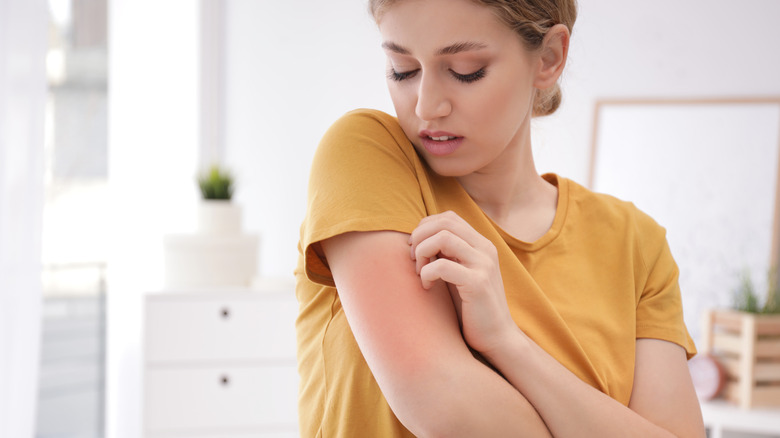 Shutterstock
We may receive a commission on purchases made from links.
Dry skin is an issue that many of us deal with on a regular basis. Although it may not be a serious concern, dry skin can cause problems such as itching, or a feeling of tightness after being in the water (via Mayo Clinic). Other symptoms include skin that looks or feels rough, flaking or peeling, as well as fine lines. Dryness may also cause your skin to have a gray or ashy appearance, or turn red. Severe dry skin can even cause painful cracking that may cause bleeding.
Causes of dry skin are usually simple. Weather plays a big part in our skin's health and dry air like in the winter can cause painful skin irritations. Heating inside your home from furnaces, stoves, and fireplaces may also suck the humidity out of the air and harm your skin. Using harsh body soap or laundry detergent may also cause symptoms of dry skin. Those who love to take very long, hot baths or showers may also be damaging their skin with the heat from the water, per Everyday Health. Swimming pool chemicals may also be the culprit behind your dry skin. Individuals who have skin conditions like psoriasis and eczema are also at higher risk for suffering from the affliction. However, there is a way to relieve your dry skin.
Dermatologist weighs in on how to treat dry skin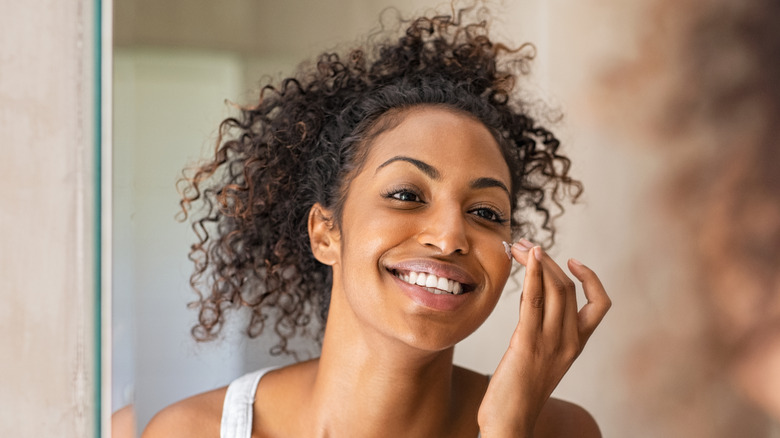 Shutterstock
Dry skin is a problem that nearly everyone has suffered from during their life. It's so common that there are hundreds of products that claim to treat and heal the issue. However, not all of them will work for you. Dendy Engelman, board-certified dermatologic surgeon and RxSaver Dermatologist, spoke with The List about how you can finally relieve that dry, itchy skin you've been dealing with. Dr. Engelman revealed the one product that will help you, if you simply can't seem to hold moisture in your skin.
"For dry and rough skin, prescription-strength Keralac and its generic urea work well," Engelman said. The dermatologist also revealed that the product can help other skin issues as well. "It can also help with callouses and with bumpy 'chicken skin' known as keratosis pilaris," she said. Dr. Engelman also gave her recommendation for a drugstore product that's worth using for your dry skin. "If you're looking for an over-the-counter treatment for dry, rough, or bumpy skin, Eucerin Roughness Relief Remedy is a good option," Engelman suggested. The product currently retails for $8.99 on Amazon.