What Does Kimberly Schlapman Really Use In Her Hair?
Shutterstock
It's still rare to see people openly rock their naturally curly hair. Fans raved last year when rapper Cardi B released a picture on her Instagram Story wearing her naturally curly hair (via Allure). Still, despite Cardi B and others showing audiences that curly hair is just as pretty as other hair types, it's still not very common to see a celebrity wear their curls openly throughout their career.
That's why fans love Kimberly Schlapman, singer of the country group Little Big Town, who has always embraced her curls and is almost always seen wearing them.
Her confidence in her natural hair has made fans wonder about her curly hair routine. As Schlapman revealed in a Facebook video from Little Big Town, she uses a range of products, but especially likes Indian Gooseberry Oil by Neil George. She also likes to use Moroccan oil. Lastly, her go-to product is the Moroccanoil Intense Curl Cream, the curly creamer that defines her hair and gets her that voluptuous look!
Kimberly Schlapman struggled taking care of her hair at first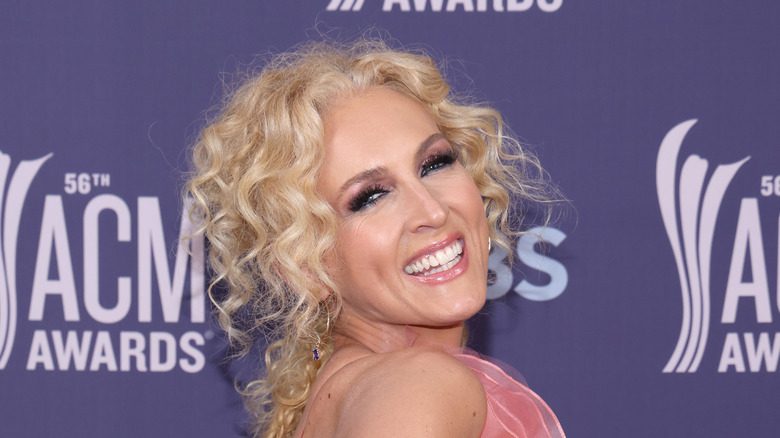 John Shearer/acma2021/Getty Images
Kimberly Schlapman didn't always have this hair routine. As she said in the Facebook video from Little Big Town, Schlapman revealed she didn't know how to take care of her hair until she found the right stylist. "You gotta get someone who knows how to cut curly hair. If you get too much razor on it, it splits the ends and goes crazy on you," she said.
Schlapman revealed that taking care of her hair is somewhat of a journey for her. The thing about curly hair is that sometimes it's hard to maintain because each curl is different (via It's a 10 Haircare). The hardest part for Schlapman is the brushing and drying, especially as she only brushes her hair wet, which means it takes some time to dry. However, a simple fix is to use a diffuser, which speeds up the drying time significantly, she revealed.
Despite curly hair being hard to maintain sometimes, Schlapman makes it look easy and proves that curly hair is beautiful. So, for those of you with curly hair, make sure you appreciate your frizzy and unpredictable locks.