How Much Is Marshmello Really Worth?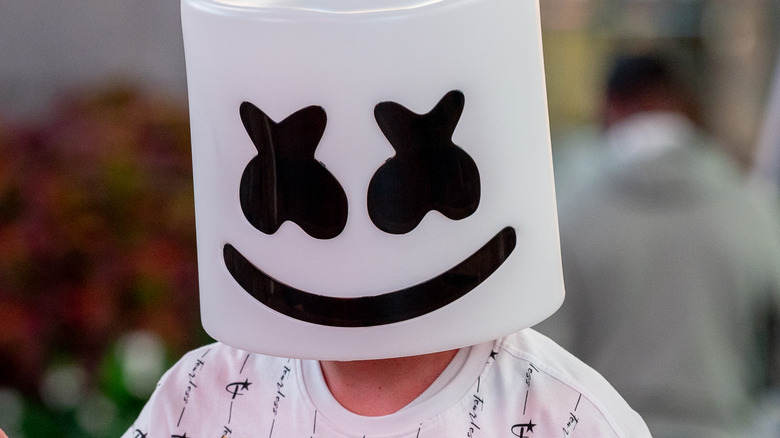 Roy Rochlin/Getty Images
Even if you don't know much about Marshmello, you've probably vibed to the beat of his music. Marshmello is a multi-award EDM DJ and mastermind behind hits like the remix of "Where R U Now" by Jack U and Justin Bieber, "Happier" with Bastille and "Silence" feat Khalid.
Marshmello began his career posting remixes on SoundCloud and first started causing buzz when EDM fans on Reddit began speculating about his identity, according to Forbes. Soon, DJ Skrillex became one of the first world-famous to get interested in Marshmello's music and story, further popularizing the up-and-coming DJ. In 2016, his first album, Joytime, reached the top five on the U.S. Dance charts. Despite his growing popularity and multi-million dollar offers from major record labels, Marshmello wasn't interested in fame, so he kept his real identity a secret and continue pursuing music independently (via Forbes). Of course, when you become so famous, it's impossible to hide any secrets and we now know that the man under the marshmallow helmet is 28-year-old Christopher Comstock. So, what's the DJ's net worth?
Marshmello creates music for toddlers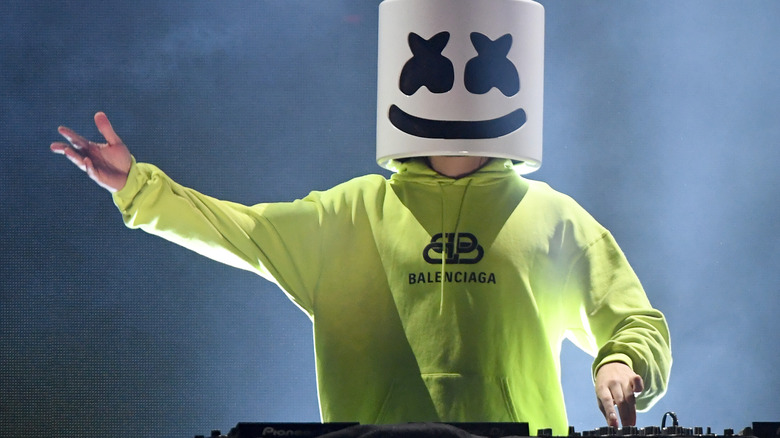 Ethan Miller/Getty Images
Marshmello's success is the result of many factors, including his talent and ambition to go beyond the preconceived boundaries for a DJ. His manager, Moe Shalizi, has helped him build a multi-generational brand that now produces educational music content for toddlers (via Rolling Stone). Marshmello plays on the fact that he doesn't have a visible identity to create relatable content for a wide range of audiences. An example of this is his YouTube cooking series, "Cooking with Marshmello," where he made international recipes that are understandable for people all around the world.
"This guy became the most famous DJ in the world, and he still has never taken the helmet off," Shalizi told Rolling Stone. "When he walks into a store, people don't know who he is. People connect with that."
Marshmello is also diving into a variety of music genres, including hip-hop, and collaborating with rising talents. "I came from electronic music and now I'm jumping into hip-hop, so there was obviously a ton of people like, 'Marshmello? Really? What?'" he told Complex. "In the beginning, there was definitely some resistance, but I just kept at it."
According to PassionBuz, the DJ's net worth tripled from 2017 to 2020 and is now $44 million.