Get Your Cabinets Sparkling Clean Using These Two Household Ingredients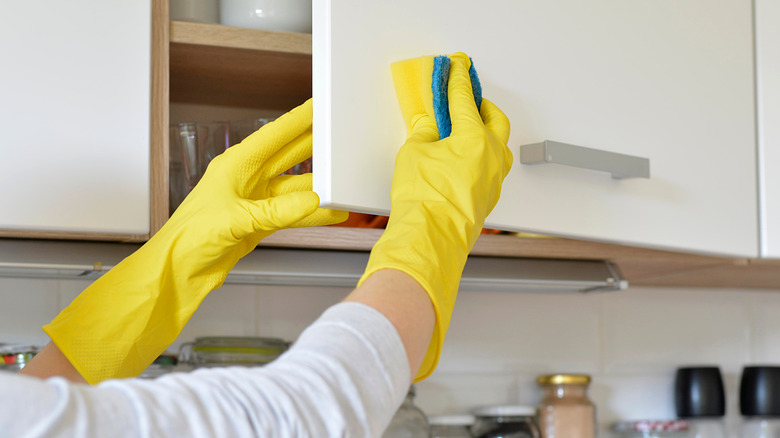 Shutterstock
When cooking in your kitchen, all types of invisible grime can build up in any number of places. Your oven racks become greasy, your kitchen counters are often filled with food residue, and that smoky air that comes from a clogged range hood can place an invisible coat of grease onto your cabinets that simple scrubbing won't remove.
The stove top clearly causes grease to build in your range hood, but it also causes residue to form on your cabinets due to how close they are to burners, according to Bob Vila. Sometimes the grease and grime comes in the very visible remnants of a splatter from frying food. Other times, a greasy film can build up on your cabinets that you can only see in bright sunlight. You may not be able to see that filmy residue all the time, but you can certainly feel it as you open and close your cabinets. While a simple wipe down with warm water will take care of that new grease stain, you may need something more heavy-duty for buildup over time.
The most surprising items remove grease from your kitchen cabinets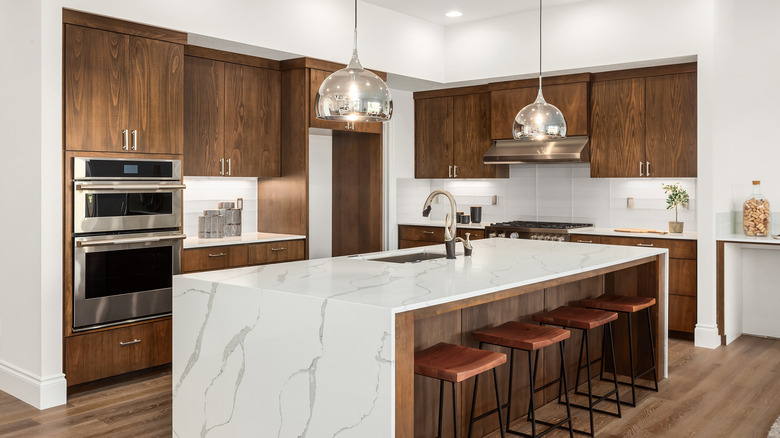 Shutterstock
Oil is what causes grease stains, right? Well, oil can also be used to clean these stains, according to One Good Thing. It might sound counterintuitive but it's actually not.
One Good Thing explains that not just any kind of oil will do when it comes to tackling dirty cabinets. Before you start cleaning, you will want to get ahold of some coconut oil. The other common household item you need is baking soda. Using a 2:1 ratio, mix 2 parts baking soda and 1 part coconut oil together to form a paste. Using a sponge or a rag, coat your cabinets with this paste, making sure to get in the grooves. If you want, you can even use your hands.
For particularly small spaces, you can use a toothbrush to apply this paste. Once the cabinet and all its grooves are coated with baking soda and coconut oil, use a towel to wipe the surfaces clean and you will have the sparkling kitchen cabinets you always dreamed of using a simple DIY method.