Melinda Gates Called Her Marriage To Bill This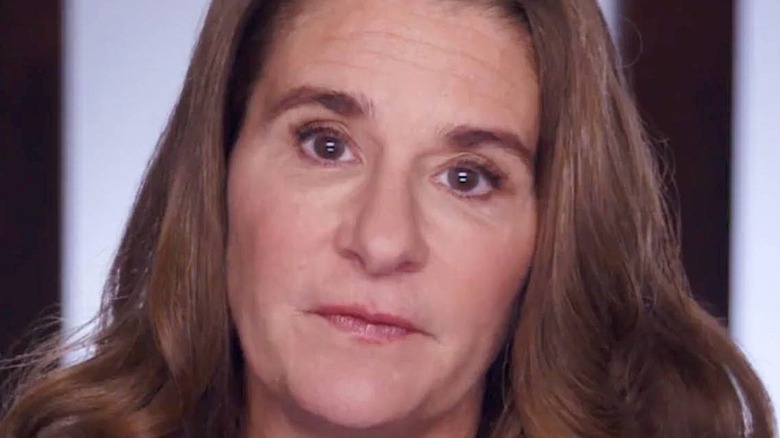 Sxsw/Getty Images
A document obtained by People has revealed the details of Bill and Melinda Gates' divorce. According to the publication, Melinda's petition for divorce was filed in King County, Washington, and notes that the couple does not have a prenuptial agreement in place. Instead, the pair plan to divide their assets as part of a separation agreement and Melinda has stated that "spousal support is not needed."
In the petition for divorce, Melinda described her marriage to her husband Bill as "irretrievably broken," adding, "We ask the court to dissolve our marriage and find that our marital community ended on the date stated in our separation contract." On Monday, May 3, Melinda also filed an automatic temporary order that aims to set financial restraints between the pair during their divorce, preventing the disposal of property or changes to insurance policies. Melinda has a team of high-powered attorneys to represent her through the divorce process, including Robert Cohen, who previously represented Ivana Trump, according to ABC News.
Per The Guardian, news of Bill and Melinda's split comes after 27 years of marriage. The now-former couple first met back in 1987 when Melinda began working at Bill's company, Microsoft. They eventually married in 1994 and went on to have three children together, Jennifer, Rory, and Phoebe. Before getting married Bill Gates made a pros and cons list on his office whiteboard. "You know, we cared a lot for each other and there were only two possibilities: either, we were going to break up or we were going to get married," Bill explained in a documentary series (via CNBC).
Bill and Melinda announced their divorce on social media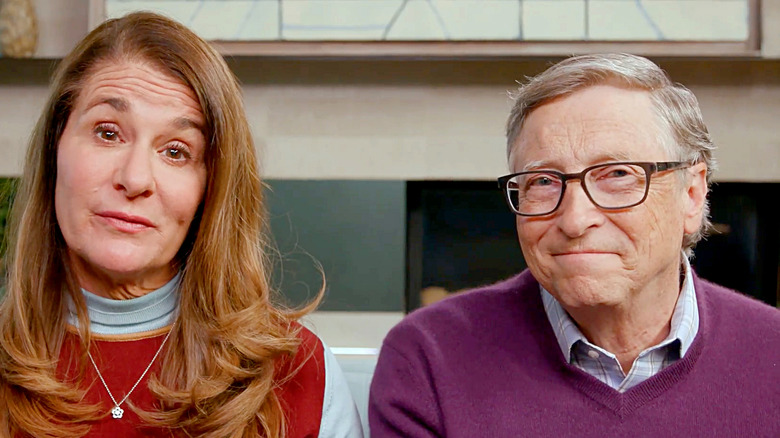 Getty Images/Getty Images
In a joint social media statement posted on Monday, May 3, Bill and Melinda revealed they had "made the decision to end our marriage" after a "great deal of thought." News of their split has shocked the world. Their respective tweets announcing their divorce have, to date, been retweeted over 100,000 times (via Twitter). Both have blocked comments on their announcement tweets which strive to reassure the world that their joint work on the Bill and Melinda Gates Foundation will continue (via Twitter). 
"Over the last 27 years, we have raised three incredible children and built a foundation that works all over the world to enable all people to lead healthy, productive lives," the statement continued. "We continue to share a belief in that mission and will continue our work together at the foundation, but we no longer believe we can grow together as a couple in the next phase of our lives." Per the BBC, the announcement concluded, "We ask for space and privacy for our family as we begin to navigate this new life." 
It's unclear how long problems in their relationship have been brewing. In 2018, Bill and Melinda Gates' yearly joint letter suggested that the couple was still very much united. "For our wedding, Bill's parents gave us a sculpture of two birds side by side, staring at the horizon, and it's still in front of our house. I think of it all the time, because fundamentally we're looking in the same direction," Melinda wrote (via Quartz). 
Were there signs of marital trouble between Bill and Melinda Gates?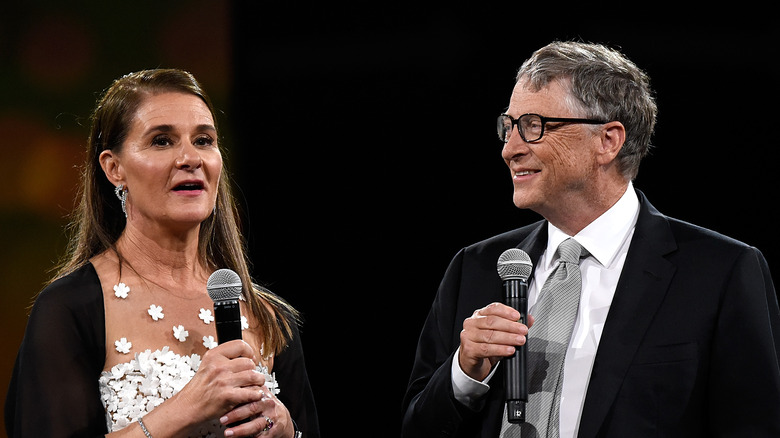 Kevin Mazur/Getty Images
Also in 2018, Melinda spoke to Lin-Manuel Miranda on Facebook Live, dishing on date night topics of conversation and asserting that "neither of us are afraid of a little bit of grist in the system, neither in business nor in our marriage. That's how you actually grow" (via Business Insider). During the same interview, Bill affirmed that their relationship "works well."
But by 2019 something may have shifted. Melinda hinted at difficulties in their relationship, describing her marriage to the billionaire entrepreneur as "incredibly hard" (via The Guardian). "Believe me, I can remember some days that were so incredibly hard in our marriage where you thought, 'Can I do this?'," she revealed. The same year, she confirmed to Business Insider that she'd sometimes been frustrated by "unbalanced" responsibilities in her home (via Youtube). 
As Bill Gates once reflected to The Seattle Times, there haven't been many marriages as high-profile and influential as theirs was, except, per Gates "the Curies, Pierre and Marie Curie." Now, when facing divorce, the world is left wondering what's going to become of The Bill and Melinda Gates Foundation, a massive organization with a $50 billion endowment that employs 1,600 people across the globe. Both Bill and Melinda have made efforts to assure both the public and the organization's staff that the foundation will continue to operate as normal. Be that as it may, according to The New York Times, employees have expressed their concern over the long-term impacts that the couple's divorce may have.