What's Really Going On With Kylie Jenner And Travis Scott?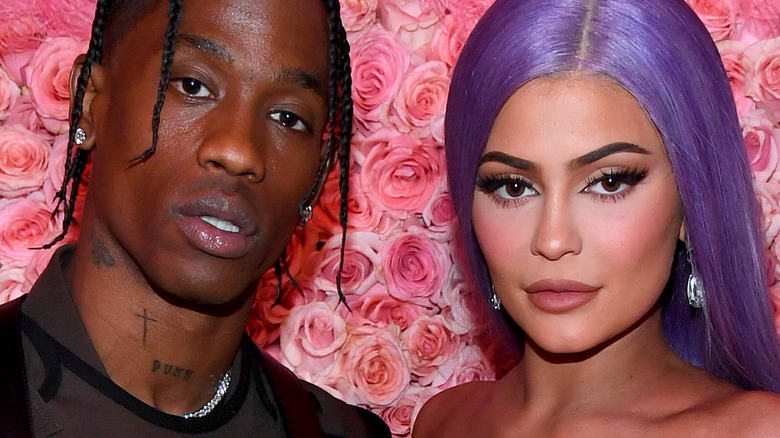 Kevin Mazur/mg19/Getty Images
Fans are once again questioning Kylie Jenner's relationship with Travis Scott. The pair have remained close since ending their relationship in late 2019, and continue to co-parent their daughter Stormi (via Us Weekly). However, their latest activity has people wondering what the status of their relationship is now. Jenner and Scott first sparked romance rumors when they were seen cuddling up together at Coachella in April 2017. Later that month, they attended an NBA game in the rapper's hometown of Houston, Texas. By May 2017, Jenner had opted to go on tour with Scott. In September 2017, news that Jenner and Scott were expecting their first child together began to circulate, although neither party confirmed the pregnancy. They welcomed their daughter in February 2018.
The end of 2018 brought talk of a wedding. Scott admitted during an interview that he had been trying to think of a grand way to pop the question. However, just a few months later, allegations of cheating surfaced. Sources claimed that the rapper had been talking to other women on Instagram. In September 2019, the couple made headlines as they posed together for Playboy Magazine. One month later, they called it quits. However, the duo has been seen together many times since their split, as they continue to be a solid family unit for little Stormi. This week, Kylie Jenner and Travis Scott reunited again to hop aboard a private plane and jet off to Miami, which raised the eyebrows of a few fans.
Kylie Jenner and Travis Scott spark romance rumors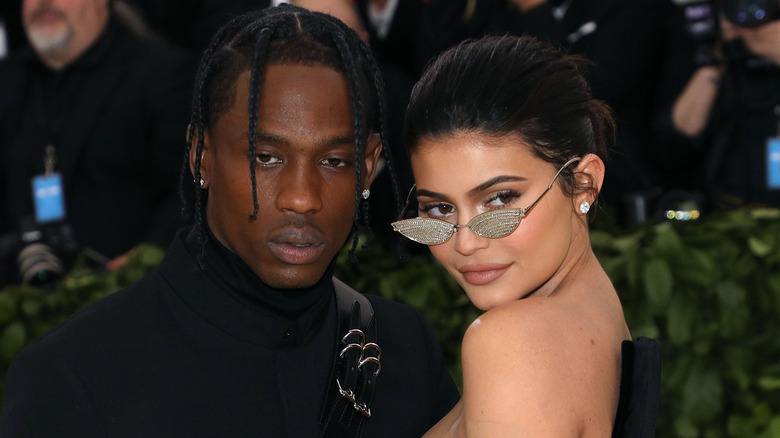 Taylor Hill/Getty Images
The Daily Mail reports that Kylie Jenner and Travis Scott were spotted boarding a private jet together on Sunday. The pair had been partying in Miami for the weekend in honor of the rapper's birthday. Scott also held a concert at LIV nightclub, which Jenner attended. Before the show, the two were seen at dinner together, looking friendly. "They were visibly together and definitely seemed to be enjoying themselves and each other's company. They were being playful all night and visibly having a really fun time together," a source told Us Weekly.
Meanwhile, insiders tell People Magazine that Jenner and Scott were "very close and affectionate" during the celebration. "They kept flirting and looked happy," the source dished. "They definitely seemed to be together, without making a big deal of being together," a second insider added. Despite the speculation, a source close to the pair tells the outlet that Jenner and Scott are "not fully back together," but that they have been spending a lot of time with one another and focusing on co-parenting their daughter. "They are great co-parents and love hanging out. They share a fun life with Stormi, but have separate homes. They haven't dated anyone else seriously since they split though. It always seemed possible that they would get back together," the insider stated. Of course, fans will now be watching the couple closely for more signs that they may be rekindling their romance.