This Is Why You Should Be Using Fragonia Essential Oil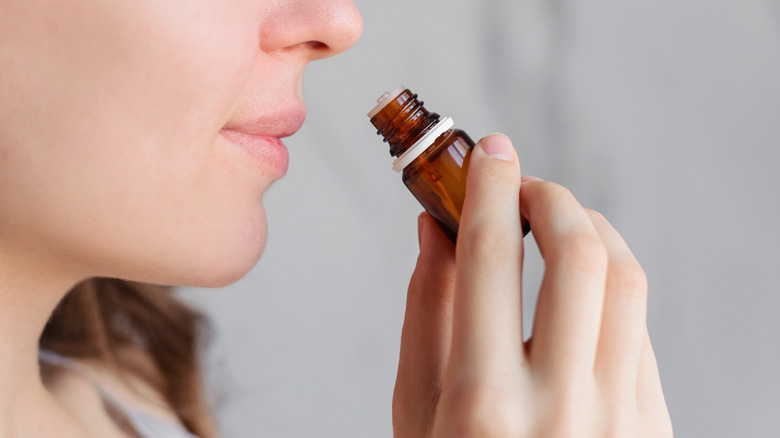 Shutterstock
With so many essential oils to choose from, many people get confused with where to start. Classics like lavender, peppermint and eucalyptus are usually the most common oils to find in any wellness enthusiast's medicine cabinet. But, a lesser-known oil called fragonia may be right for you if you're looking to find emotional healing and reap its anti-inflammatory benefits. 
Coming from Western Australia, this oil is considered rarer than your classic essential blends, according to Lindsey Elmore. A gentle oil, fragonia is thought to aid in soothing forms of emotional distress by calming the mind and helping you move through uncomfortable emotions like anxiety, grief or sadness. Furthermore, the outlet notes, this oil can help you feel less "stuck" by gently releasing anything that's been weighing you down mentally or emotionally. Its balancing qualities work incredibly well with the upper chakras — aiding in sharing our voice and seeing clearly. Simply add a few drops to your hands and pressure points and inhale. 
Plus, its chemical makeup can lead to a better night's sleep. After calming you down, fragonia essential oil activates the pineal gland in the brain which spurs the production of melatonin, the outlet notes. Another beneficial aspect of this balancing oil, its sleep-enhancing properties may help you wind down rather quickly.
Fragonia essential oil also aids in immunity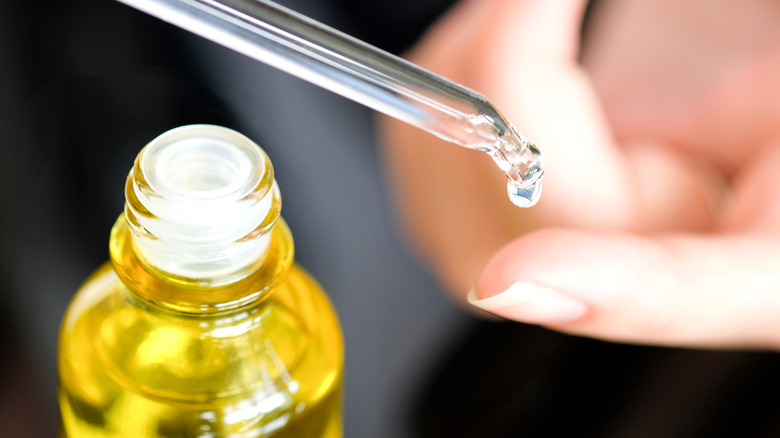 Shutterstock
Many consider fragonia essential oil to be incredibly gentle, but potent. In regards to emotional and physical health, its purported benefits also include positive effects on the immune system. Native Essentials explains that this oil contains anti-microbial, antiviral and antifungal properties that can help fight off infection and other causes of illness. Similar to tea tree oil in many ways, fragonia offers a milder, but just as powerful, soothing and cleansing agent. Loaded with anti-inflammatory elements, the oil can soothe your mind and body in more ways than one. 
It should come as no surprise that fragonia reduces PMS symptoms and can also soothe sore muscles, the outlet reports. Lindsey Elmore cites the monoterpenes as the aspect that can release tension and aches from various areas of the body. Throw it in your gym bag to help alleviate post-workout soreness!
Fragonia even boasts beautifying effects as well. You can place the oil directly on the skin or hair due to its mild chemical makeup for a blemish-reducing, hair-enhancing addition.
When looking for this type of oil, make sure it's 100 percent pure grade essential oil with no additives for best results!