Diamond Expert Ranks Bachelor Franchise Engagement Rings From Best To Worst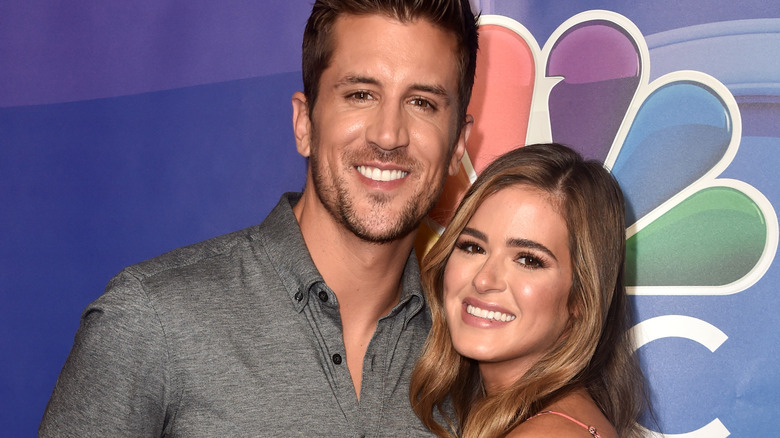 Alberto E. Rodriguez/Getty Images
Who doesn't love to gawk at engagement rings? Whether you're dreaming of your own future rock or just love to critique the style and artistry of the ring designs, falling down an internet hole of celebrity engagement rings is a guilty pleasure many of us can relate to. Now, for your praising/shaming pleasure, comes a list of the best and worst engagement rings worn by the ladies of "The Bachelor" and its spinoff series, as ranked exclusively for The List by Kimberly Abruzzo, GIA Graduate Gemologist and Applied Jewelry Professional with Rare Carat.
Sit back, relax, and behold the gaudy to the gorgeous, explained by someone who knows the business of diamonds and isn't afraid to dish.
With regard to the terminology Abruzzo uses in her assessments, she tells us she relies upon the GIA's "4Cs" of quality — carat, color, clarity, and cut. She says she also mentions the "table of a diamond a bunch here, because for a lot of these cuts the diamond has a larger table. Basically it's what it sounds like: the flat facet on the top of a diamond through which light reaches the viewer's eye. It's important to have a 'table-clean' or 'eye-clean' diamond with a larger carat weight diamond, meaning all of these are probably no lower than a VS2, which stands for 'very slightly included.'
Now, without further ado, the rings!    
JoJo Fletcher & Jordan Rodgers - The Bachelor
Abruzzo says, "JoJo's first engagement ring from Bachelor Jordan Rodgers in 2016 was okay, but her 2019 upgrade spawned trends still popular now. Her 5-6ct oval diamond is set in a dainty yellow gold band and features a 'hidden halo.' A hidden halo encircles the basket of the ring instead of the diamond like a traditional halo, adding dazzle to what at first glance looks like a classic solitaire."
While breaking down the details of the ring, she explains, "At this carat weight the diamond requires a high clarity grade to avoid seeing imperfections with the naked eye. I think this probably has a GIA clarity rating of VS2 or higher. With yellow gold she could have gone down in color but this diamond looks bright white – they probably stuck in the colorless range. All things considered, the ring could have topped out at $300K."
Clare Crawley & Dale Moss - The Bachelor
"After several failed engagements," says Abruzzo, "Clare's most recent to Dale Moss is tenuous. But her ring is fabulous." She goes on to describe the piece this way: "This Deco-inspired design features an approximately 3-carat radiant cut center stone accompanied by two shield cut side stones and a platinum band encrusted with pave diamonds. This claw-prong ring also features a hidden halo, but with diamonds literally everywhere, the term is sort of a technicality. We're looking at 4.5ct total diamonds."
Now about that "table" thing she mentioned earlier: "Radiants have a large table – aka the top flat facet of a diamond – and also require high clarity of VS2 or higher," Abruzzo explains. "Platinum is not forgiving for color, making this another diamond in the colorless range. Designed by Bachelor staple Neil Lane, I'd value this ring at approximately $150,000."
Jade Roper & Tanner Tolbert - Bachelor in Paradise
While Abruzzo is wonderful at giving us the technical breakdown of these rings, she also has a heart and her own preferences, and she says of Jade Roper's ring from Bachelor in Paradise, "I personally love Jade's understated ring, which also gives a nod to the Deco design period." And then on to the technicalities, she explains, "Her beautiful emerald cut diamond of about 2 carats is set in platinum with an unusual 'east-west' orientation, meaning it's been rotated 180 degrees. At first glance it looks like the side stones are trilliants. But a closer look reveals that the tapered accents are actually three rows of bead-set round diamonds accentuated by scrolling on the ring's gallery."
Why does she love the ring so much? Abruzzo says, "Emerald cuts have to be the cleanest of the clean, and even at a relatively smaller carat weight you need to be careful because most table inclusions will show," and in this case, it looks quite flawless. "If Jade's diamond is a GIA VVS2 or higher," says Abruzzo, "coupled with the high color grade from being set in platinum, Jade's ring could've cost $75,000."
Kaitlyn Bristowe & Shawn Booth - The Bachelorette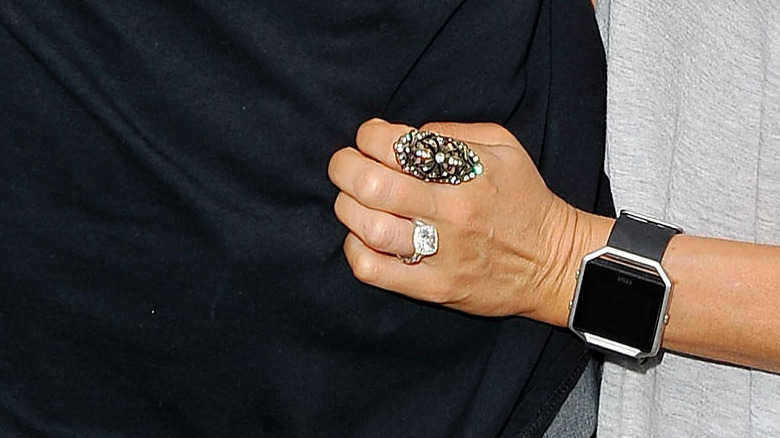 Jerod Harris/Getty Images
Thus far, our list has focused on ladies who "won" "The Bachelor," but Abruzzo has also included ladies who found their man on "The Bachelorette." The first of these ladies to make the list is Kaitlyn Bristowe, who chose Shawn Booth. Abruzzo says of the ring Shawn gave Kaitlyn, "Kaitlyn's ring got a lot of press for both its size and its price! Her platinum halo ring is set with a large 3.5-carat round cut diamond (these are also referred to as 'round brilliants'), also featuring a hidden halo as well as diamonds across the bridge. The twist band is platinum, but in this case she can get away with a lower clarity grade – but not too low, just down to VS2 – due to the cut and extra detail."
So how does Abruzzo feel about this one? "Not quite my style," she admits, "but very popular with brides-to-be! This has been called a $150,000 ring, but in my opinion it could be closer to $100,000 or goes up as high as $250,000. It all depends on the color and clarity of her center stone." Abruzzo further broke down her price assessment, explaining, "Although she can go down in clarity to VS2, if she chose to go D Internally Flawless for example, the diamond is $200K alone. With the step cuts we have to assume they went with the more expensive stones, but that may not be the case with rounds."
Ben Higgins & Lauren Bushnell - The Bachelor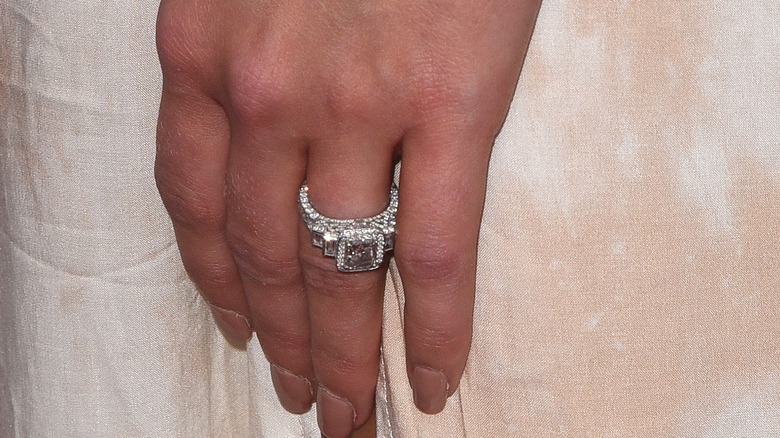 C Flanigan/Getty Images
Art Deco-inspired rings have been highly popular over the past several years, and as Abruzzo tells us, Ben Higgins and Lauren Bushnell of "The Bachelor" are "another couple that went Deco, and I can't really blame them." In fact, Lauren's ring may just top Abruzzo's "best" list. She tells us, "This is my favorite period for design with its sleek geometric shaped coupled with ornate detail. Lauren's radiant cut center diamond looks like it's about 3 carats, and is again set in platinum with four baguette side stones and hundreds of tiny diamonds encrusting every spare part of the ring's surface."
With regard to color and clarity, Abruzzo explains, "We need to stick to the colorless range with this one, F and under, but could have gone VS2 on the clarity with a well-placed prong. The more detail the less attention is focused on the center stone – for better or for worse. BTW we're always assuming the best cuts on these! For all these rings, a GIA Excellent cut grade with Excellent polish and symmetry is a no-brainer."
Chris Soules & Whitney Bischoff - The Bachelor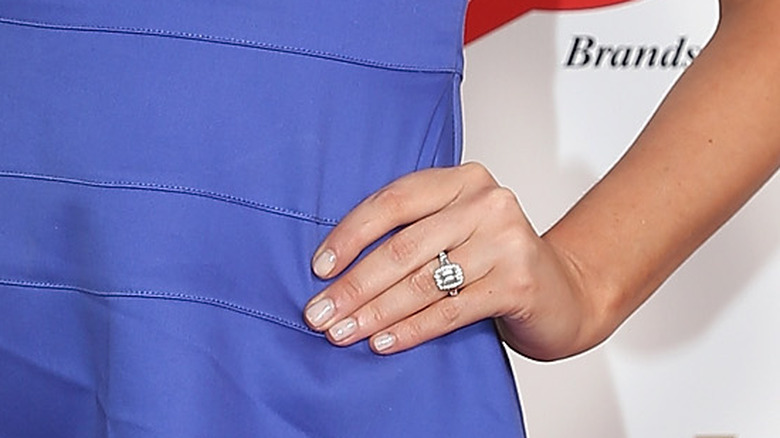 Tasos Katopodis/Getty Images
When Bachelor Chris Soules chose Whitney to be his bride-to-be, Abruzzo says, "Whitney received a design I think most women couldn't turn down, even if it's not quite their style. This is just a very pretty, well-executed ring." She went on to analyze the piece this way: "The 3- to 3.5- carat emerald cut diamond is the star of the show here, even though it's surrounded by a scalloped halo and two tapered baguette side stones. Small accent diamonds are set along the ring's shoulders and down its shank, but no distracting hidden halo or prong bling to throw off the design's balance."
With regard to the details, Abruzzo says, "It's elaborate without being too busy, and the details don't overshadow the center stone. Lane said at the time this ring was set with diamonds of high color and clarity – which makes sense, it's a platinum metal featuring our most tricky diamond cut for clarity, the emerald ... In translation, the diamonds are all probably D or E colorless and no lower in clarity than a VVS2." So how much did it cost? "The center stone alone could have cost $100,000 or more, and in total this is likely a $150,000 ring," Abruzzo says 
Carly Waddell & Evan Bass - Bachelor in Paradise
The ring Evan Bass gave to Carly Waddell on Bachelor in Paradise stands out because of how rare and different it is. Abruzzo says of the ring, "I don't love pear cuts, but I do love colored diamonds, so therefore I love Carly's ring. You don't see pink diamond jewelry very often and for good reason – pink diamonds are rare, and they're not cheap, making this ring a sleeper favorite."
To get technical, Abruzzo says, "Carly's platinum split-shank ring has two rows of diamonds around the band and across the bridge. Haloed by white diamonds is her fancy light pink diamond, which looks like it's about 1.5 carat. If you look close, you can see that the prongs and lower part of the ring's basket is actually yellow gold — this adds warmth to the pink diamond." What about clarity and price? Abruzzo explains, "Clarity matters less with fancy colors, so she could have been down to an SI1 though doubt it. The stone itself was likely $50,000 or more, so I'd value the ring around $60,000 to 75,000 retail."
Desiree Hartsock & Chris Siegfried - The Bachelor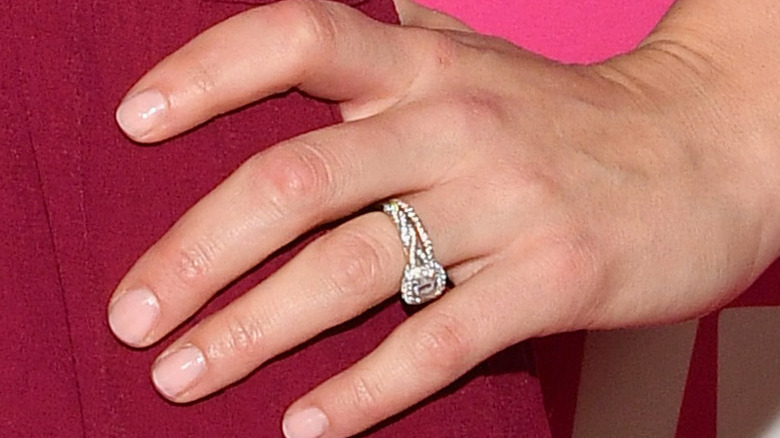 Dia Dipasupil/Getty Images
When Bachelor Chris Siegfried proposed to Desiree Hartstock, fans went crazy over the ring, but not all experts love it. Abruzzo, for her part, says, "People loved this ring, but I really do not. In my opinion it is way too busy." Her breakdown of the ring is as follows: "Desiree's ring features a lovely 4-carat cushion cut diamond (one of my favorite cuts) with a halo, a hidden halo, a halo around the lower basket, and diamonds lining the prongs, bridge, and band. Not only that, but the ring features a small diamond in the middle of the gallery and the band is a split-shank twist in both rose gold and platinum. Am I done yet? Not really, but just think: there are diamonds on every inch of this ring." Hence, the assessment of being "busy." 
So what are all those diamonds worth? Abruzzo says, "It's probably worth about $75,000 total — we didn't have to get super-high clarity here but we do want to see a colorless or near-colorless diamond, even with the busiest ring in town."
Jillian Harris & Ed Swiderski - The Bachelorette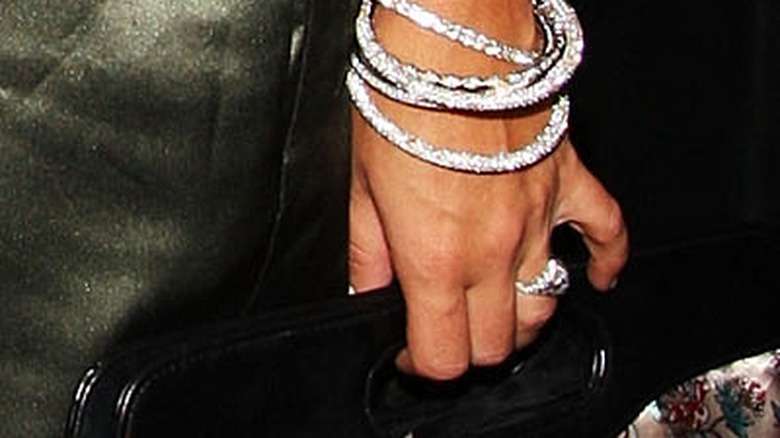 Bryan Bedder/Getty Images
When Ed Swiderski proposed to Bachelorette Jillian Harris, the ring her gave her did not impress Abruzzo. Upon seeing it, she said, "Oh dear I'm not loving this one either. In the words of Coco Chanel: 'Before you leave the house, look in the mirror and take one thing off.' That's what someone needed to tell Neil Lane about this ring." Harsh! 
Abruzzo explains her strong feelings about this ring this way: "The 2-carat-ish pear cut center diamond is set in platinum with six side baguette diamonds channel-set and surrounded by what I can only describe as a totally different ring that's devouring the first one. The rounded flourishes and diamonds touching every surface of this ring look like they belong in costume jewelry, not an expensive engagement ring like this." She went on to roast the ring further, saying, "Who even cares about color and clarity with something so busy? It is likely created with diamonds in the colorless range judging by the metal, but some of the diamonds could be as low as SI1 and have no effect. Lane said this one gave a nod to Deco, but I think that's a stretch."
Even though it's ugly, it's still expensive. Abruzzo estimates it cost between $50,000 to $75,000.
Prince Lorenzo Borghese & Jennifer Wilson - The Bachelor Rome
Abruzzo saved what she deems the strangest of the rings associated with "The Bachelor" franchise for last. The strangeness began with the situation in which the ring was bestowed upon contestant Jennifer Wilson by royal Bachelor Prince Lorenzo Borghese during "The Bachelor: Rome." As Abruzzo explains, "This season didn't end with an engagement, but rather a 'promise ring,' the promise of which was never realized. Although the couple dated a bit but split shortly after the show ended. This ring was designed by the Prince's mother, who also took the final two women to be sized."
Now for the ring itself, which Abruzzo calls "weird." She explains the details as, "Bezel set in yellow gold, Jennifer's ring features a round center stone that looks like it's about 2 carat, surrounded by at least six large bezel-set round diamonds around a carat each. They didn't need to go with super high color or clarity here – so these may be VS2 or higher and might be near-colorless not colorless. But since these people are royalty, I believe they'd shell out ... I'd value this ring at around $75,000, but that could go up a bit if it turns out there are more side stones we couldn't see."