This Is What Really Happened Between Vince Vaughn And Jennifer Aniston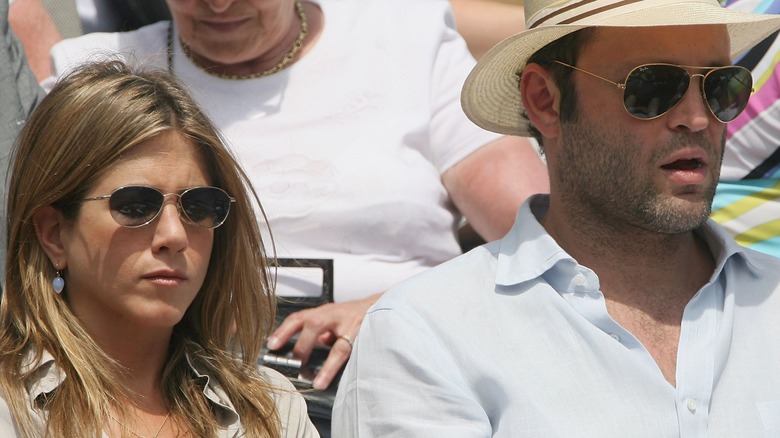 Clive Brunskill/Getty Images
Jennifer Aniston is one of the most beautiful women in Hollywood, and over the years her love life has taken up plenty of space in the tabloids. The former "Friends" star has been in a series of high-profile relationships with the likes of Jon Stewart, Tate Donovan, Paul Rudd, John Mayer, Bradley Cooper, Gerard Butler, and more. She's also been married to Oscar-winner Brad Pitt and actor Justin Theroux (via Us Weekly). However, it was her relationship with actor Vince Vaughn that was one of her most memorable. 
Aniston and Vaughn met on the set of their film, aptly titled "The Breakup" in 2005, the same year she ended her marriage to Pitt (via InStyle). In the film, the duo plays a couple who calls it quits but fight each other for their shared home. In September of that year, People reported that Aniston and Vaughn had been seen cuddling up during the movie's wrap party. Just one month later, the outlet claimed that the pair were spotted together in Chicago while enjoying a night of dancing with their "eyes locked" after which they were seen "kissing and making out." 
However, in October 2006, the couple announced that they had ended their romance. "Jennifer and Vince mutually agreed to end their relationship but continue to be good friends today," Aniston's rep said at the time (via People). After the split, Aniston made a heartwarming confession about Vaughn.
Jennifer Aniston shared heartwarming comments about her relationship with Vince Vaughn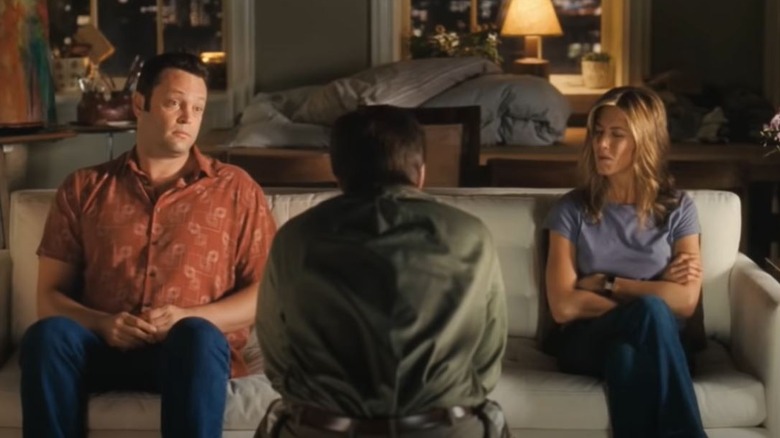 Universal/YouTube
After the couple split, there seemed to be no bad blood between them. People reported that Vince Vaughn even attended Jennifer Aniston's birthday party in the months following their breakup. The actor maintained that the two had a great relationship despite calling it quits. 
"I still talk to her constantly. I have a real, genuine connection with Jen. And I have a real appreciation of her. That continues to this day," the actor told Parade in 2008 (via E! News). During an interview with Playboy (via Bustle), the actor also admitted that the paparazzi also added extra stress to their relationship, saying he spent too much time finding "ways not to be drawn into the attention."
For her part, Aniston also gushed over Vaughn following their split, admitting that he was just what she needed after her divorce from Brad Pitt. "I call Vince my defibrillator," the "Picture Perfect" star confessed to Vogue in 2008. "He literally brought me back to life. My first gasp of air was a big laugh! It was great. I love him. He's a bull in a china shop. He was lovely and fun and perfect for the time we had together. And I needed that. And it sort of ran its course."